I can't stress enough how much more extreme the roads in Guatemala are than I ever imagined. Before entering Guatemala Jacqui and I completed our share of reading in our Lonely Planet guide and checked out other traveler's blogs to prepare. But the sheer magnitude of the mountains, the unbelievable grade of even the main highways, the horsepower-robbing altitude and the psychotic blind corner passes that school busses and passenger cars alike dare, bring on the occasional cold sweats.
Most of our Guatemalan driving, even on main highways, has been reduced to 1st gear which tops us out at 15mph. I never thought I'd say this, but we are unsafely slow.
For those of you not familiar with the power curve of an engine, it can basically be simplified as such: an engine has a certain range of revolutions per minute (rpm) in which it generates its peak power. For example, our motor achieves its maximum output power a little above 3000rpm, which in first gear happens to line up with about 15mph. If it's spinning faster or slower than that its power output tapers.
So here is our conundrum. We can't drive behind semi-trucks in these mountain roads. These overloaded semi-trucks are crawling at such a slow rate that even in first gear it forces my engine to such a low rpm that the van will simply stall out. This means I have to pass or I can kiss my clutch goodbye within the hour.
However, passing is plain suicide. The main highways are two lanes, one each direction, set into massive mountains with nothing but a cliff to greet you. On top of that, our little PennyWagon lacks the power for me to shift and go faster. So that means I'd have to pass in first gear, at 15 mph, into oncoming traffic.
Let's just say I've already done a few of these suicide passes and I'm not a fan of repeating. I completed one of these passes with the horn blazing and I'm glad I did. That is the proper method to complete suicide passes in Guatemala and everyone uses that etiquette. The school bus heading towards us was definitely understanding of my headlights and horn and was polite enough to come to a stop instead of plowing through us.
Even now, only having been removed from those roads for a few days, it's hard for me to conceptualize what they are like. In fact it's easy for me to look back and wonder if I'm overreacting. Or perhaps my reaction to these roads is justified but only if you're driving a vehicle with our identical power and weight. Currently we're not in Guatemala anymore, and being able to suddenly drive at a moderately acceptable speed can make it easy to forget how rigidly the hair on the back of your neck was standing while trying to navigate narrow, mountainous, Guatemalan roads while blaring on the horn to try and get pedestrians to dodge you because you know if you slow down enough to accommodate their walking you aren't going to make it up the hill. But I'll get back to that point soon enough.
Jacqui and I have given up on several roads so far, paved and dirt alike. Running start or not, our Penny is very heavy, very under-powered, and gasping for air at altitude.
Regardless, despite abandoning visits to a few campsites we have, for the most part, been able to continue on our merry way. This includes nearly getting stuck between an extremely steep downhill leading into an uphill that we simply couldn't complete. I finally had no choice but to abusively force the PennyWagon back up the hill we'd just descended, which I'm certain has enabled me to relabel our new clutch as a heavily used one. After a few minutes of controlled breathing to shake the stress of our abusive hill escape, we consulted our electronics and found a different campsite at the base of Volcan Santa Maria. We had to simply hope that entering this campsite would be easier.
When we arrived at the base of the volcano we found the iOverlander recommended campsite to be a friendly Guatemalan family's side yard, and it was pleasantly free of Penny-proof hills. Their house happened to be the second to last before the path up the volcano. Jacqui was staring up at that gargantuan volcano and the path in front of it in awe. I looked at that same volcano and saw pain; the pain that would inevitably enter my legs when Jacqui dragged me up that thing. I love a good hike, but I had no misconceptions about the magnitude of what I was looking at.
When we finally made our attempt at hiking this ancient giant, we made it about 80% of the way up before realizing the extremely overgrown goat trail we were on probably wasn't the safest way to continue. This prompted us to snap a few photos, then begin the descent. For those of you wishing to hike Volcan Santa Maria, when one of the locals offers to draw you a map, take their offer. Despite how straightforward it looks, it's quite the labyrinth.
After a couple hours of a coma-like nap Jacqui and I packed up the PennyWagon and bee-lined for Lago de Atitlan. In the final town before the major descent to the lake we saw a couple of travelers looking for a ride down. Jacqui and I made a moment's eye contact that allowed us to agree upon giving them a ride.
Enter: Fabio and Marriette.
Fabio and Marriette got a first hand experience of what traveling with us is like. No adventure is complete without something ridiculous happening, and the road into Lago de Atitlan clearly showed me I didn't appreciate just how steep Guatemalan roads are.
When we finally started the initial decent I was outright scared. My mechanic's brain was trying to calculate how hot our little brakes were getting because there was absolutely no trick in the book that was able to keep me from riding them. Within five minutes Jacqui and I announced to our passengers that this van was, by her own power at least, making a one way trip. This decent was clearly steeper than anything Penny had proved she could drive up. Then it got interesting.
Did your parent's ever tell you how much harder it was for them when they grew up? Something along the lines of how pampered you are and how when they were children they walked to school everyday, barefoot, uphill both ways and in the snow. I'm sure we all knew some variation of the story. Well, if Penny could talk, I'm sure she'd have taken advantage of this situation to point out how her life is so very hard, and how we are abusively taking her on some road that magically is uphill both ways.
Well there you have it, we were stuck between two impassible hills. Even with a running start and my foot on the floor… it just wasn't happening.
With traffic blasting by and road construction digging away at the landslide mere feet from us, I ordered Jacqui to find me a rock to block the wheels. I wasn't about to let us roll back in our present predicament. With the wheels chocked and my voice a little calmer, I requested the tow strap. With the strap in hand, Fabio, who had been mostly silent due to limited English, stepped out to assist. Marriette, an English speaking well-seasoned traveler from Holland, was loving every minute of this experience. She made it very clear that she now thinks having a vehicle will enhance her travels, but first she'd like to find a mechanic boyfriend. Jacqui might have helped her come to that conclusion.
Personally, I've come to the conclusion that being a mechanic is actually the worst skill set to have while traveling. It is far better to have lots of money from a job that leaves you mechanically inept, then simply pay the pros to take care of your problems or tow your vehicle to the end of the earth if need be.
As I began to unravel the tow strap in preparation for asking for help I glanced up and made a moments eye contact with the driver of a large flat bed truck. He immediately pulled in front of us and readied for the tow. With the unbelievable expediency in which we received help, and with how prepared the road workers were with giant wood blocks to make sure our towing flatbed wouldn't roll back, I was left speculating that this must be a terribly standard affair.
In a few minutes we were over the hill, unhooked, Fabio had explained to the driver that there may be another hill we might need assistance with, the driver said he'd keep an eye out for us, and we were driving under our own anemic power once again. The easy part was done.
It was now time for the final descent. Endless grueling, tight, pothole infested, unbelievably steep switchbacks were going to take us down thousands of feet in mindbogglingly fewer miles than seems feasible. For anyone who is hoping to someday make this drive, do so with your windows down. You need to listen for the horns of the large trucks ascending. They need the entire lane to complete the turn and with the blowing of the horn they have given you a very official warning to stay out of the way.
When at last we had descended and entered the surrounding towns I was awe struck by how foreign a world it seemed we were in. The traditional Guatemalan garb is stunningly colorful and intricate. There wasn't a T-shirt or pair of jeans to be found as we passed through the first little lake town. But we didn't have time to awe because the sun was going down and the roads were steep labyrinths that demanded full attention and maximum velocity for any chance of navigating them with our PennyWagon. On top of that we were hopelessly lost, finding ourselves on progressively steeper and narrower roads while searching for a campsite that I will probably never know the location of.
With the dark night sky around us, street lamps glowing and a few gringos walking by, someone finally pointed us towards a campsite. We had already dropped Fabio off somewhere downtown so now we wished Mariette a good night and made plans to meet up the next day.
I wish I could give you some grand tour and photo gallery of our time in Lago de Atitlan. Honestly, we didn't do much in the short time we were there. We did manage to have a beer with Marriette and a new friend she made named Daniella. We ran into Fabio again and chatted for a bit. We found out that Gringolandia, (yes it is in fact called that, and for good reason) had amazing, delectable exotic cuisines and every single restaurant advertised Wi-Fi. We also found out that you should never, under any circumstance, eat Thai food in Guatemala unless you have a special loving relationship with your nearest toilet. All in all It really seems like Lago de Atitlan would be a wonderful place to explore, and we plan to return very soon.
I attribute our lack of exploration in the Lago to how shook up Jacqui and I were feeling from our short time in Guatemala. From talking with our new friends about the future roads that will great us in Central and South America, to realizing how unsafe it is to operate this vehicle in the very first mountainous country we've encountered, we're now full of questions. It seems that this is just a fact of life on the road, or at least it is for us.
Every other day it seems like we have some insurmountable question that we need to find an answer for. It really applies to everything be it finances, timelines, right or left turns and especially deciding whether or not to eat Thai food in a foreign country. Every one of these decisions is potentially life altering when you're living on the road and exploring places unknown. Sometimes these decisions turn out to be minuscule and easily dissected, other times there doesn't seem to be any right answer and they add to a feeling that some crippling weight has been thrown carelessly on your shoulders and the only way to remove it is to answer some some infinitely complex riddle.
For us, our question sounds simple enough, despite the fact that it continues to be an ever-evolving, reoccurring and rather painful question. What do we do with this van?
This is our second adventure vehicle and we know for a fact that there is absolutely, no way, whatsoever, that we're going to trade out for a third vehicle for the sole purpose of this trip. It's this van or a serious rethinking of what we plan on doing with ourselves.
So on that note, in the wee hours of the night this little van, combined with the warnings of travelers that have been much further south than us, started to make us paranoid. Bolivia, Peru, Equador, Chile and Argentina are all known to have incredibly high mountainous regions and far rougher road conditions. Or at least that's the info that's been relayed to us, and we're at a modest 8000ft while finding the end of our vehicle's capabilities. Or at least the end of it's capabilities with our current payload.
So we've been asking ourselves a lot more questions. Should we breeze through Guatemala and just stick to the spots our van is willing to drive? Should we try to take the most sea level route through these other mountainous countries so we don't get ourselves in a situation we can't get out of? Can we really expect to stay away from situations we can't get out of? Should we really consider putting more money into this van to install a more powerful engine? Are we going to be sad for missing all the hypothetical places we won't be able to get to if we don't re-power the van? What's the responsible decision? What's the safe decision? Are we sure we'll actually do more money-making work on the road to cover the cost of this hypothetical car work? Or is this just going to eat into the travel budget? Are we being proactive? Are we being reactive? What's the responsible decision? What's the safe decision?
What IS the responsible decision? What IS the safe decision?
Well I don't know. I'm not writing this to give you answers. I'm writing this to show you the kind of seemingly life altering decisions that go on everyday. Every single solitary day is completely unknown and we're just trying to make responsible and safe decisions based on unknowns. Sometimes it feels like we're on a plane to an unknown destination and we're trying to decide if we should bring swim trunks or snow shoes.
With the knowledge I have now of the unfathomably steep Central American roads I probably wouldn't have bought an aircooled Westy. Then again, if I had known that a left turn towards a scenic road in Tepic would lead to our Dolphin getting T-boned, I probably wouldn't have done that either.
Regardless, through the connections with strangers this Digital Age has afforded us, (ie, Facebook, Instagram and our blog) we got a nudge in a certain direction after posting some of our towing pictures and putting it out there that we were thinking of a motor swap.
Introduction: Nick Maiorsky.
For those of you that remember the dead computer fiasco on our Penny, Nick is the guy that saved our asses during that predicament. It seems he might be a perpetual ass-saver. Perhaps he should add that title to his resume. But I'm not going to get into that at this time. I'm going to say a general 'to be continued' as far as Nick is concerned.
Regardless, we made our decision. Right or wrong, it was with the simple hope of being responsible and safe. Let's re-power this thing while we have resources and connections. We were going to do it anyway. Really the only thing that seems to have changed is when. Plus both Jacqui and I are striving towards making work on the road a reality. So ideally our own ingenuity will allow us to make this a financially responsible decision and hopefully we're not putting on snow shoes to show up at the beach.
Only problem is, no matter what we want to do, leaving Lago de Atitlan was going to be a very large first step. According to info gleaned from locals, we had to decide to get a police escort through a bandito-infested city so we could traverse a heavily washed out road that may or may not be less steep. Or we were going to attempt to ascend the way we came in and hope somebody would come along to give us a pull when we reached the limit of our little rig.
Our departure time was decided by the sky itself talking to us. A big storm was rolling through and we'd been warned if there was enough rain to cause a landslide, we could be stuck for a couple weeks. With the rain starting to build, and people's front steps starting to look like waterfalls, we bailed.
Sticking to the familiar road which didn't require a police escort, we pushed the PennyWagon as hard as we possibly could through the switchbacks. The corners are so tight and so steep we were actually burning out through them. Jacqui and I argue about whether or not Penny could have actually made it to the top of the first ascent. I think she could have made the last two turns if the damn Toyota Van in front of me hadn't slowed me down. She doesn't believe there was a chance. Regardless, we wouldn't have made it up the dirt roads that come after the switchbacks anyway.
When we finally came to a halt we did the only sensible thing we could. Grabbed a couple rocks to chock the tires and pulled out the tow strap to wait. Luckily it was very, very easy to look over the side of the mountain to see who was making the slow climb. We spotted an empty flat bed and I told Jacqui she was prettier than me so she should grab the strap and work that corner. Jacqui must have done a fine job working that corner because we got the ride of our life.
When at last we unhooked from the back of the flat bed, the driver asked if we were sure we didn't need to get towed a little further. With some cold sweat running down my spine and a bit of shaking in the knees I assured him we were both thankful for his help, but we could take it from here. As he drove away a deafening and ominous crack of thunder filled the sky. Jacqui and I lightly chuckled and the coincidental timing of the thunder.
We then directed our wheels 500 miles north where we hoped all of our van re-powering ideas could come to fruition. We only had two more obstacles to overcome. Crossing back through the Border From Hell to re-enter Mexico. Which I'm here to tell you, northbound is far more the unruly evil beast. But our second trial was lying dormant like a ticking time bomb. As soon as all the border crossing paperwork was through, a certain visit to an aforementioned Guatemalan Thai food restaurant that already partially destroyed me, was about to make a delayed attack on a poor Jacqui.
It was a very long 90 degree night camping in the parking lot of that gas station.
Well we've bee-lined it right back into Mexico. Mexico, that great mysterious place that everybody tells you is so dangerous and needs to be avoided is our very comfortable safety blanket. The genius fabrication skills of Calvin from Overlander Oasis, my mechanic background, and the unbelievable generosity of people we barely know seem to be aligning the stars to allow us to finish this engine conversion. At least that's what we desperately are hoping. I know Jacqui and I are crossing our fingers that this mechanical adventure won't send us all the way back to the United States where parking, working and the living situation are all the more unknowns in our giant crazy equation.
For now I'll tell you this. I'm planning on making it a 2.0 liter Jetta ABA motor if I can find a donor car to buy. Through the incredible generosity of people like Nick Maiorsky we've gotten most of the conversion parts, and through some unbelievable coincidences in timing, I'm flying to the United States...for free.
to be continued...
Arriving in Quetzaltenago (Xela)
Hiking (a.k.a. navigating our way on the wrong path) up Volcano Santa Maria.
Our tow INTO Lago de Atitlan.
Pre-departure prep and the arrival of a storm predicted to last several days.
Leaving San Pedro La Laguna and reaching our limit.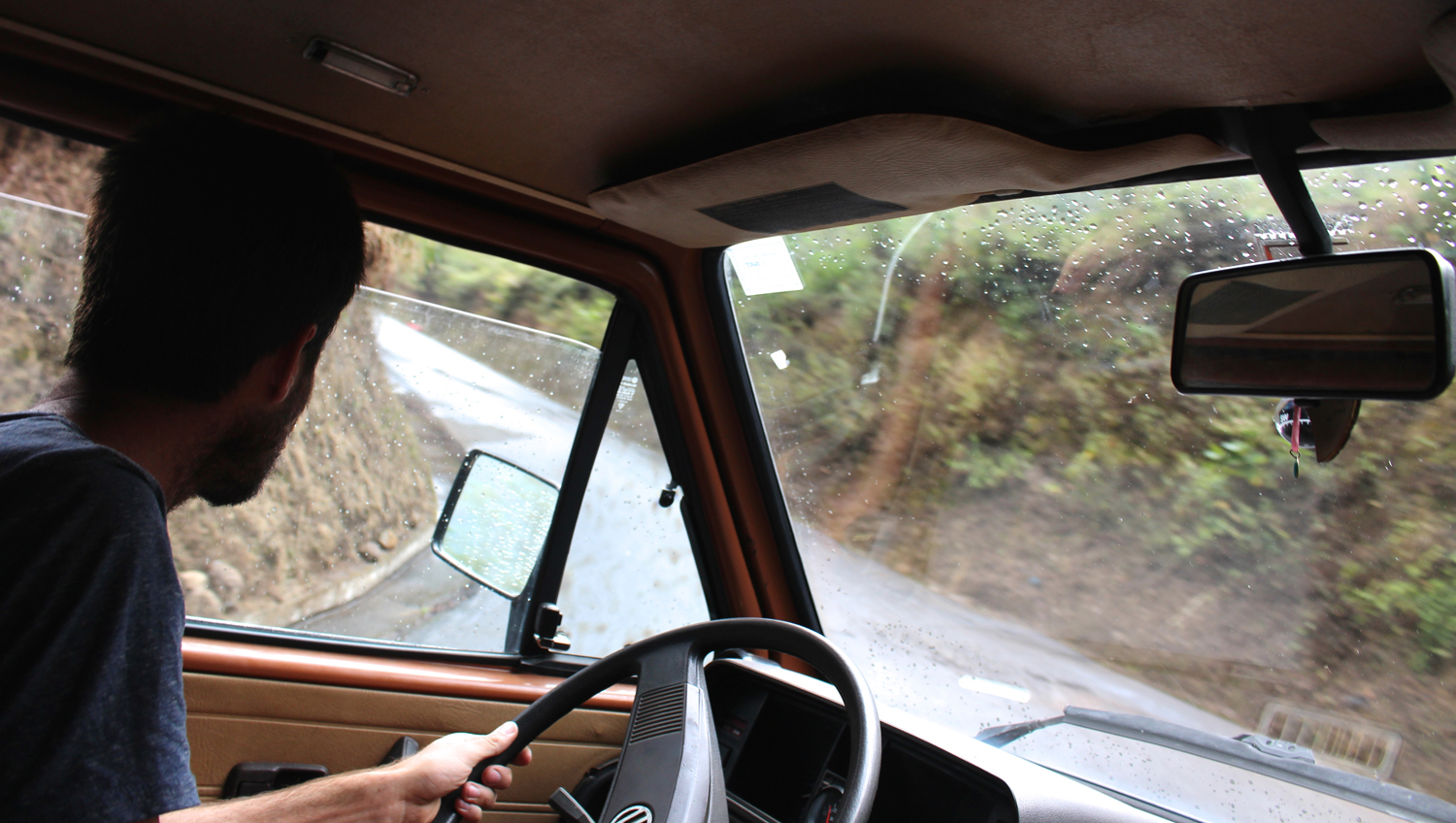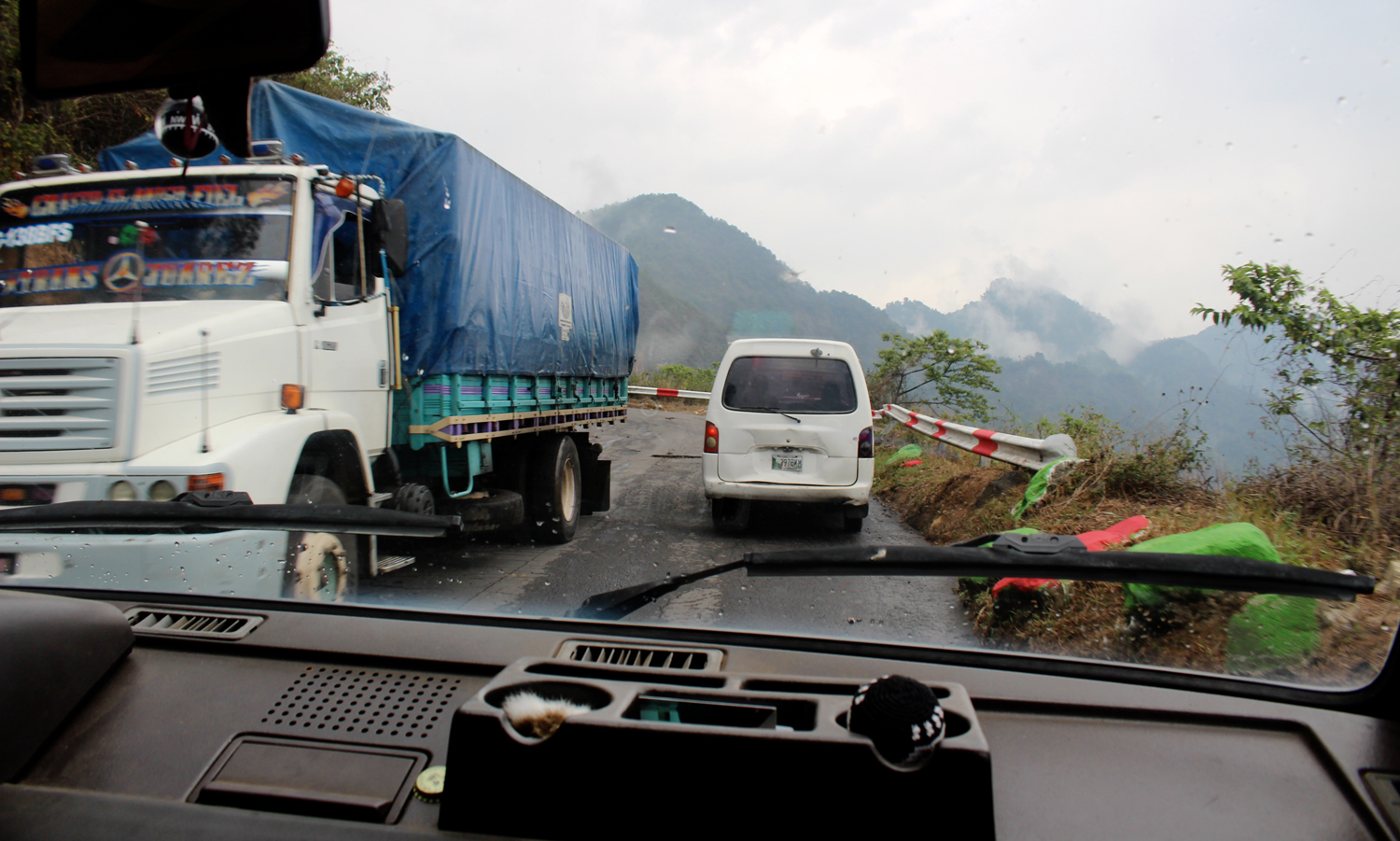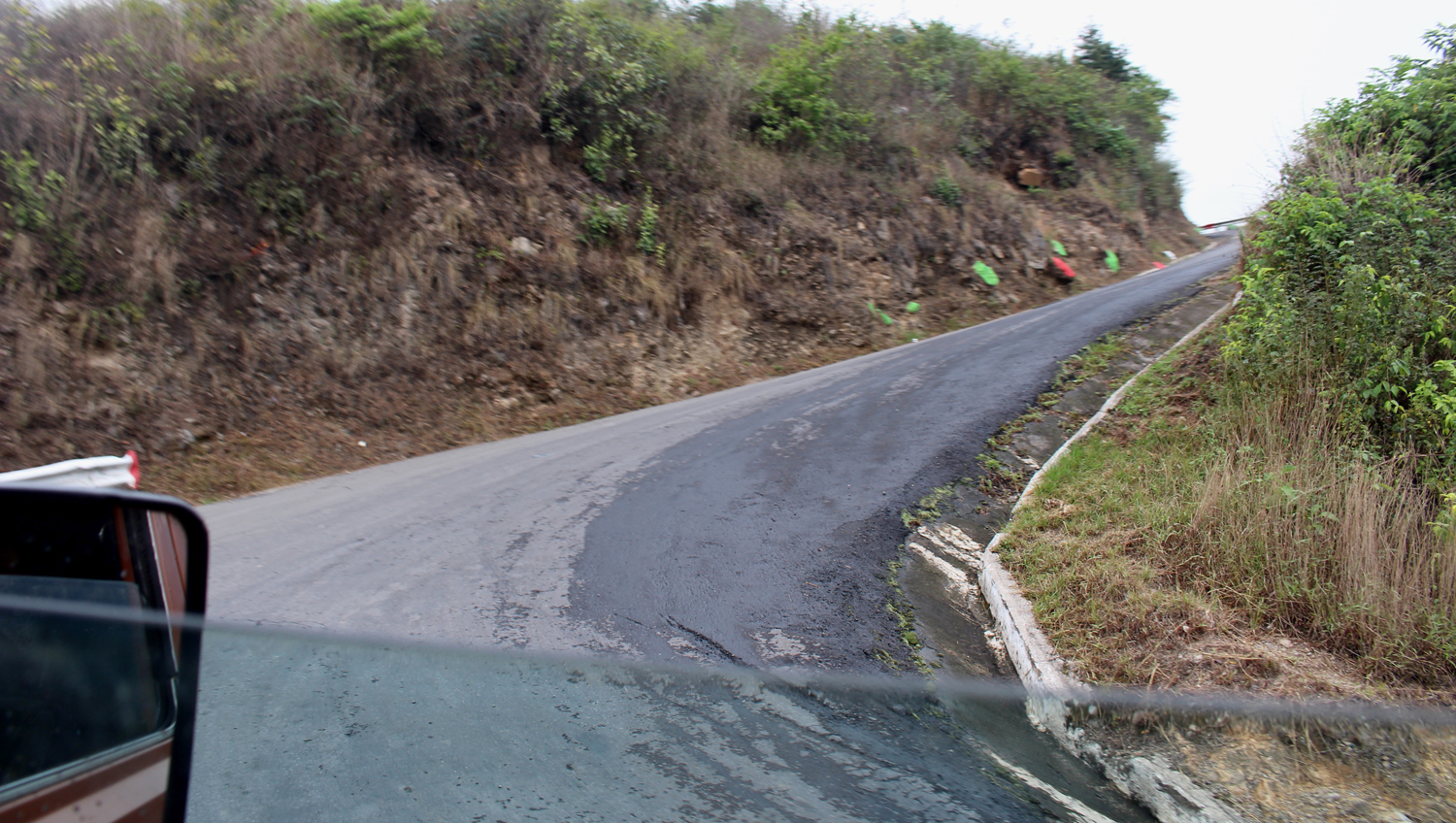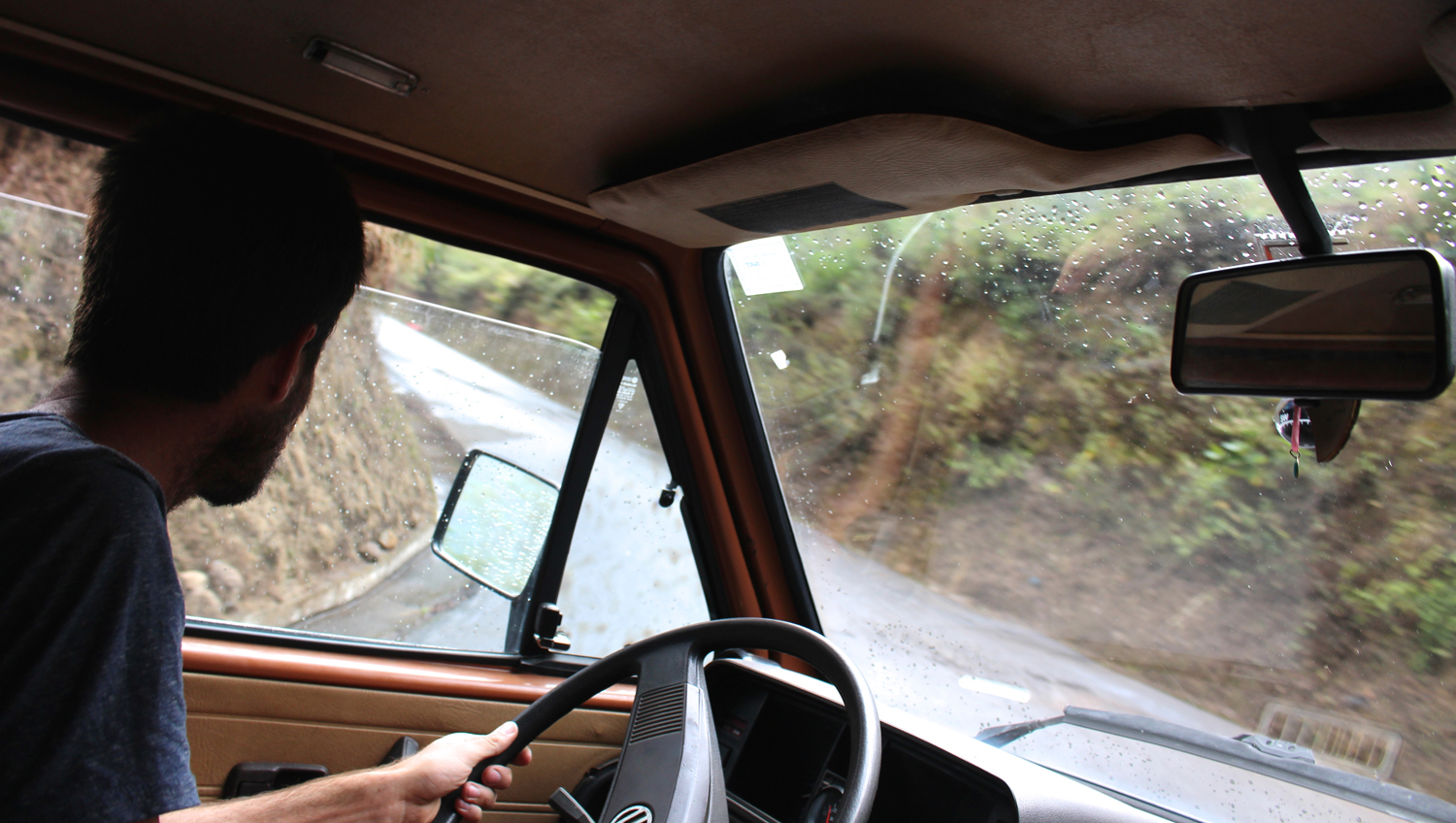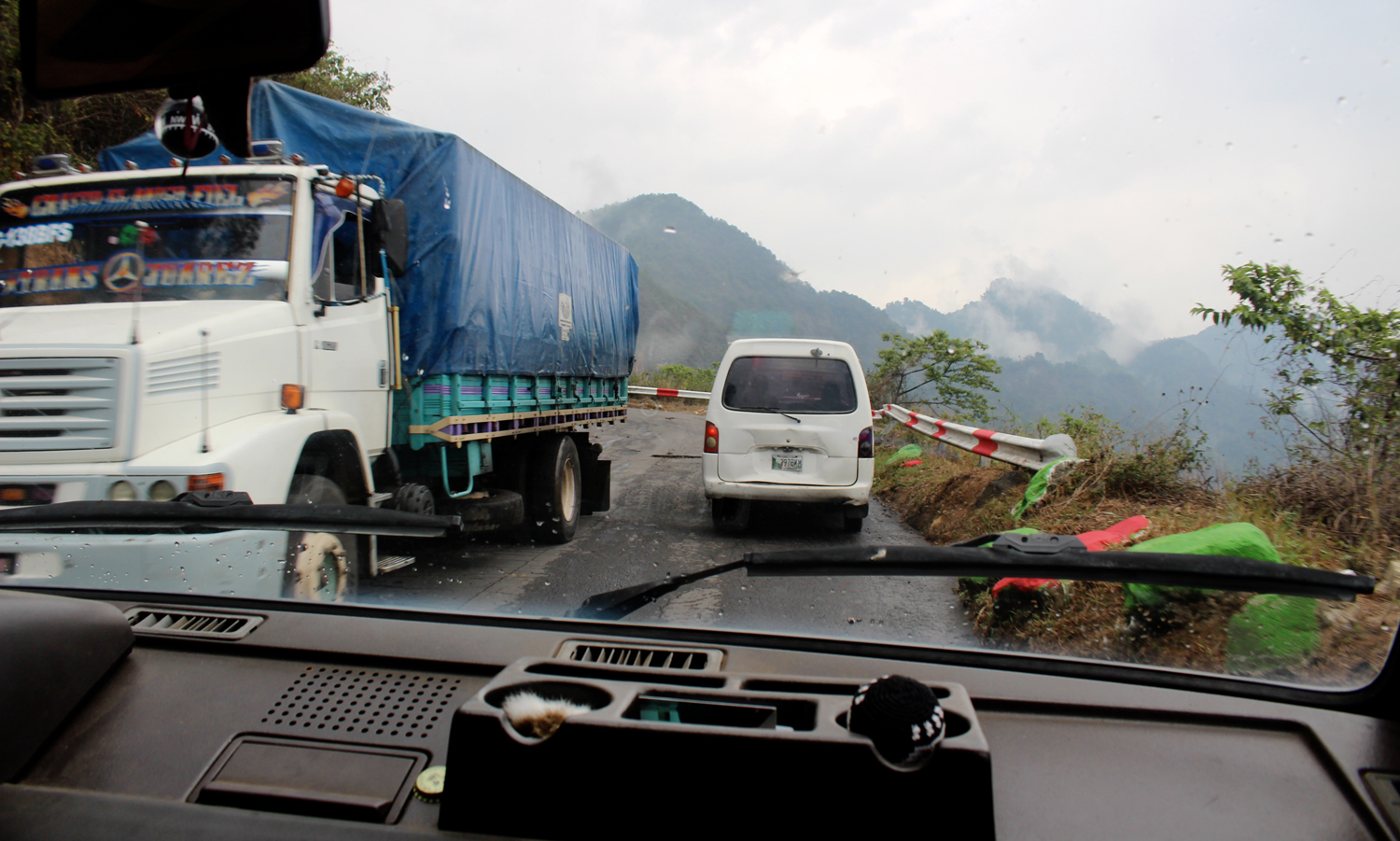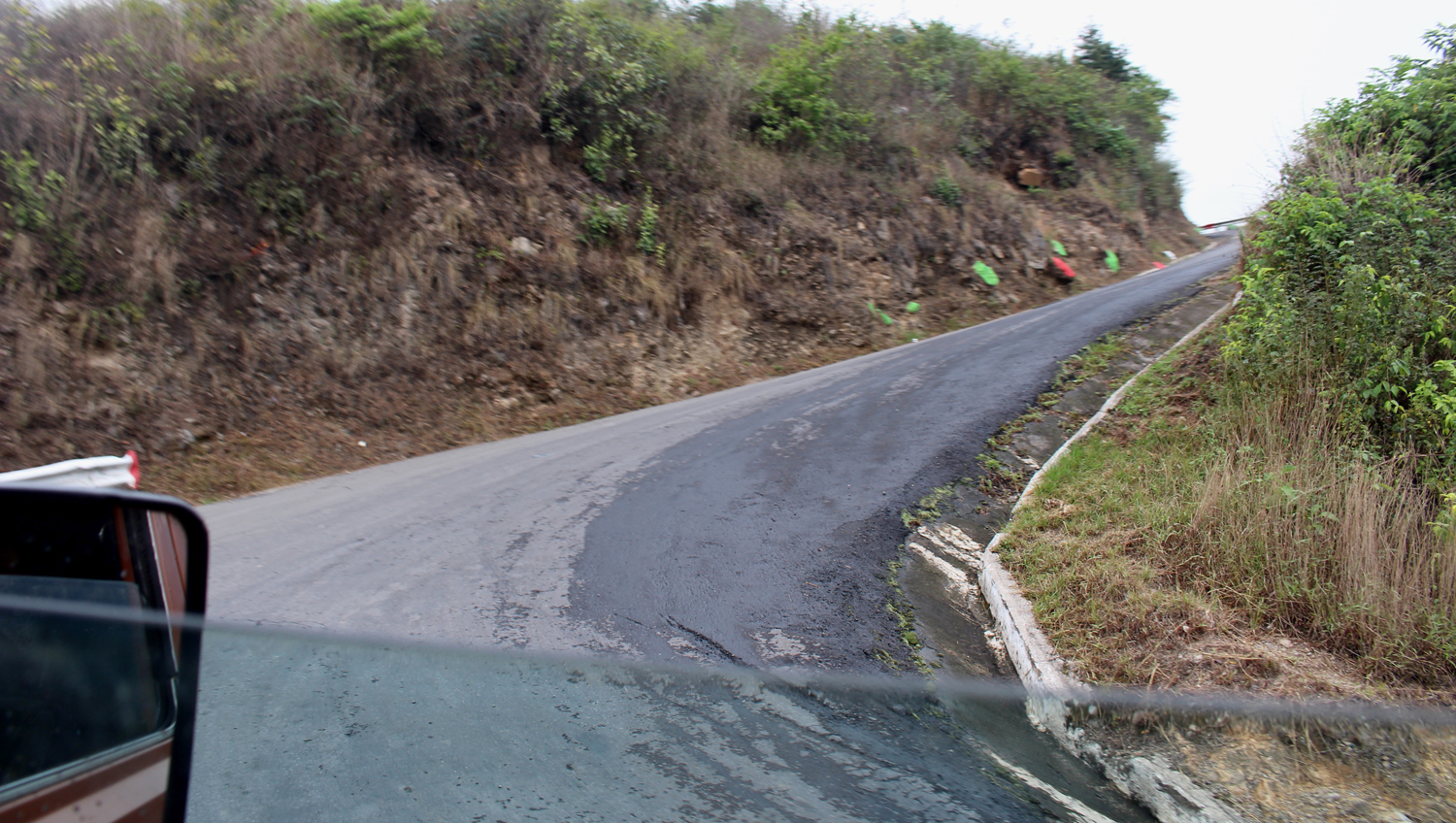 Finding a ride the rest of the way.
Our awesome and sketchy tow, which included passing another vehicle through windy roads.
Picking up a couple van parts in Guatemala and arriving back in stormy Oaxaca.