We woke the day after Christmas on our little private beachfront campsite north of La Ventana. The night before we viewed a few options for free camping but even the ClamVic crew agreed, Rasta Beach, our past favorite camping spot, is an outright gem.
Jacqui and I were already making a mental list of all the things we wanted our friends to see while they were with us. A quick check of the wind report confirmed today wasn't going to be the day to show them kiting. Our attention immediately turned to the one thing that had to be done on a calm day: snorkeling at the Old Motel.
Accessing anything in Mexico that Jacqui and I truly love almost always requires a long dirt road, and this is no exception. We loaded ourselves into the ClamVic and bolted down the road like a Dukes of Hazard chase scene. In no time we were ready to push Tu a little out of her comfort zone.
Less than a year ago we drug Julien and Tu with us to Mazatlan on our maiden voyage in the Penny Wagon. At that time we handed Tu a boogie board and she got in the ocean for the first time. Today she was nervously donning a snorkel mask, putting on a wetsuit for the first time (albeit inside out), and listening carefully to our instructions. With Jacqui and I on either side of her working as an escort, she got the chance to see the unbelievable amount of life surrounding this miniature reef.
Snorkeling near the old motel
As we packed up everyone agreed upon two things, which is noteworthy for a group that disagrees about everything. The first was that this was the best snorkeling we'd ever done. The second was that we we're hungry. That can only mean one thing in Baja...pescado!!!
From fresh fish tacos at just over a dollar a piece, to the full kilo (2.2lbs) of fresh caught tuna we bought at just under ten dollars, everyone ate like kings that day. With the passing of another sunset and sunrise we we're waking on Rasta Beach and learning the next two days we're going to be windy!
Driving back from the Old Motel, getting fish tacos and camping on Rasta Beach before tequila inspired speeches in Spanish were attempted. If you look really carefully you can even see Jacqui and I kiting behind the PennyWagon.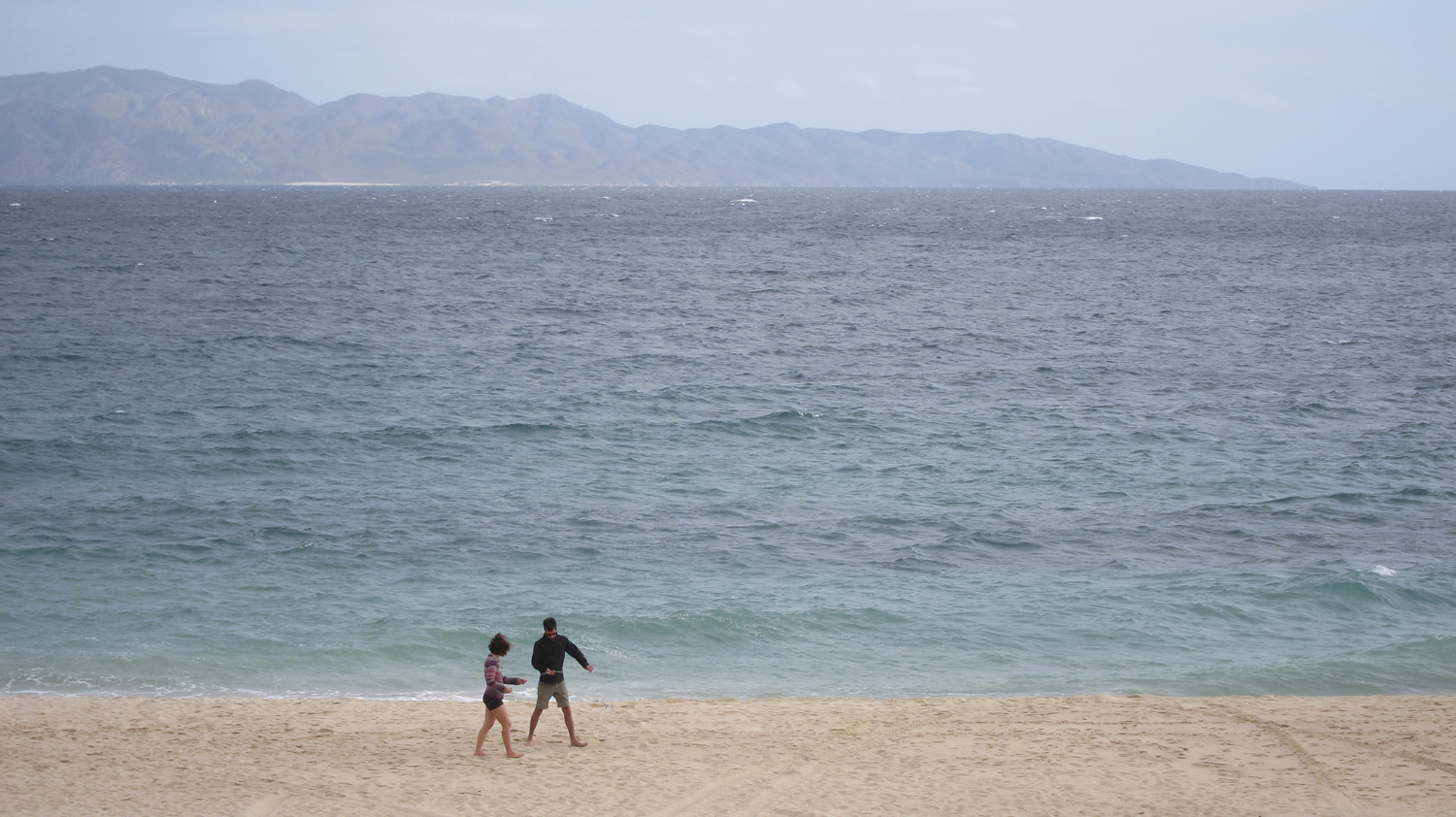 The ClamVic crew was happy to check out all the kites in the sky, but at the same time were itching to complete the Baja drive all the way to Cabo. So we split up. Jacqui and I got to spend a few days playing in the wind and water while our friends added some bragging rights under their belts. They could now return to the States and say they had driven as far south as you can in Baja.
Day two of kiting Jacqui and I opted for a downwinder. Starting five miles north of La Ventana we launched our kites and grabbed our surfboards to do the long surf back to town. After a solid two hours of kiting we landed our kites in front of one of the town's main watering holes, packed up, and magically our friends appeared. They were searching for the bar...not us. Regardless, we had managed to meet up flawlessly and now also had our ride north. As Jacqui and I consulted our mental list of must-do's with our friends, we realized tonight needed to be the hot spring night.
A few random pictures our friends snapped on their drive to Cabo, meeting up in La Ventana after the downwinder and making sure our friends got that drink they were looking for.
A few miles north of our campsite there's a beach known for it's hot springs, that aren't actually there. It looks like any other beach, except the locals know, if you keep digging your toes into the sand while you walk the water line, eventually you'll hit a hot spot. Then after copious amounts of digging, you'll have a nuclear hot hole that you can dump some cool sea water into to find a nice equilibrium.
Well now you know how it's supposed to work. Find the spot, everyone participates fairly in digging the hole, and next thing you know we're star gazing in a tub of our own making. Unfortunately, after about ten minutes of probing, and a few pointlessly dug holes, the boys, myself included, had lost interest in any form of manual labor. The girls on the other hand had harnessed the eye of the tiger and were beyond motivated.
Us boys decided we'd go set up camp and return shortly. I won't lie, we expected the girls to get tired of the search and come to the camp long before we would finish setting up. After we continued to take forever to set up camp with our squabbling and occasional distraction from all the fireworks my friends had purchased on their trip back from Cabo, we finally returned to check on the girls. We were all in complete shock at the excavation underway.
Now faced with our own laziness, a thorough guilt trip from the girls, and complete awe of what these two had accomplished, we finally pitched in and started digging. I can't say we were terribly successful. At best we managed ankle keep, luke-warm water, and in the morning there was no sign that anyone had even attempted digging. Regardless, what a night to remember.
Fireworks and hole digging
The following morning we all very slowly drug ourselves out of bed. A few cervesas and a giant hole can leave you feeling a little less than perfect in the morning. Regardless, our group agreed we were done with La Ventana for the remainder of their trip. It was time to explore La Paz, Baja Sur's capital, where we could arrange them a tour to see the whale sharks. It was also time to expose them to the best fish tacos in the world, (I'm prepared to argue with anyone who says otherwise) and to camp beautiful Tecolote.
Giving our friends a ride to their whale shark tour, the dolphins that arrived during the tour, eating one of the few excellent burgers in Mexico and the Ultimate Fish Tacos.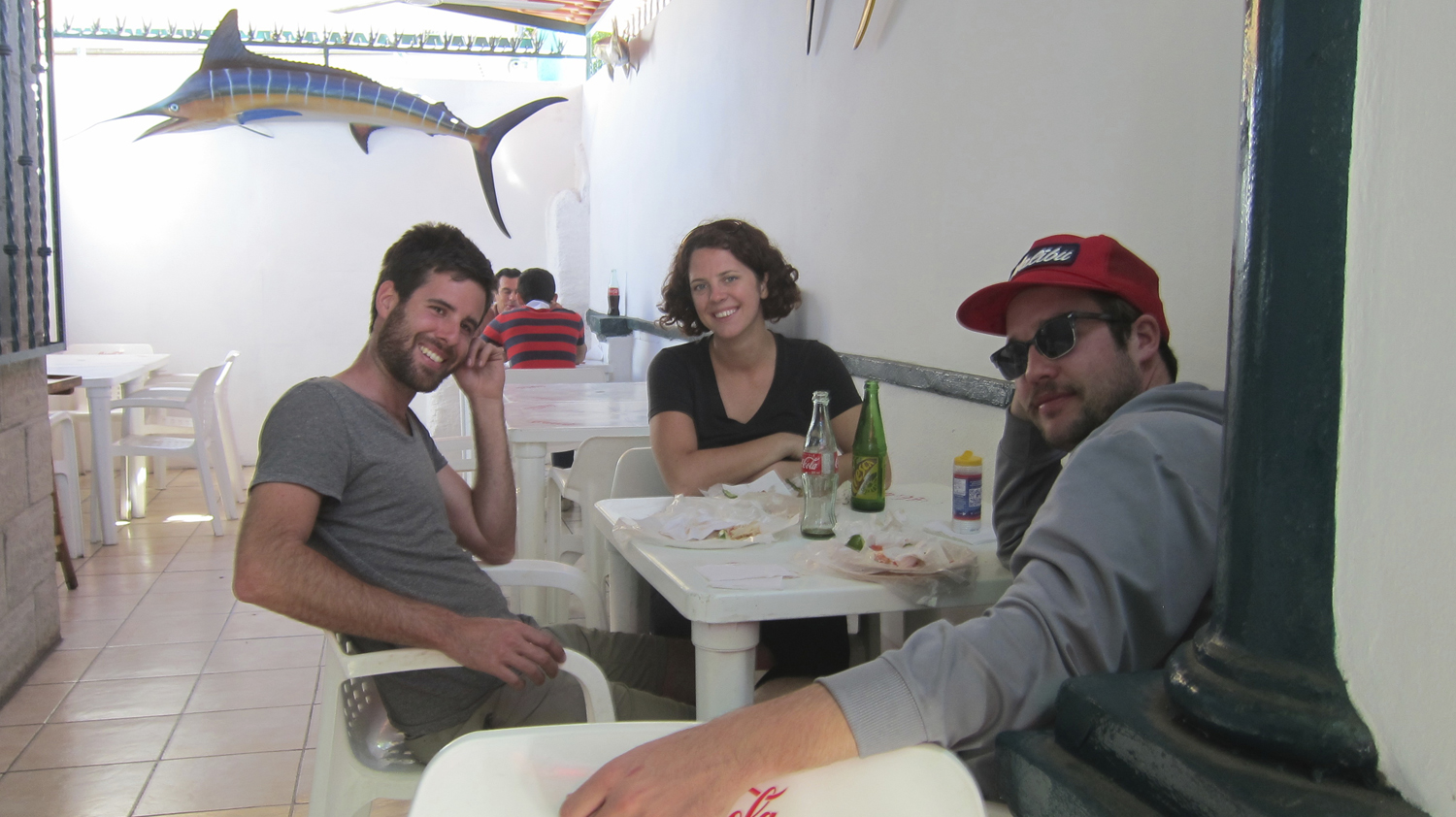 Such a few short days remained in our time together, yet somehow they are so rich with memories. So many stories fall to the category of "you have to have been there," yet I know if any one of our group were to look at our photos, we will all chuckle for the same reasons.
We hiked and explored the mini caves surrounding Tecolote. We wen't to the giant grocery store, which will now always be known as the Mega Pelican, where Nick decided he was too tired to walk and took a wheel chair. We explored the local Mercado, where Julien desperately tried to keep Tu away from all the little trinkets she wanted to buy. Among all this somehow, originating from one of our ClamVic overlanders, an entire obsession ran through our group with finding, and eating, Cup of Noodles.
The rest of our time in Tecolote and La Paz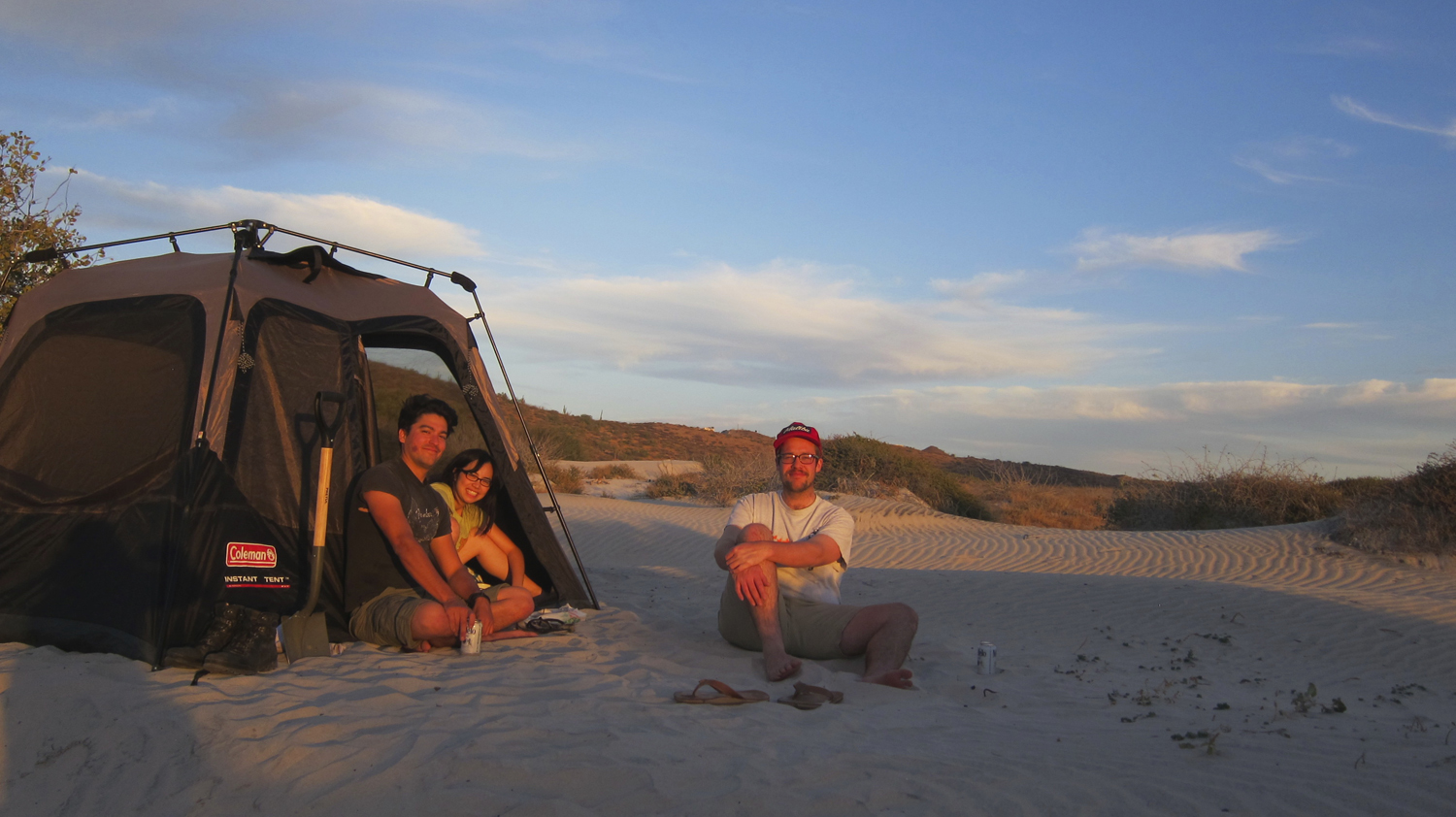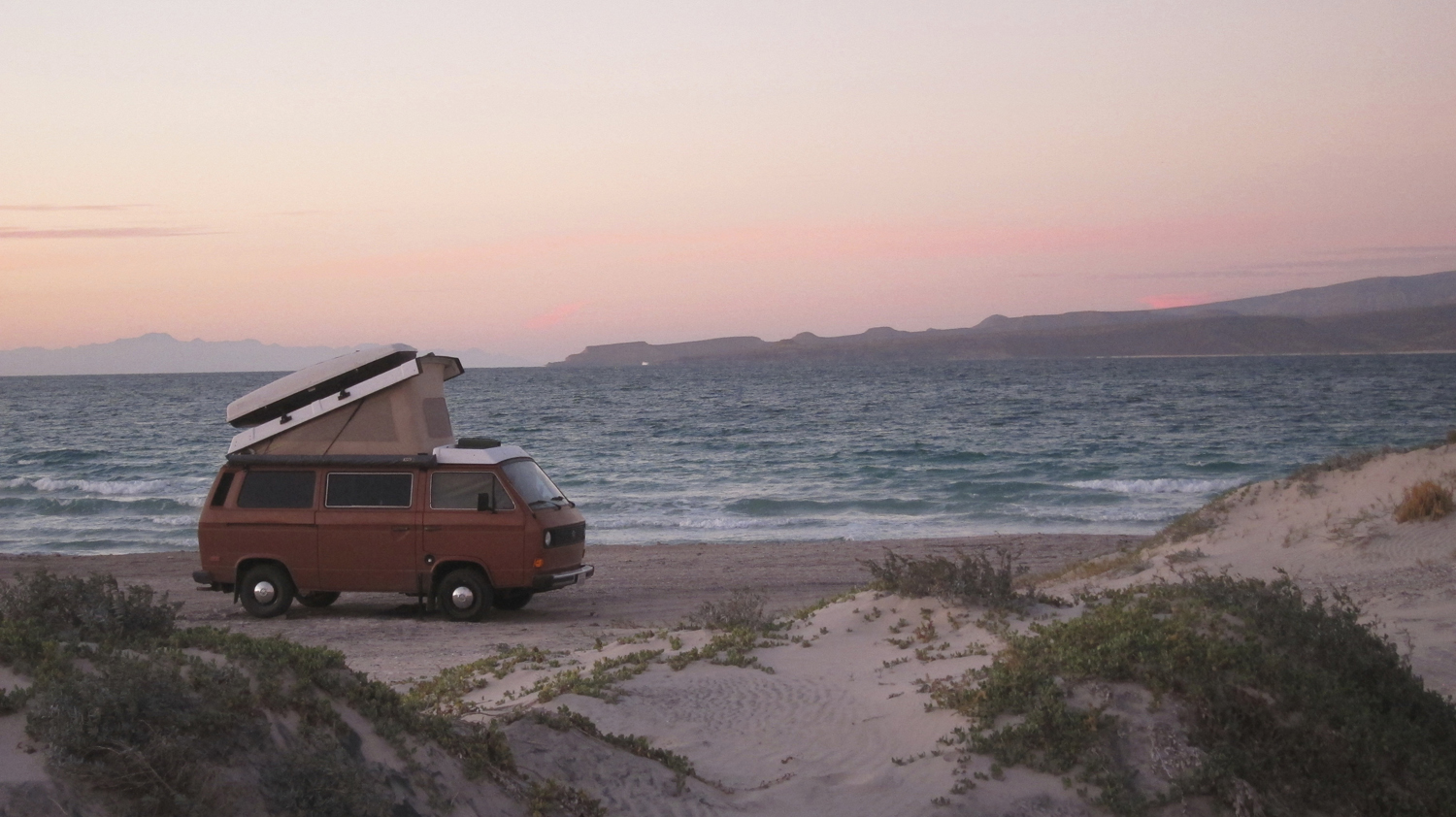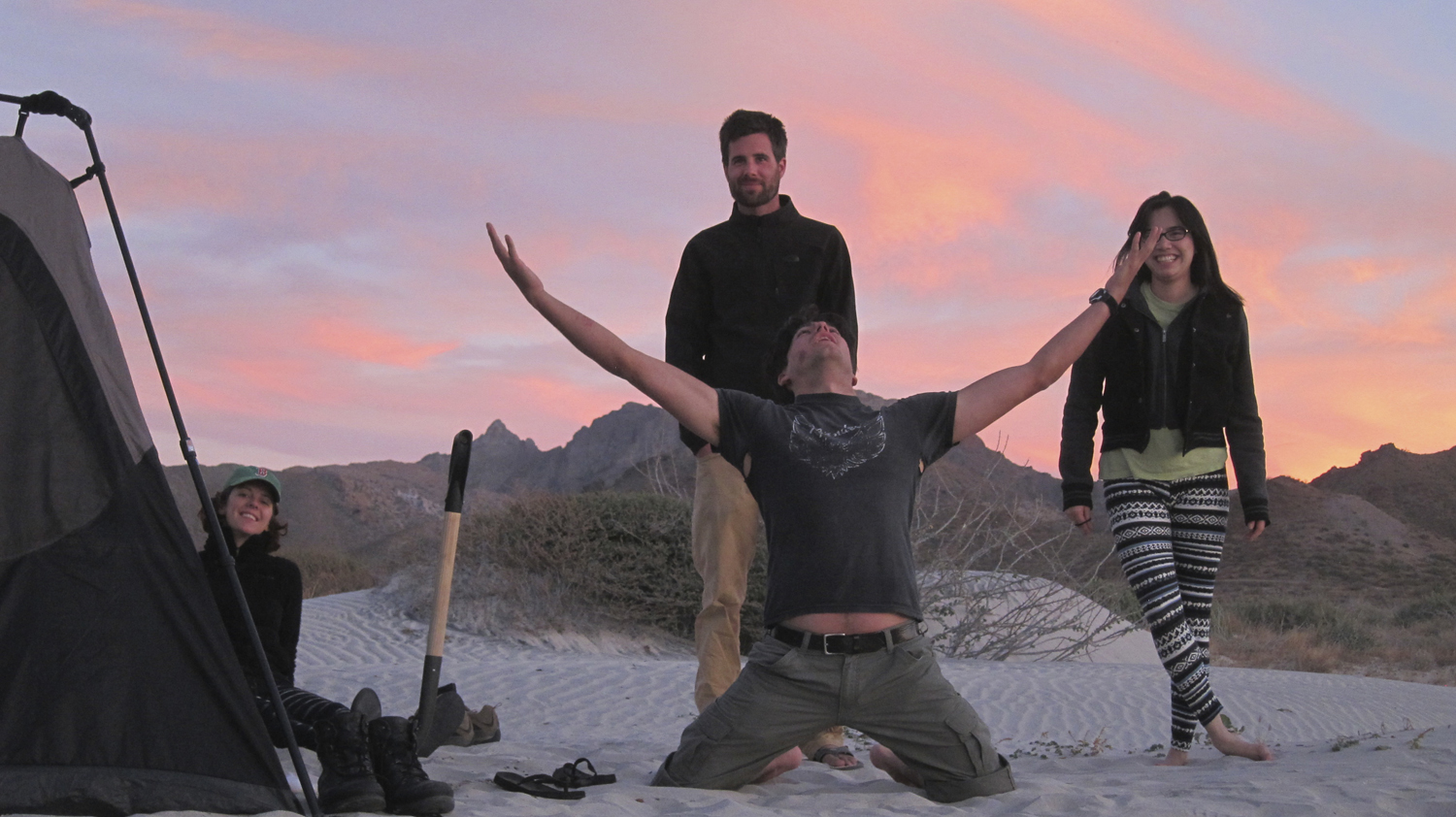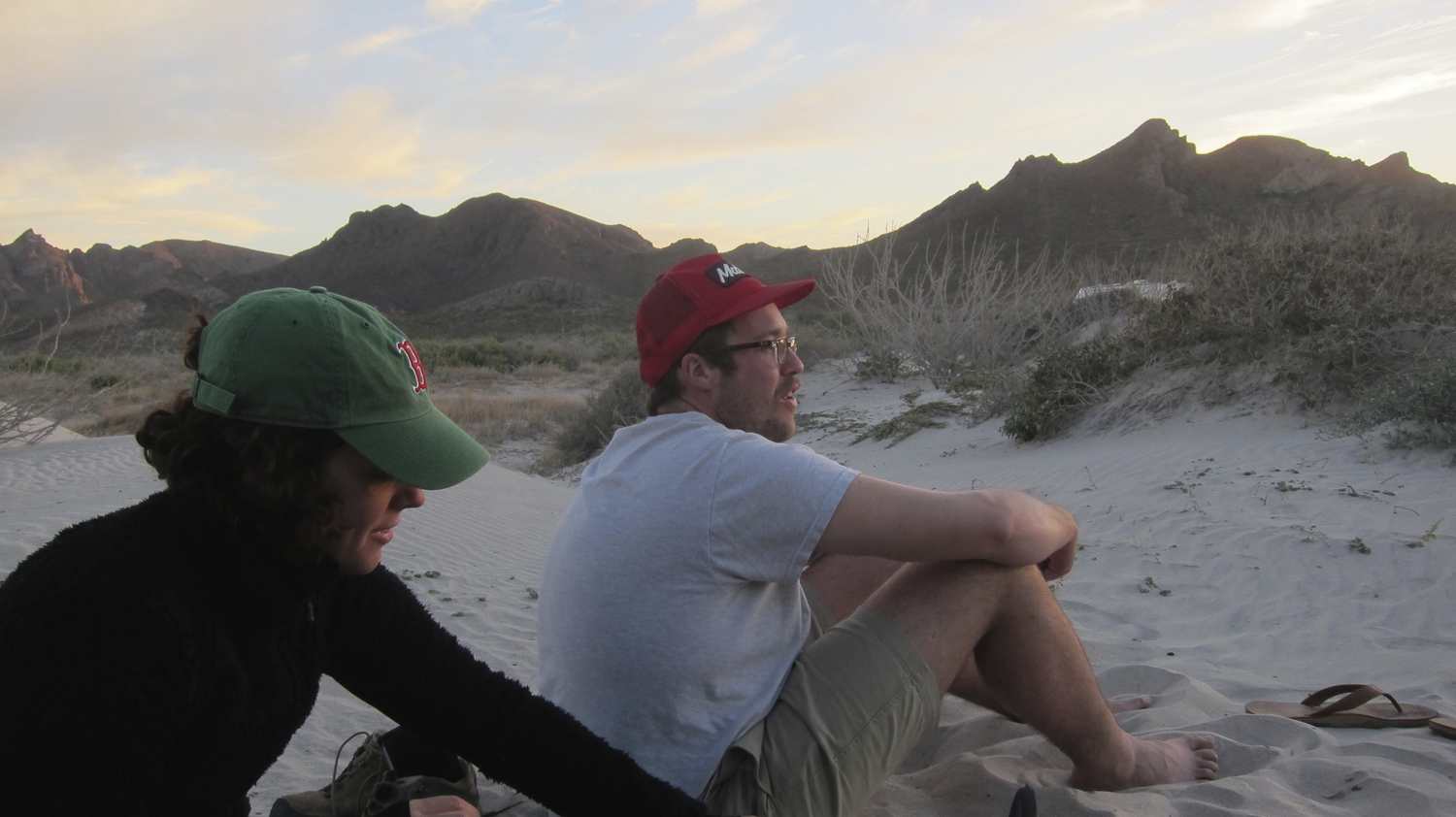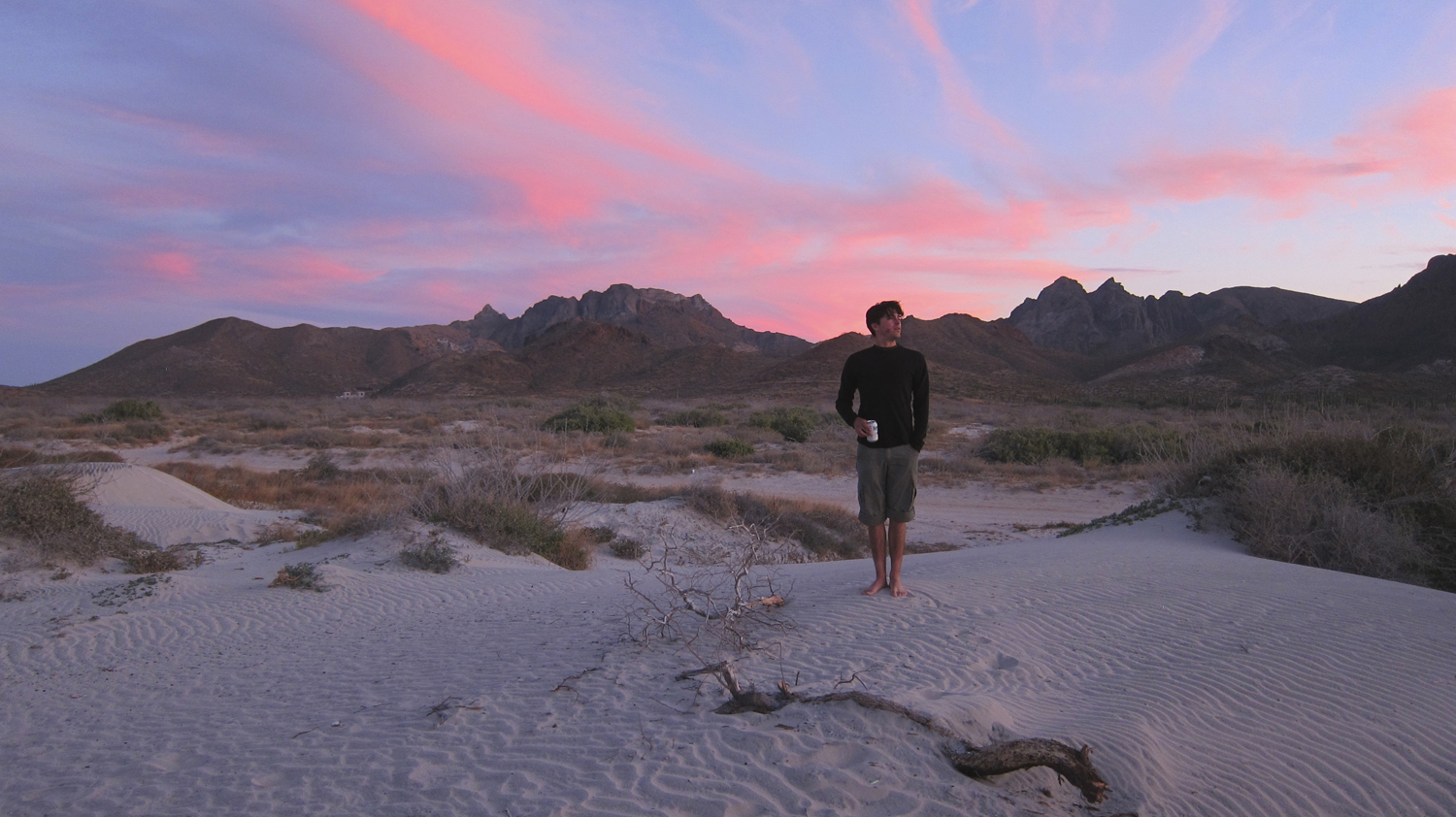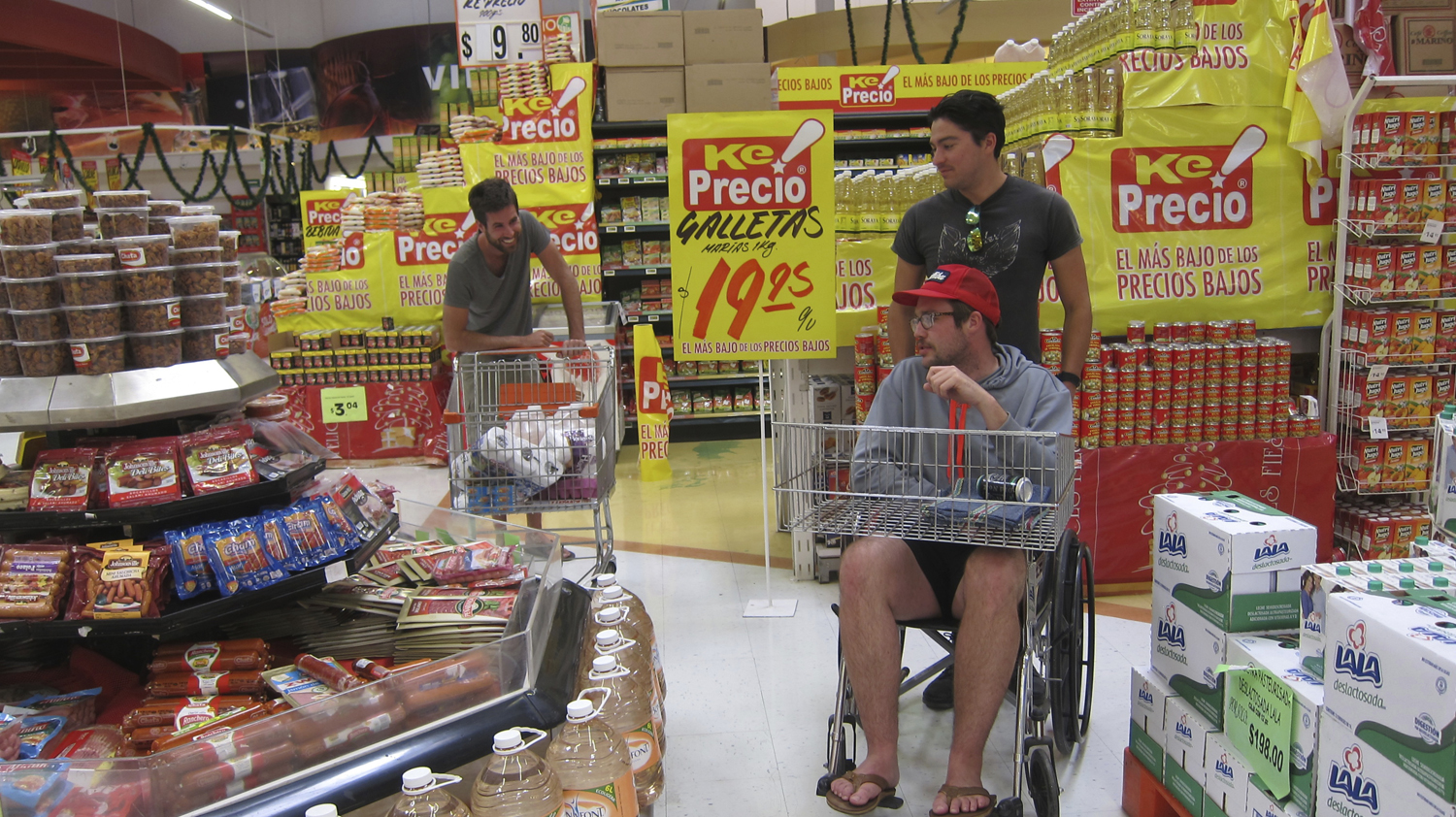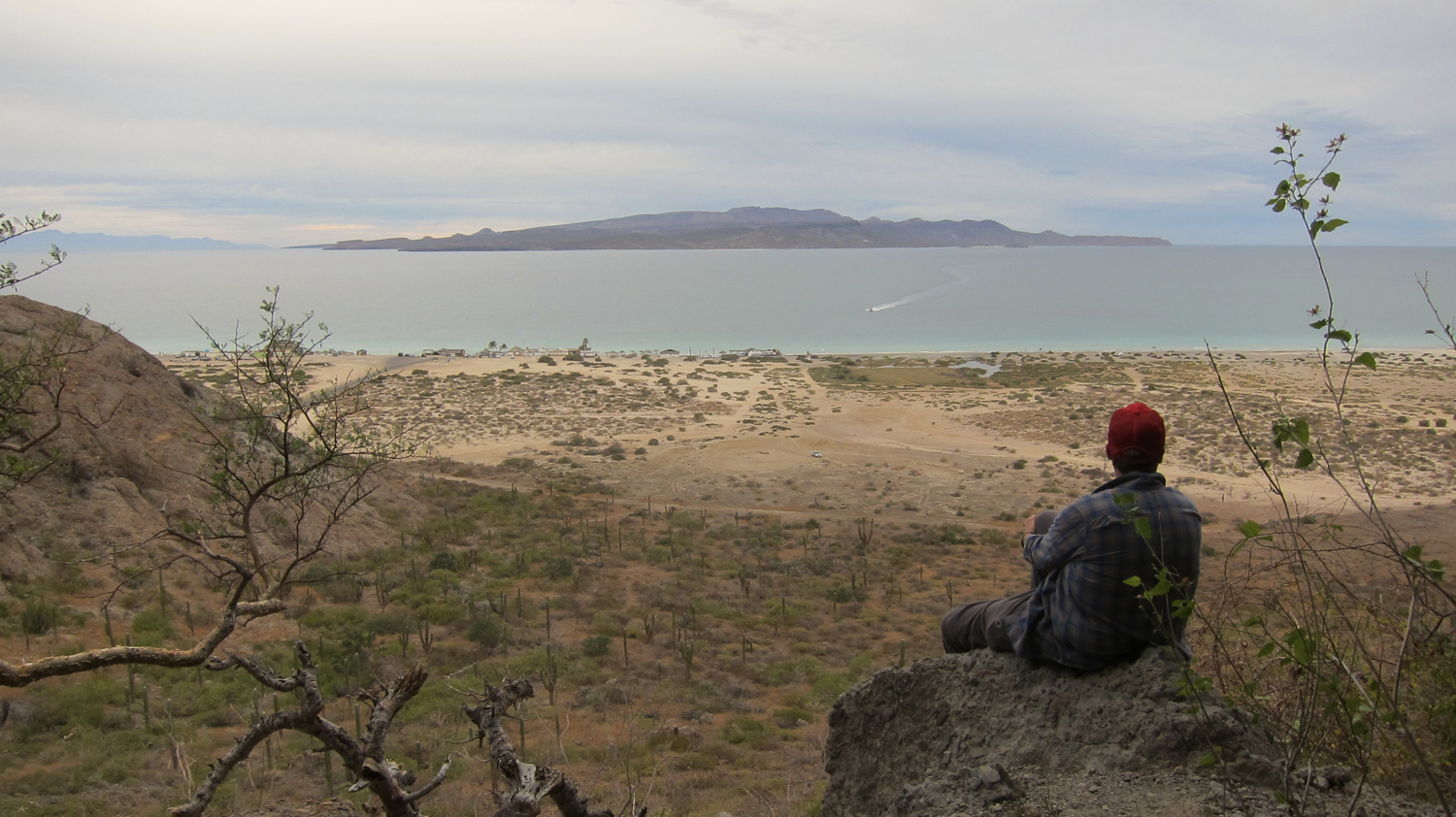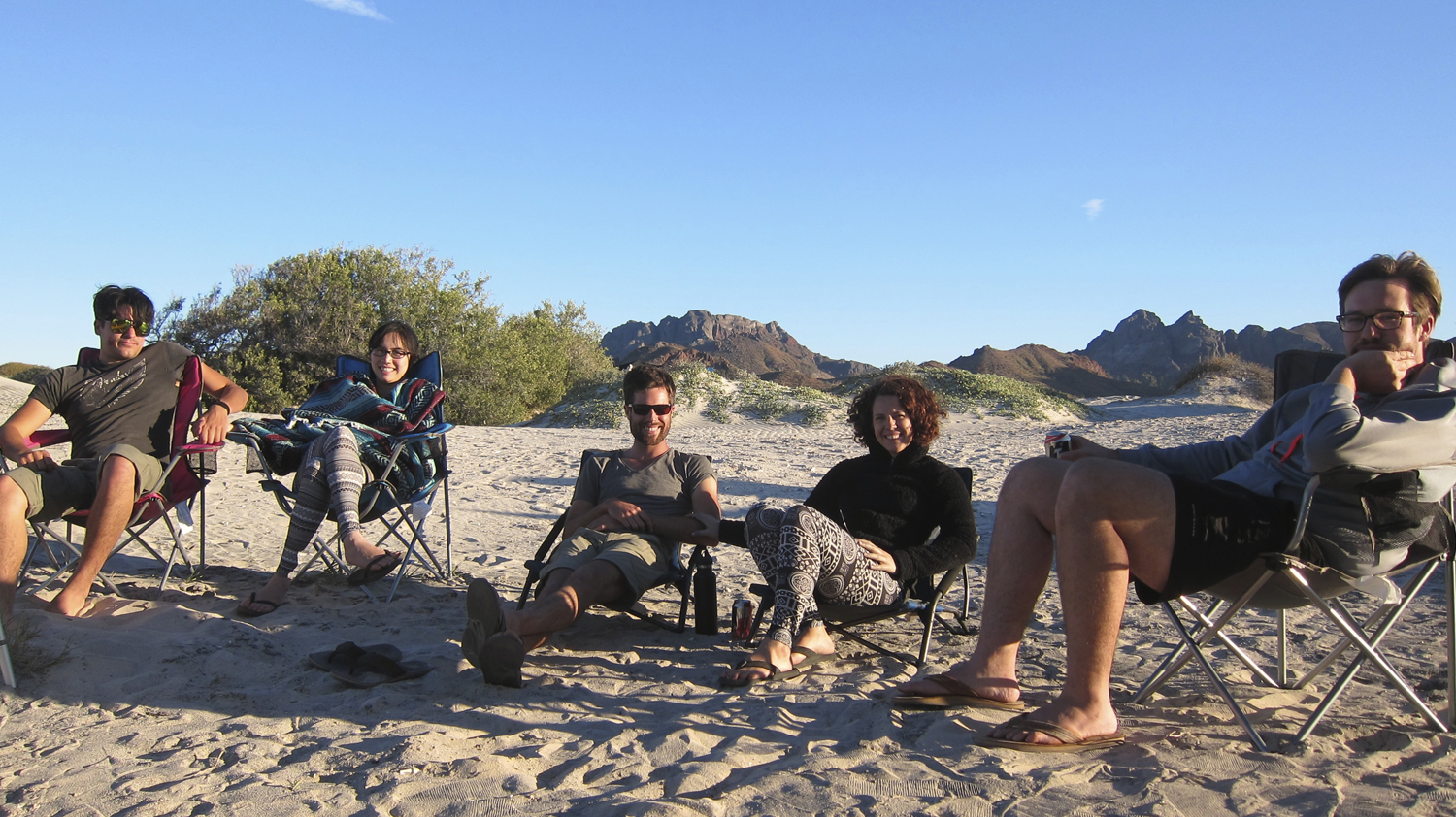 In an absolute blink of an eye it was New Year's Eve, and our friends' last night with us. They were going to leave at first light to start their journey north. So we decided Baja midnight was good enough for New Years (also known as 9pm). Julien, Nick and Tu busted out a celebratory bottle of prosecco, and we all satisfied our strange craving for Cup of Noodles. Now that's a New Year's dinner if I've ever heard of one.
As the sun began adding it's first colors to the sky we we're all giving the sad hugs goodbye. Jacqui and I are definitely going to miss the ClamVic crew and all the ridiculousness that comes with their company. I really have to hand it to them though, they all entered Mexico with their own opinions and expectations, but Jacqui and I got to see our inept overlanders learn the ropes of traveling down here, and fall in love with Mexico on their own. I might even be willing to drop the "inept" from their title now.