Jacqui and I were all smiles to be back at Patzcuaro's one and only RV park. At this point we've dubbed it Mazatlan 2 and are hoping Al and Marilyn won't have to call us the boomerang kids, though we seem to be right on track.
Regardless, all of life's luxuries were at our fingertips. Hot showers, Wi-Fi, electricity, English speaking neighbors, a macadamia nut tree, and a nice grassy spot to work on the Westy. With our minds rested and recovered we were ready to take Penny on her first drive since receiving fresh gas, fuel filter and new front brake calipers.
Munching down on Macadamia nuts straight from the tree!
We waived goodbye to our friends at made it 50ft...
One of the brand new clips supplied with the calipers broke on the way out of the driveway. By that point I was having a small feeling of drowning. I told Jacqui, "I don't think I'm capable of keeping this car on the road. It's like it hates me."
Literally 50ft from our campsite horrible noises come from right front tire. The brand new clip had broken. When compared to the original clips these were more cheaply made so I opted to put the old style back in.
Jacqui quickly snapped me out of the funk and I installed the old, sturdier looking clips then we went for our test-drive. I repeatedly had to remember to breathe. Like ex-military with PTSD every pothole felt like an engine stutter and would make me think we were braking down. It took a while before every Mexican car with squeaky brakes didn't make me think it was our van. But, after 2 hours of cruising around the country, we weren't having any problems.
Finally we (I) felt confident that we were a "go" for departure. Time to put Patzcuaro in the rear view mirror and do some sightseeing. We were taking the PennyWagon to her highest altitude yet to see the Monarch Butterfly Sanctuary in the mountain of Michoacan.
We spent one last night in the RV park, hugged Al and Marilyn goodbye for the fifth time and hit open road... mostly. As we passed Morelia it we were stuck in several hours of traffic for another Michoacan protest. The guy in front of us didn't seem to have any problems relaxing.
This guy in the back of the truck had no trouble relaxing in traffic.
As we cleared the city and entered the mountains the trees got taller, the air thinner and the roads narrower. Jacqui and I were glowing; we were yet again farther south than we'd ever driven. A quick stop to pick up carnitas from a stand that's aroma promised we were making a good decision landed me in a conversation with a local storeowner. After a few minutes of her asking me where we were from and where we were going, her little boy came out and asked if I would take a photo with him. They must not get many gringos around here to provide such a reception.
Jacqui spied the little boy and I taking said requested photograph
As the hours passed the road hit an all-new level of steep and narrow. PennyWagon, now wheezing at above 8000ft was reduced to first gear but trucked along happily. Finally, as we passed through the last mountain town before the sanctuary the road turned cobblestone and even steeper. Repeatedly there would be topes (speed bumps) and I'd furiously force the PennyWagon to restart moving uphill. I was getting nervous and hoping desperately the road wouldn't get any steeper.
It did...
One last, ridiculous grade stood before us and I mashed the pedal to the floor in first gear. We were climbing, but slowing. It became obvious the PennyWagon wasn't going to make it. I started abusively bashing the clutch on and off to force out some power that just wasn't there. 9600 ft and she just wouldn't do it. We rolled down the hill backwards to a safe spot and I hopped out to investigate. PennyWagon couldn't really be THAT gutless could she?
The un-passable hill and me doing what I'm always doing every single day...trying to figure out what's wrong with little Ms. Wagon.
Another dead oxygen sensor. PennyWagon was puking fuel out her exhaust. That sensor was only a month old. Grrrrr.... Well, I unplugged it, we chugged over the hill then added another part onto our future shopping list. This also marked the absolutely worst gas mileage we've ever gotten thanks to that little oxygen sensor. 8mpg compared to our freeway 17-18mpg, but thankfully it explained a few other odd issues we'd been having.
It was already late so we set up camp in the sanctuary's parking lot and watched local boys play soccer while we read. All in all, a very good day.
A little exploring of our new campsite in the mountains.
The following morning Jacqui and I were eager to hike up the mountain and see this wonder of the world. Thousands upon thousands of butterflies all living here for half their life was definitely promising to provide us with lasting memories. But first we had to hike a mile up 620 stairs and a long steep dirt path. I quickly found out that being born and raised sea level I was wheezing worse than the PennyWagon had. Somehow Jacqui was unfazed so I had to try to maintain my game face despite feeling dizzy. Normally I'm more of the talker when we're with Spanish speakers but on this occasion it was definitely Jacqui left with enough oxygen in her lungs to ask our tour guide all the questions her curious mind held. I have to hand it to Jacqui, her Spanish is really sharpening.
The walk up to the sanctuary
Finally we reached the top and suddenly we had to watch our step. Not only were thousands and thousands of butterflies huddled together in the trees waiting for the sun to warm their wings, they were all over the ground and could easily be trampled on by a clueless, out of breath gringo.
The one and only unfortunate fact was that it was a particularly cold day. Without the heat of the sun the butterflies simply can't fly. Despite that, I think Jacqui's photos say more than I can about this amazing place.
The masses of butterflies clustered together look like dried leaves. These butterflies on the ground aren't dead, just cold. Our guide was tagging one of the butterflies and Jacqui was working hard to get all those pictures you enjoy.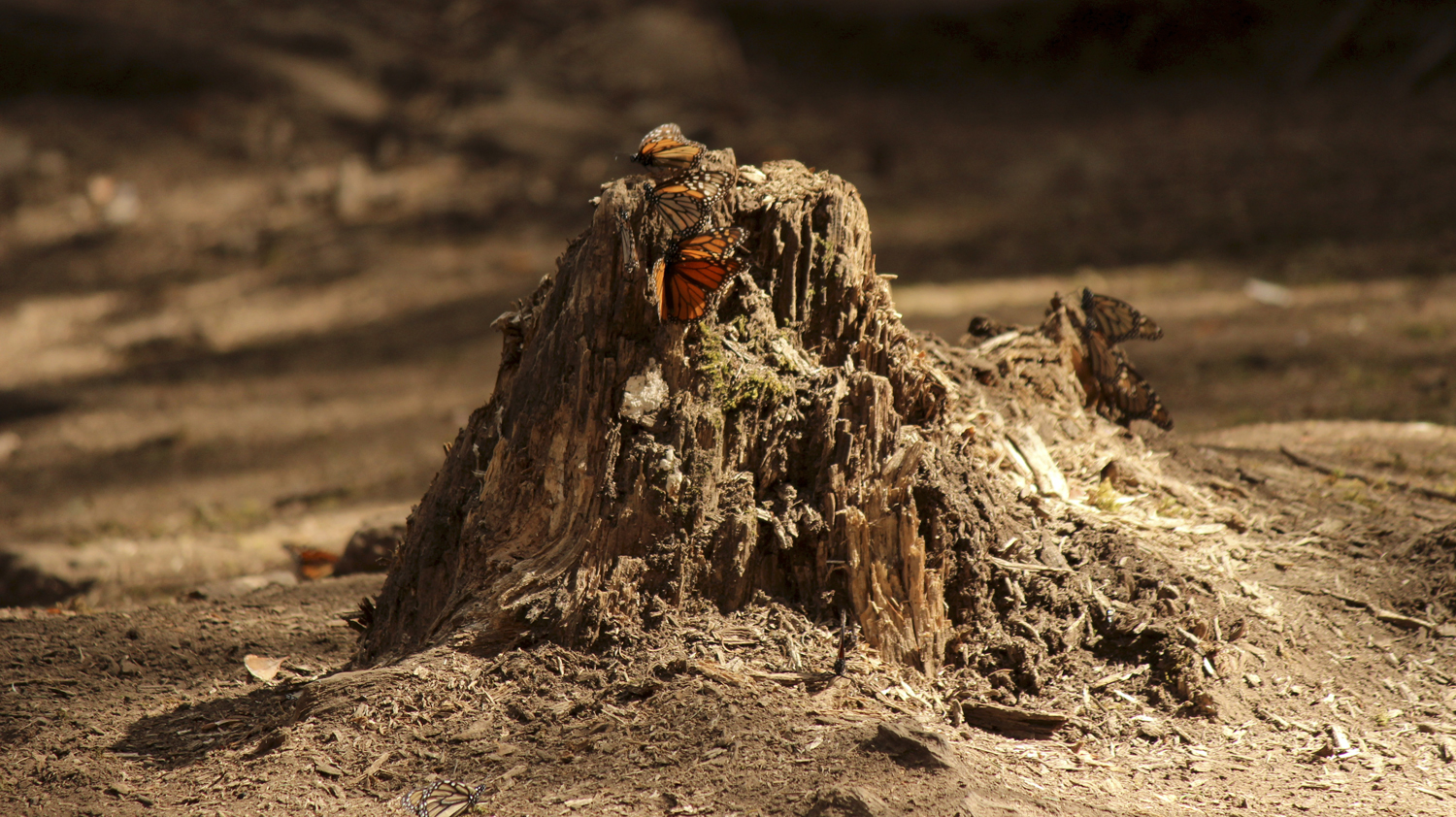 As we departed some boys asked for cookies. We only had crackers but they were happy nonetheless. Also, a group of college students asked us for an interview regarding our time in the sanctuary.