Jacqui and I finally turned our wheels north towards the San Francisco Bay Area. It's where I was born and raised, where Jacqui and I met, and where we are heading to regroup before starting our journey all over (a.k.a.: Jacqui and Cameron drive to Chile v2.0). It's a bittersweet feeling. On one hand it will be great to see friends and family, on the other… we're not supposed to be back yet!
Feeling no sense of urgency to return, we've made ourselves California tourists, which is an interesting viewpoint to take while driving through your home state. The great Highway 1, and our imagination, stands between us and our journey's starting point.
However, one thing had to happen before we could continue. Apparently my grooming was falling out of order, as Jacqui informed me by telling me I looked homeless. In my defense, I do live in a van. So before saying our farewells to Helen and Martin, who we'd been staying with in Indio for a few days, we made our way to a barbershop where I got a haircut and beard trim. I'm not going to lie, I was a little paranoid about the big blade across the throat. Regardless, with Jacqui now happy to look at me again, our tourist adventure began.
Hanging with Helen and Martin before heading North
As all touristy adventures should start, we filled ourselves with science and history. Day-one-stop-one was Griffith Observatory in Los Angeles. Space, planets, a giant telescope, free admission and a chance to weigh oneself on each planet were just some of the highlights. Let's just say on Jupiter Jacqui and I would be struggling to walk unless we lost some serious pounds.
Windmills of Indio to Griffith Observatory in Los Angeles
Being that we had such a late start for day one, grabbing some dinner and sleeping in a Wal-Mart parking lot concluded the excitement. Well, sort of. Apparently dinner didn't sit very well with me. After realizing that the Wal-Mart we were boon-docking near wasn't open 24hrs, I had to find a nice dumpster to vomit behind. Honesty, my biggest fear at the time was that somebody might mistake me for a drunk and try to have me arrested. Who knows, maybe they'd just assume I was bulimic and try to get me help.
After a healthy helping of minty toothbrush freshness, day two was upon us. We covered many miles and made many stops, first of which was Mission Santa Barbara founded in 1786. Despite being beautiful and inspiring Jacqui and I to take many photos, I'll admit my eyes glazed over a bit while trying to read my way through all the history. Jacqui, on the other hand, was enthralled. She carried away with her the story of Juana Maria, a woman who lived completely isolated for eighteen years before being brought to the mission. Even after we left the mission, Jacqui researched and read aloud Juana Maria's story while we drove.
Mission Santa Barbara
By the time I was entirely educated on Juana Maria, we'd arrived in Solvang for some lunch. Dutch was beyond a theme in this little town. Meatballs, pumpernickel bread and pickled herring were devoured by us before we hit the road in search of a stop I'd been waiting for… GoWesty!
For those of you not familiar with GoWesty, this is a place that specializes in parts, restoration and adventure preparation for VW Westfalias. It was time for Jacqui and I to get some much needed upgrades for our little lady. Needless to say, I was excited.
The little town of Slovang and the road to GoWesty
If you think our day two traveling was done, I'm here to say, we were far from it. Our day ended in a classic 'traveling with Jacqui' manner. As we twisted and turned our way down Highway 1, stopping a bit here and there to view kiteboarders and sea lions, Jacqui did what she does best... direct us up a questionable side road in search of a camp site. Ten miles of twisty, single lane, paved roads leading up through the clouds only ended when we turned left onto a dirt road. This road continued another six miles, and when we reached the top, we were camping above the clouds. I'd say it was definitely an upgrade over a Wal-Mart parking lot.
Highway 1 and camping above the clouds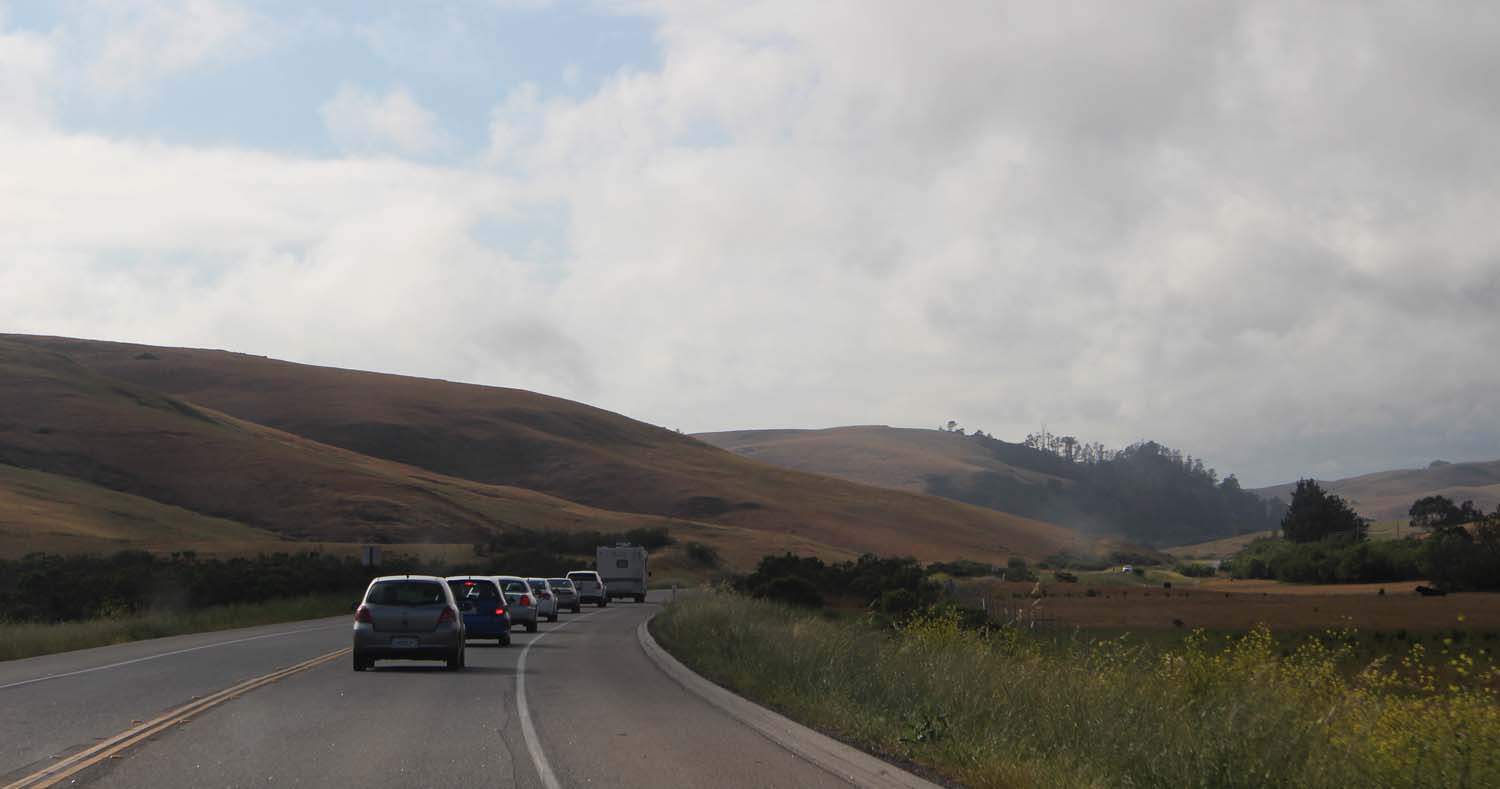 The next morning we hit Big Sur Bakery for some breakfast, passed on the $6 lattes, and hunkered down for the last of our journey. When finally arriving in San Francisco, poor Julien and Tu, who probably thought they'd be rid of us for a while, became the hosts of the first couch we crashed upon. The very next day we met with Jacqui's brother and friends for a BBQ in Golden Gate Park.
San Francisco!
At this point I should probably be giving you some juicy paragraph that wets your appetite for our next adventure filled blog post. But, simply put, I know only a little more about this puzzle than you. So I'll just leave you with some facts for now.
The Westy is not ready for full time habitation, but we've been shipping the parts needed to my parents address. For a kiteboarding inspired road trip to Chile, it's now the wrong time of year to start heading south (each place has it's own windy season) so it'll be a few months till we cross the border again. We're here temporarily, we're not planting any roots and we've got DIY projects, mini roadtrips, making some money and kiteboarding on the menu while we get ready for Cameron and Jacqui go to Chile v2.0.