Operation: Tour Guide
Classification: Mission Impossible
"ClamVic this is PennyWagon, do you read me? Over."
"Roger that PennyWagon, ClamVic reads you loud and clear."
Weeks had passed and Jacqui and I were supposed to be in La Ventana patiently awaiting the arrival of our three friends. However, with the laundry list of last minute mechanical set backs, the name of the game had changed. Now our only goal was to make sure we were ready to accompany our friends for the border crossing.
While quite literally finishing the last of the brake work on Penny the night before our border crossing, we phoned Nick, Julien and Tu to arrange our early morning meet up spot near the Tijuana border.
Without the sun adding even a glint of light to the sky, Jacqui and I fired up little Penny and started closing the hour gap between the border and us. As the sun began to add it's first ominous glow, Jacqui's phone set to buzzing with a text message of bad news.
Nick - "Hey come to the hotel we have a situation."
Jacqui immediately called Nick back. That's when we found out Tu had fallen in the bathroom, hit her head, and had what appeared to be a seizure.
We arrived in a few short minutes, got the situation explained and took a look at our poor friend Tu. She was conscious, but obviously not feeling well. Despite her saying she was fine, we all put our collective feet down on the situation and demanded she go to the hospital to get checked out before any form of border crossing was to be attempted.
So instead of filling out tourist visa forms, Tu filled out hospital forms. In a few hours she had been thoroughly scanned, tested and given a clean bill of health. So there truly began our journey with what I now dub the Inept Overlanders.
Being it was too late in the day to cross the border, we made the best of our time and enjoyed beautiful Southern California.
Enjoying our unexpected extra day in Southern California
The next morning we finally got our early start. We handed one of the cheap Walkie-talkies we'd purchased a few days earlier to our friends, and drove due south for our border crossing. Without a hiccup, or even a vehicle search, we had our visas and we were happily driving in Mexico!
Border crossing butterflies!
It quickly became apparent that something was wrong with the PennyWagon when our first gas fill-up showed a whopping 11mpg. A quick test condemned the oxygen sensor, so I unplugged it. On top of that I left the gas cap at the very first Mexican gas station we stopped at. Jacqui and I were clearly going to end up in a junkyard again.
I decided it was best if the other group split off and did some exploring on their own so they weren't stuck watching us do the stuff we seem to be most famous for…roadside auto repair. We picked a meet up point and went our separate ways.
Choosing the rendezvous point and splitting paths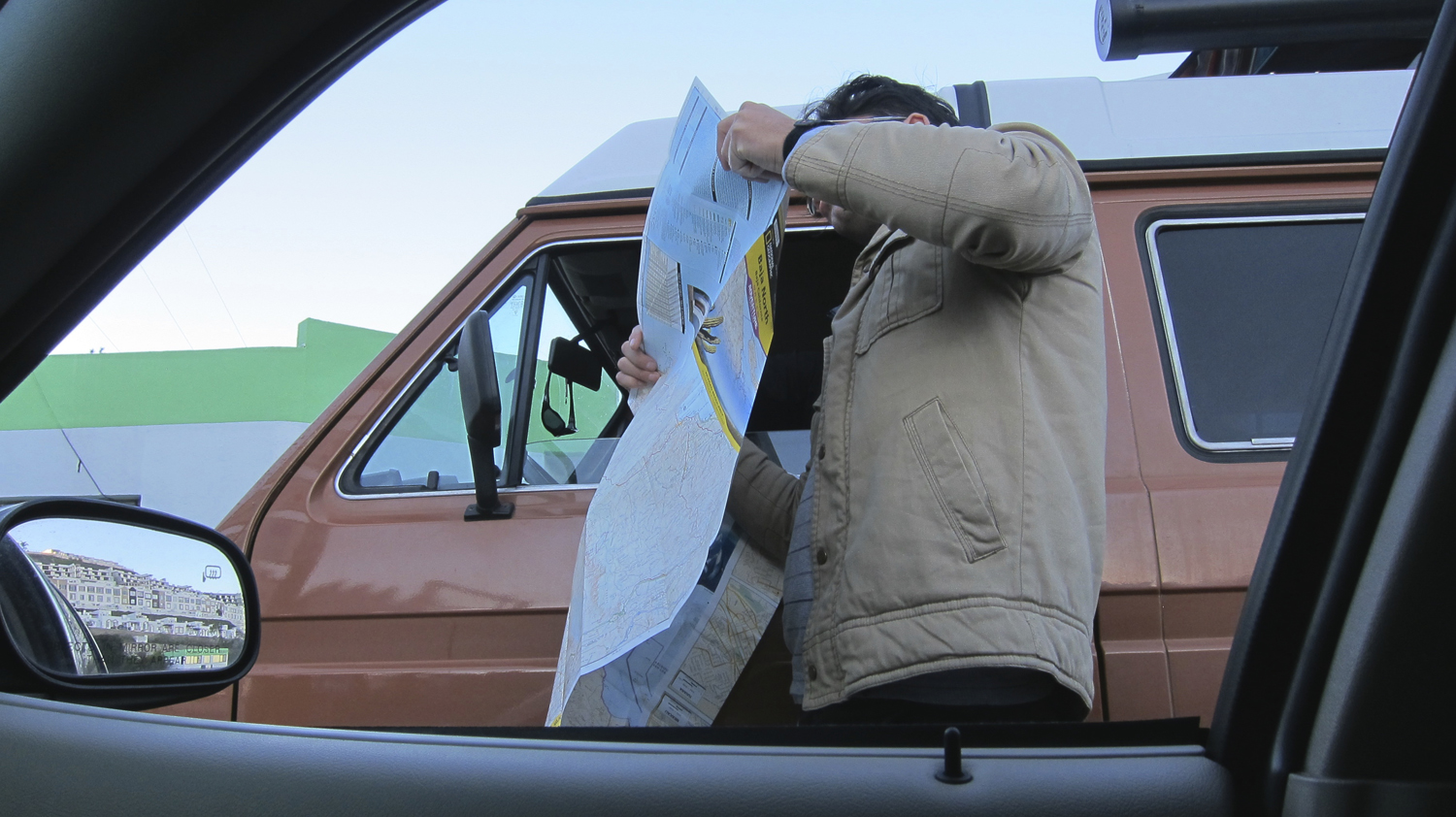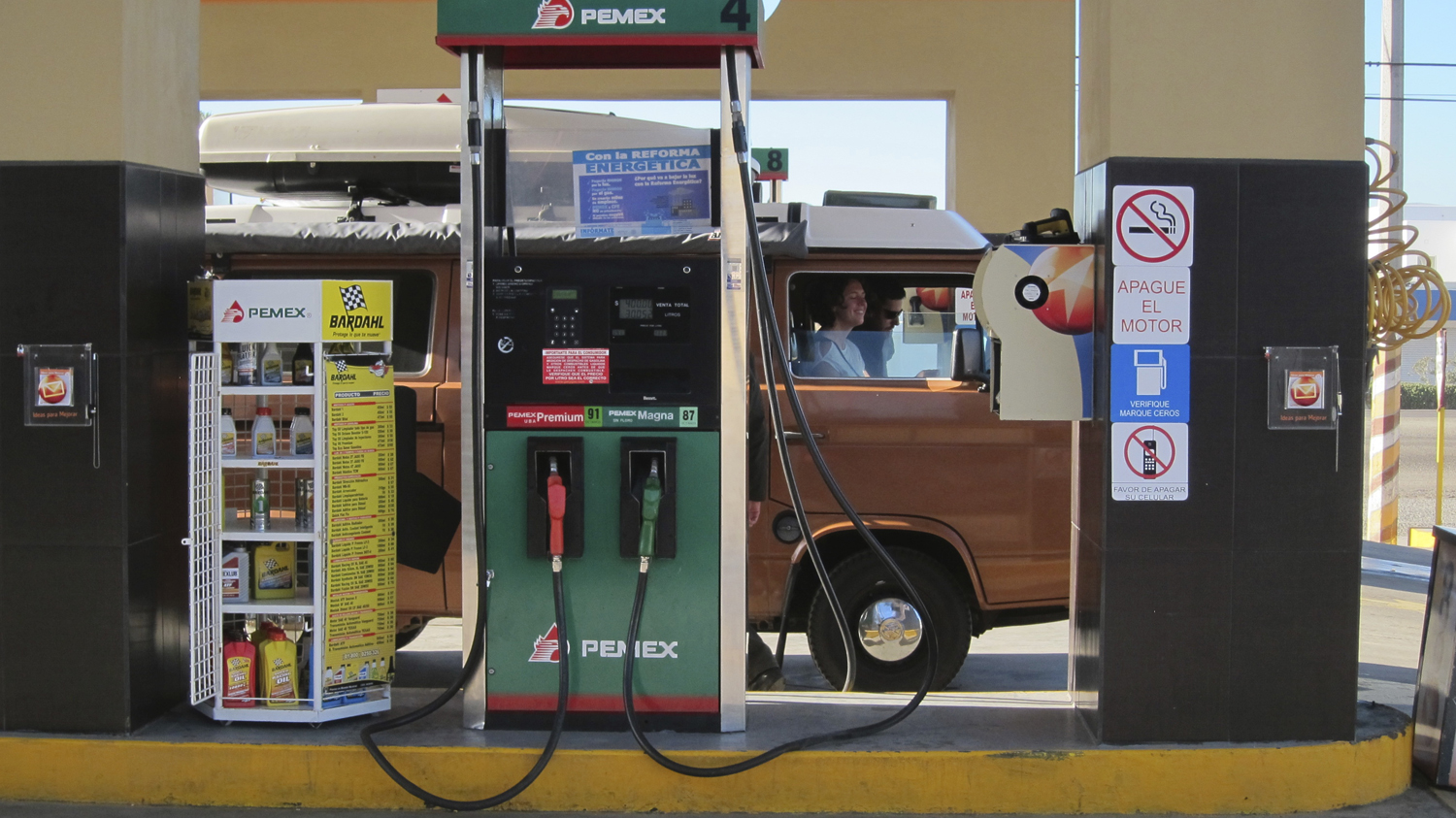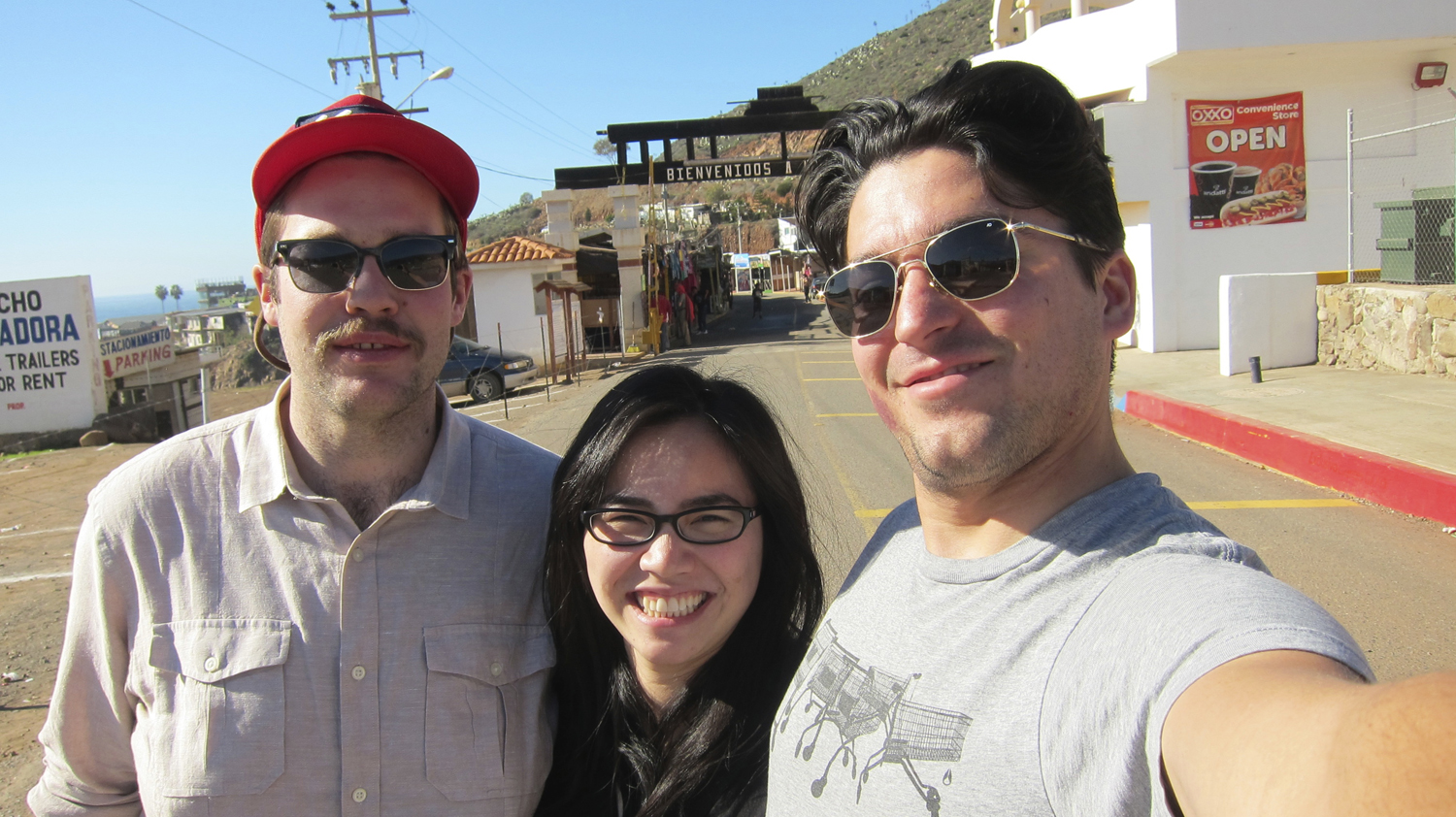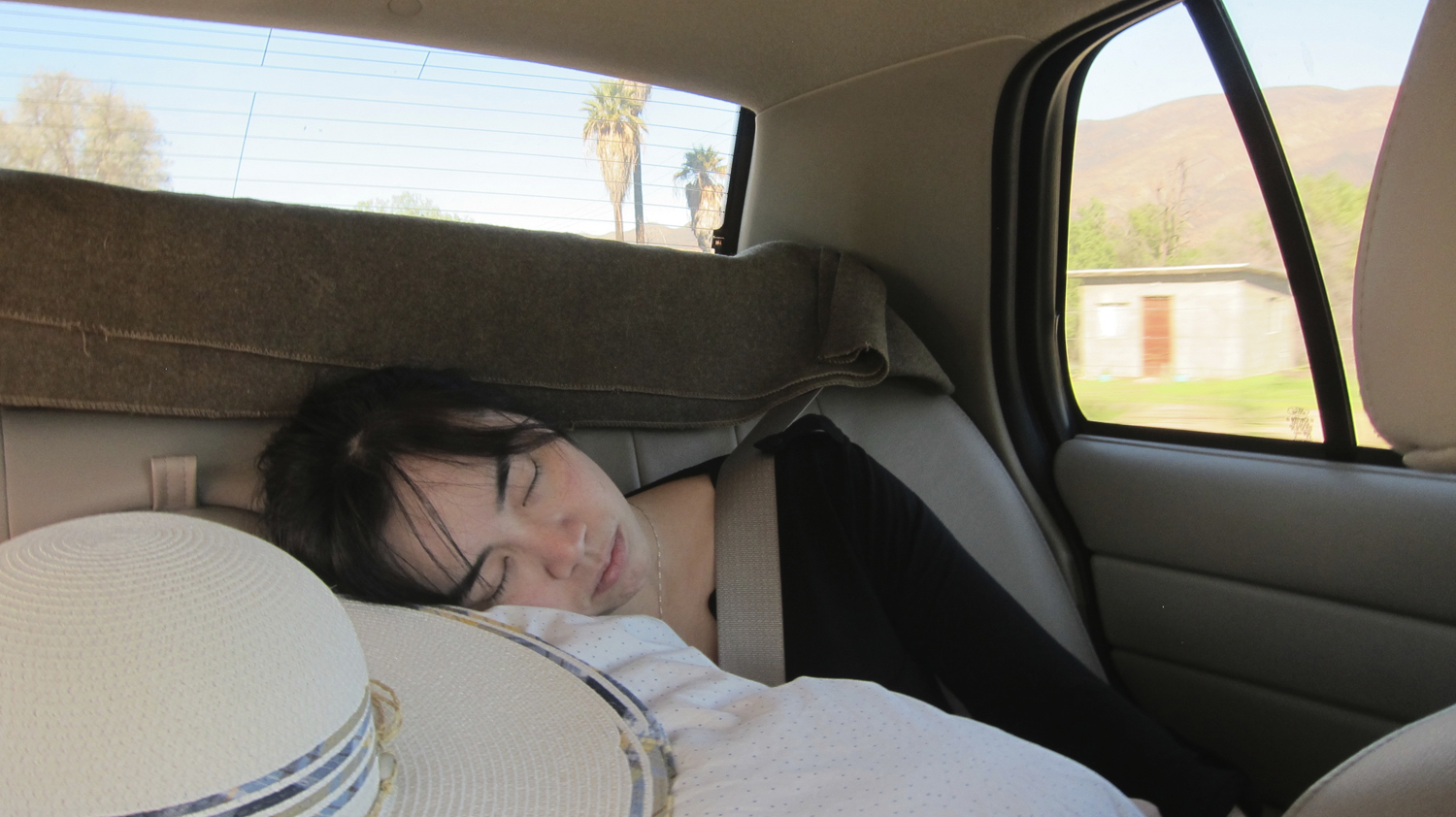 Hours later Jacqui and I pulled up to our intended meetup point, Mama Espinoza's in El Rosario. We sat with our Walkie ready, calling out every few minutes to see if the rest of our crew would respond. Jacqui and I began to harbor doubts. I love my friends, but had we been foolish thinking they were responsible enough to travel Mexico alone? Perhaps they were already sitting in a Mexican prison? With Nick's Malibu hat, aviator sunglasses and newly grown mustache surely every military checkpoint assumed my friends were drug smugglers.
Finally the radio crackled with our friends announcing they were almost there. We reconvened and started the trek down the 10-mile dirt road to our first nights campsite, Punta Baja. Jacqui and I spent most of the drive laughing to ourselves imagining what our friends must be thinking while we drug them down a seemingly endless, and pointless dirt road. I think they were pleasantly surprised when we arrived. For Jacqui and I, this was our second visit to this sleepy fishing village.
The never ending dirt road to Punta Baja
Night one Nick found a full clam shell, asked me for a zip-tie and the Crown Victoria earned its radio call sign, the ClamVic.
First night of camping in Punta Baja, Jacqui and I starting to get a clue about how our friends pack for survival, and Tu scaring the locals with her pajamas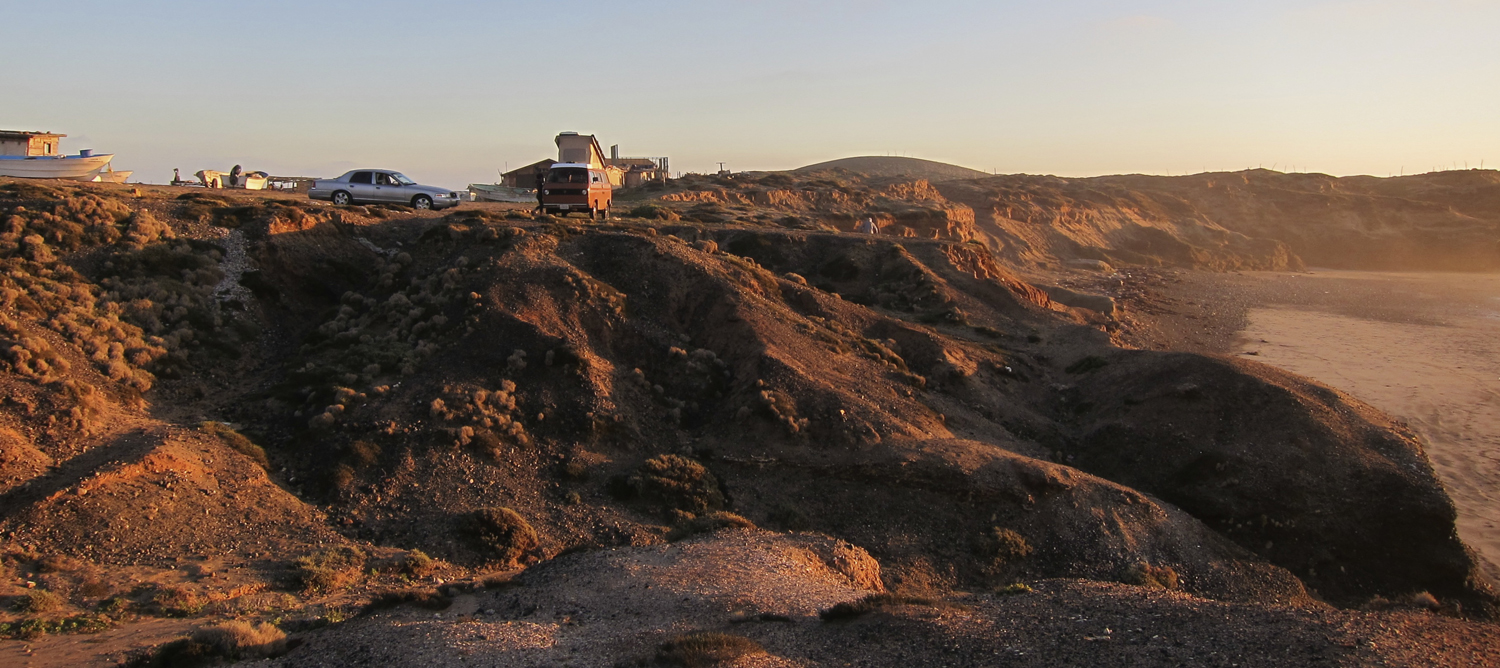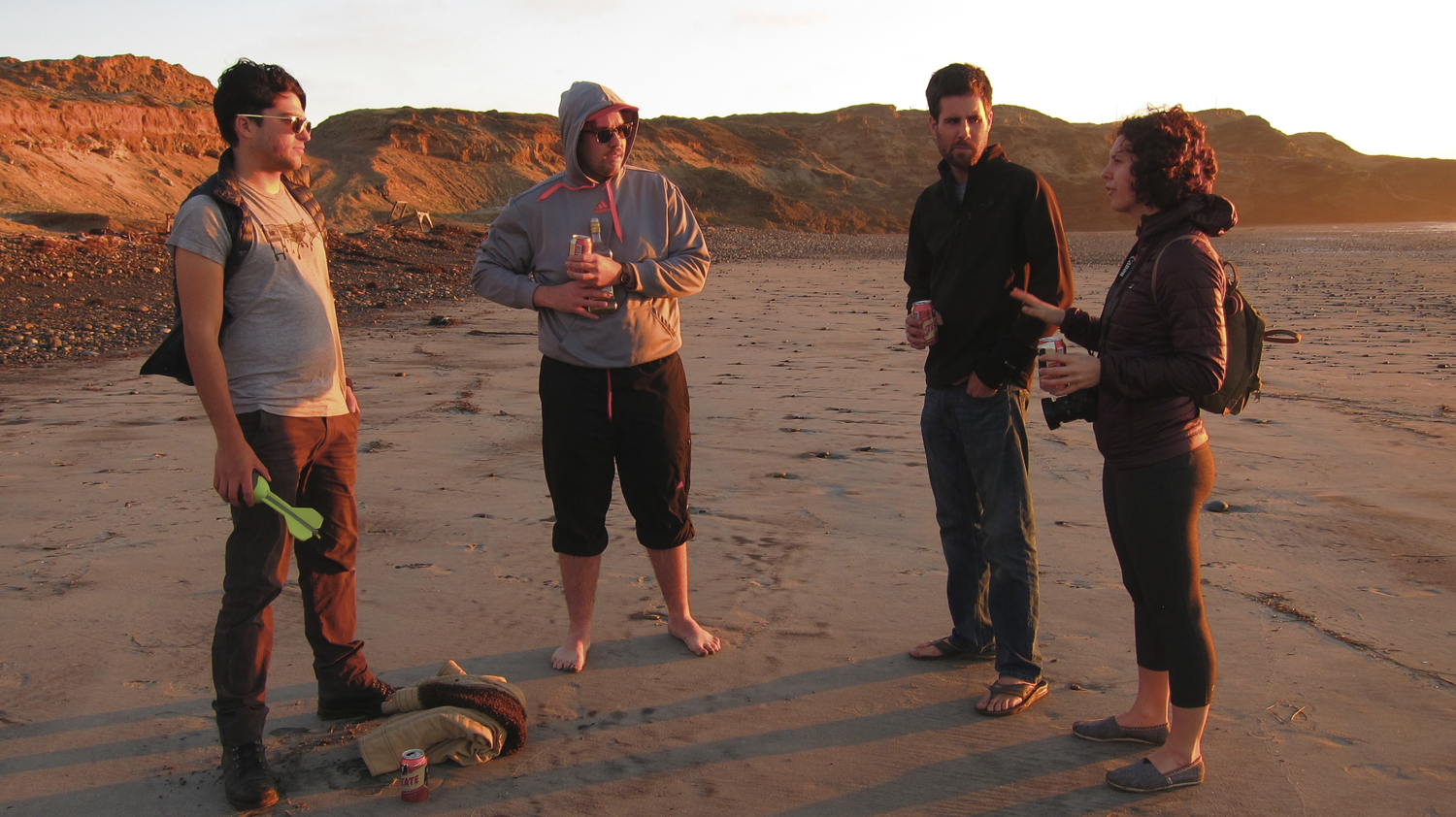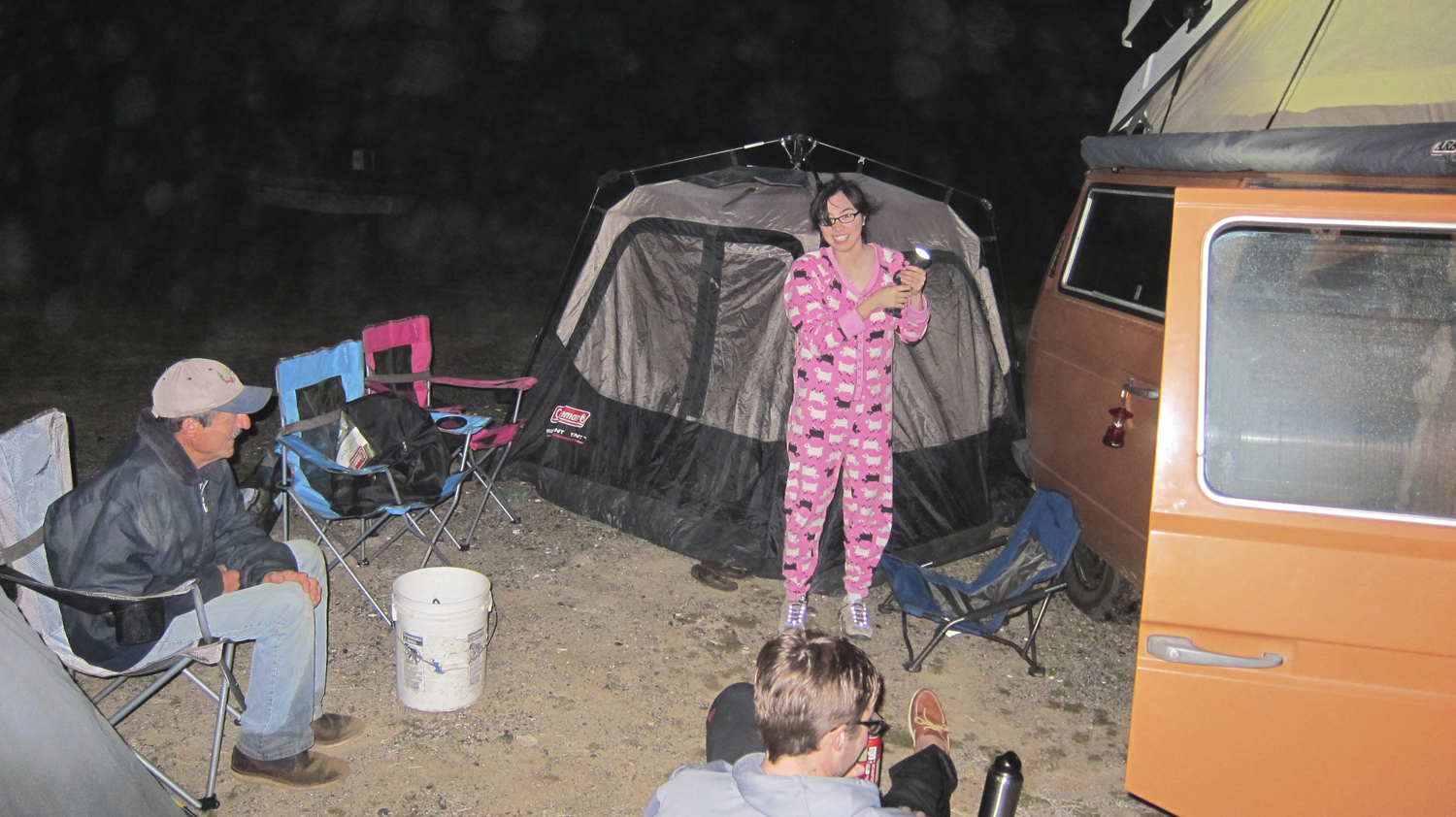 Before first light the alarm sounded. We had a long day of driving and no time to procrastinate. Jacqui and I looked at each other and agreed it was time to wake the children. With plenty of complaints the promise of coffee and breakfast was the only thing that could coax Julien and Tu out of their tents. In no time at all we were on the dirt road back to Mama Espinoza's to break our fast, then on a straight path to Guerrero Negro.
The descent back into El Rosario and breakfast and Mama Espinosa's!
"ClamVic this is PennyWagon. The winds are just too strong. I can't go any faster. Go on ahead we'll see you in town."
3rd gear, 45mph hour was all we could muster for most of day 2. We we're driving in an El Norte; a weather pattern that is most kiteboarder's fantasy, but any Volkswagen driver's nightmare. Regardless, night two found us traveling another endless dirt road and even discovering some other overlanders in our search for a campsite near Guerrero Negro.
The insanely windy roads to Guererro Negro, the ClamVic doing some doughnuts and Julien and Nick leaning into the wind.,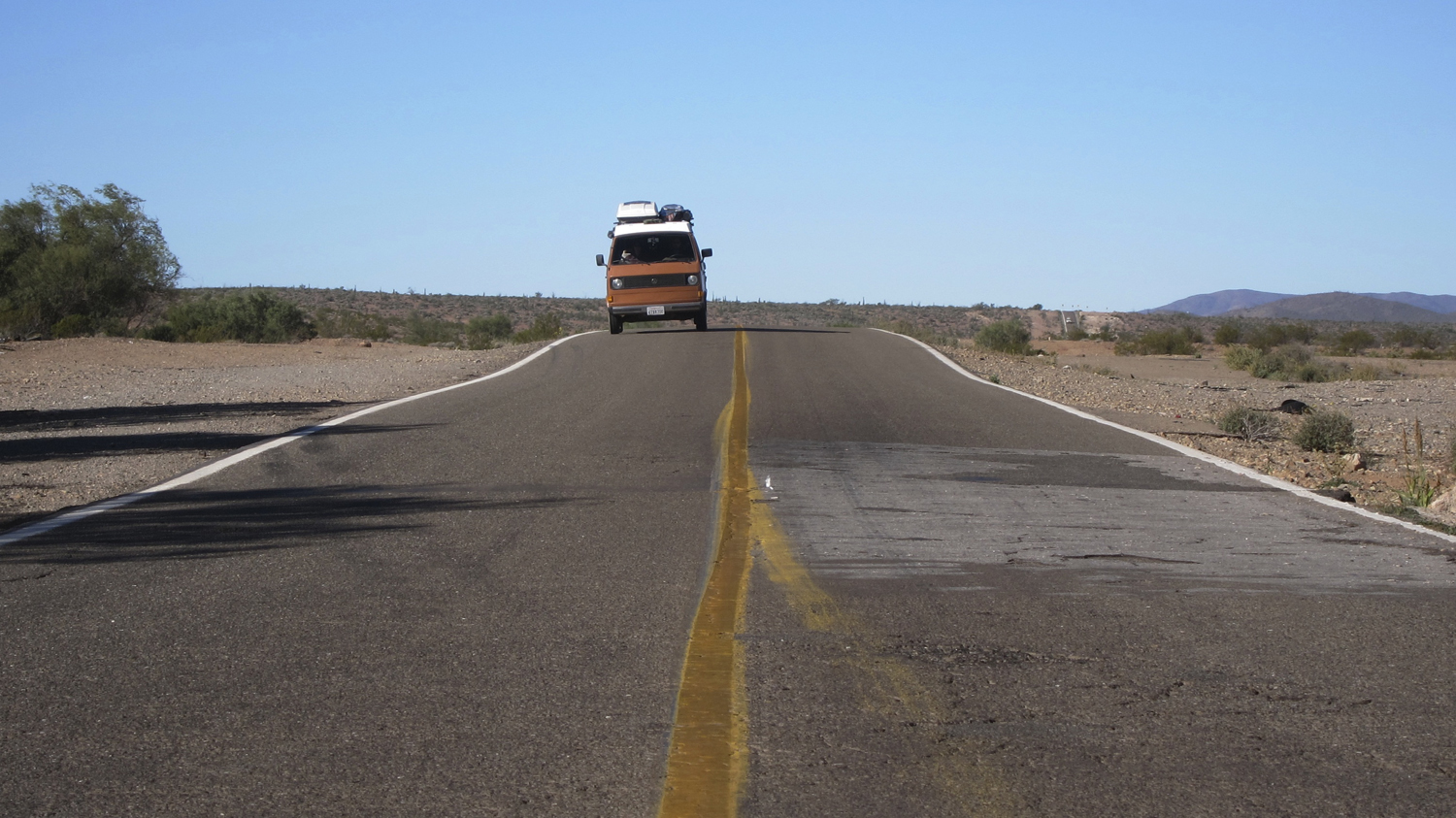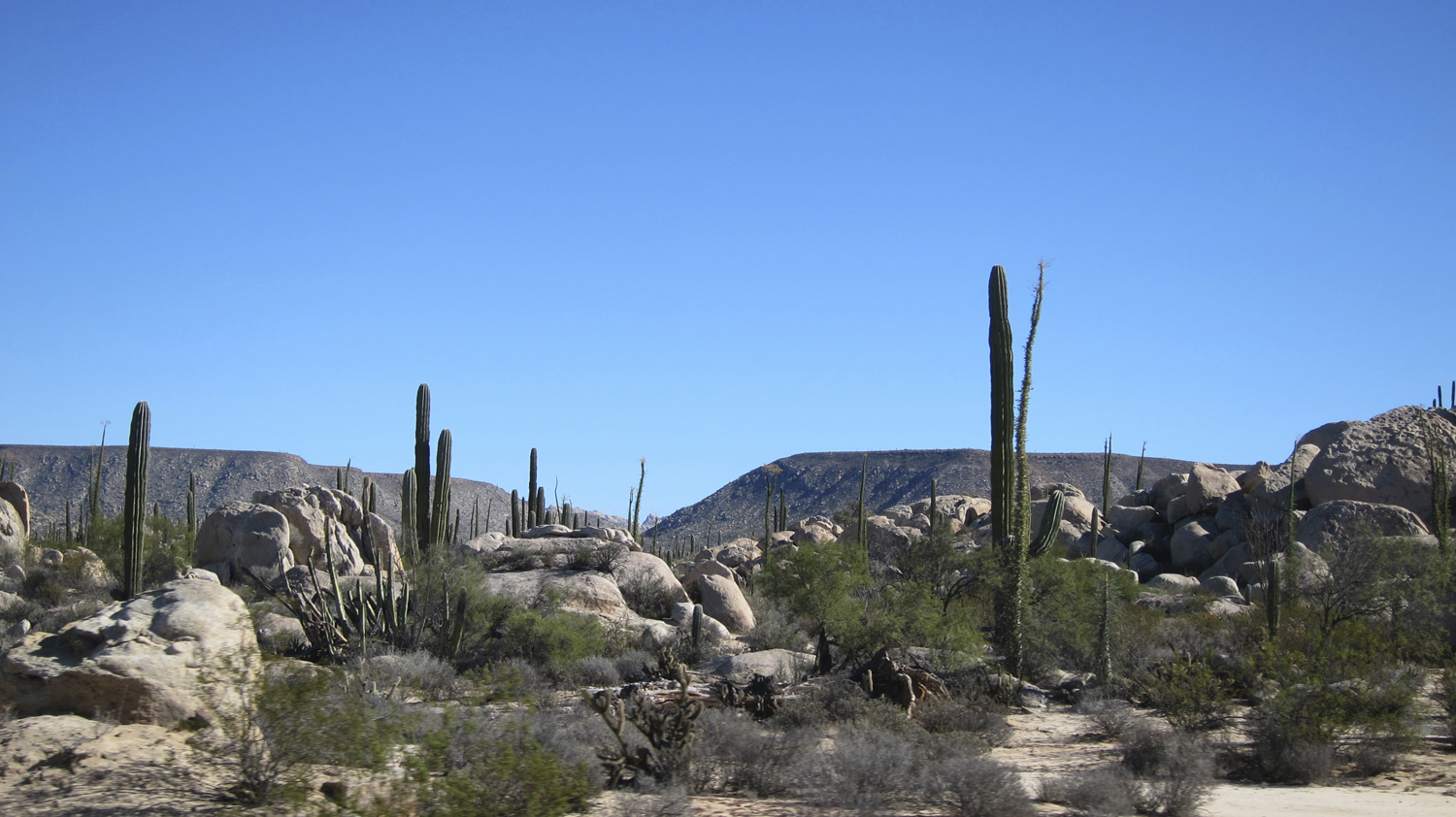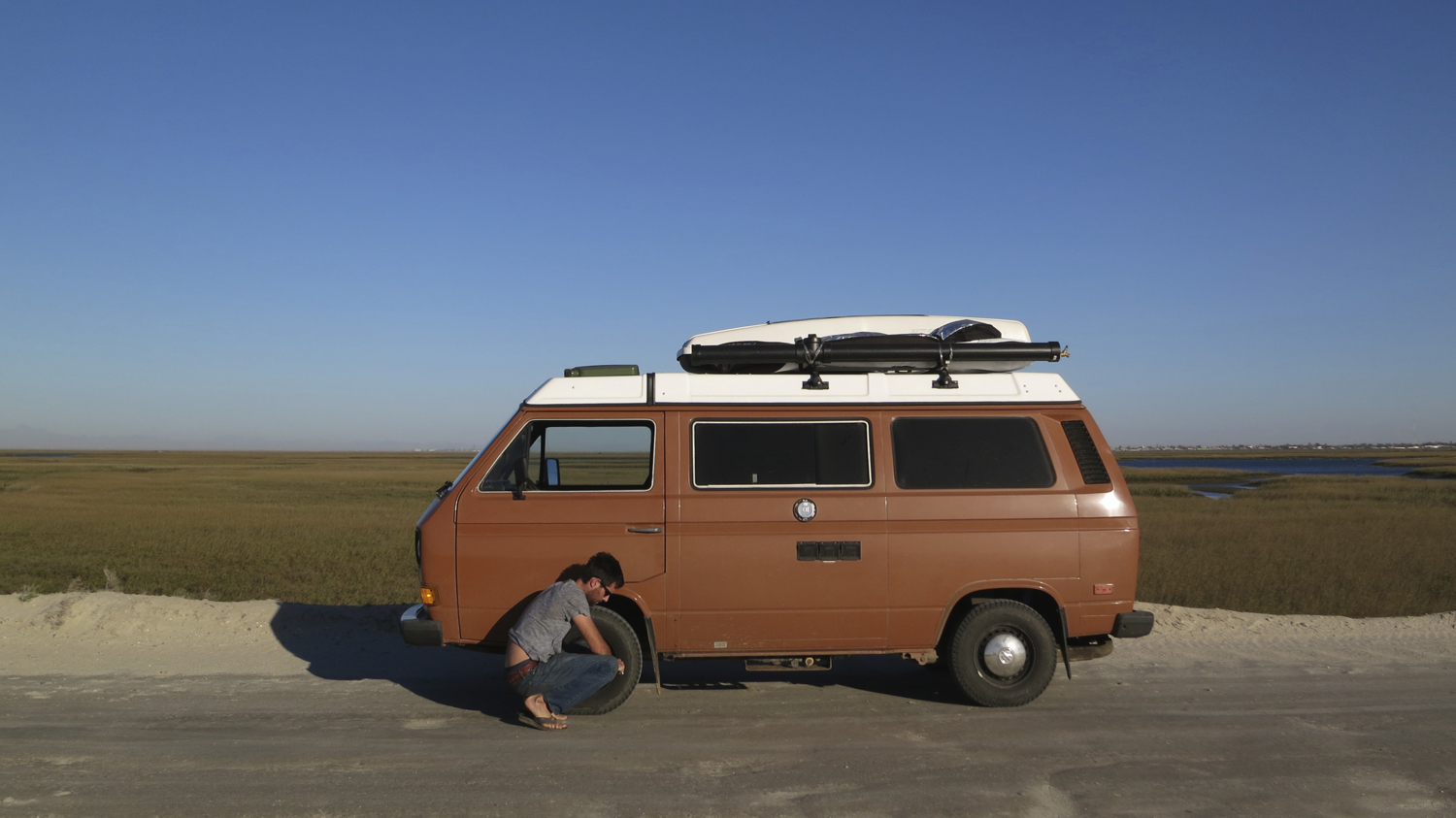 A little taste of some of our camping setup dialogue.
Me - "Did you guys buy any water? How about food?! How do you plan to survive with nothing but tequila and Tecates?!?!"
Nick - "Cameron can be a mean dad."
Settling down in a windy campsite near Guererro Negro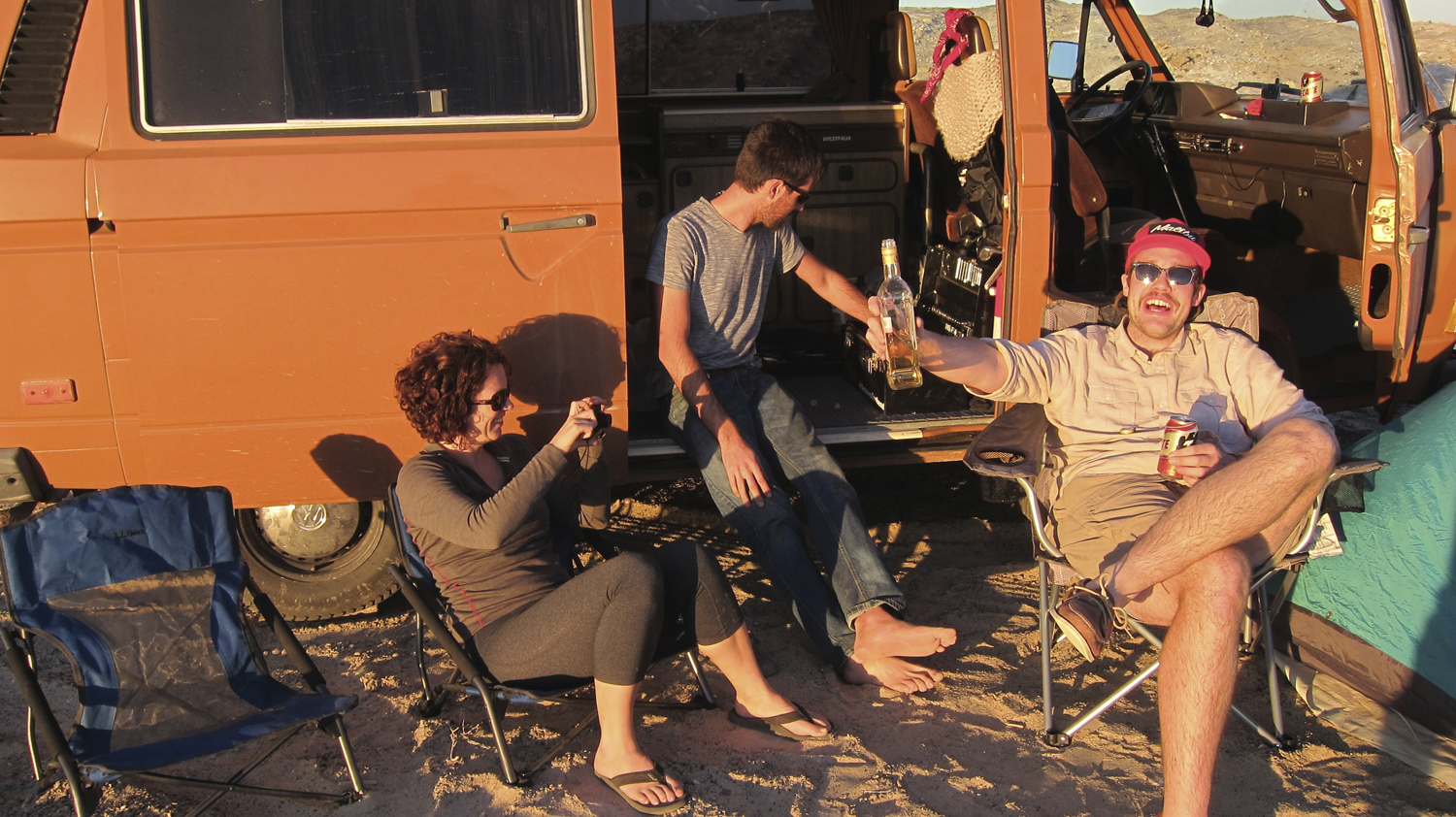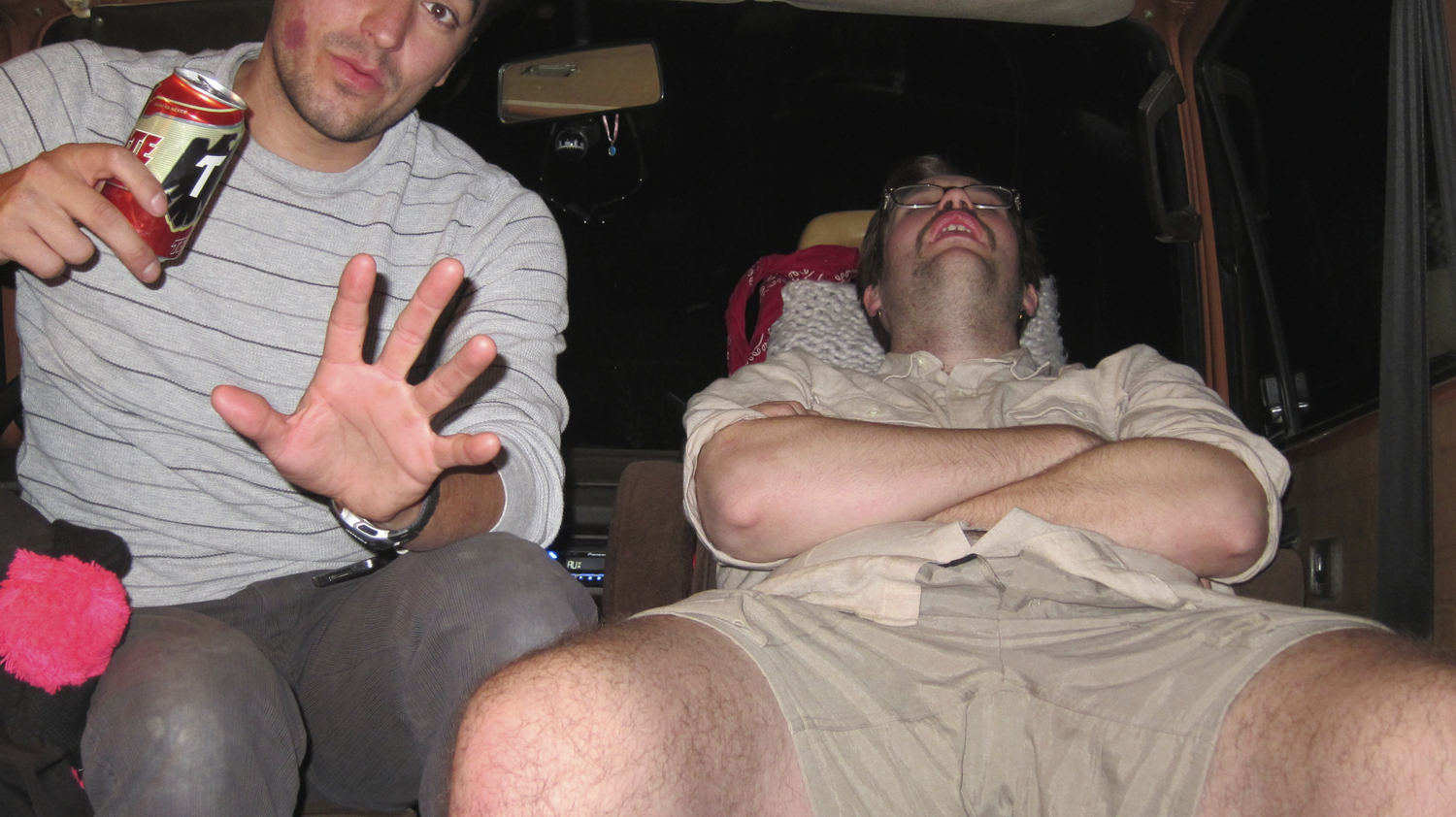 The following morning was the same game. Corral the cattle for another early start. We had only one goal, get to Bahia de Concepcion early. This is one of our favorite stops and Jacqui and I wanted to have plenty of daylight to enjoy it. Our little minions complained that we didn't need to leave so early, but I think the sunrise views and beauty of our days campsite might have shown them why we travel the way we do.
Not to mention the infamously powerful margaritas served on that little bay kept them very happy.
Sunrise in Guererro Negro, a stop in Mulege and a poor attempt at snorkeling in the Bay of Conception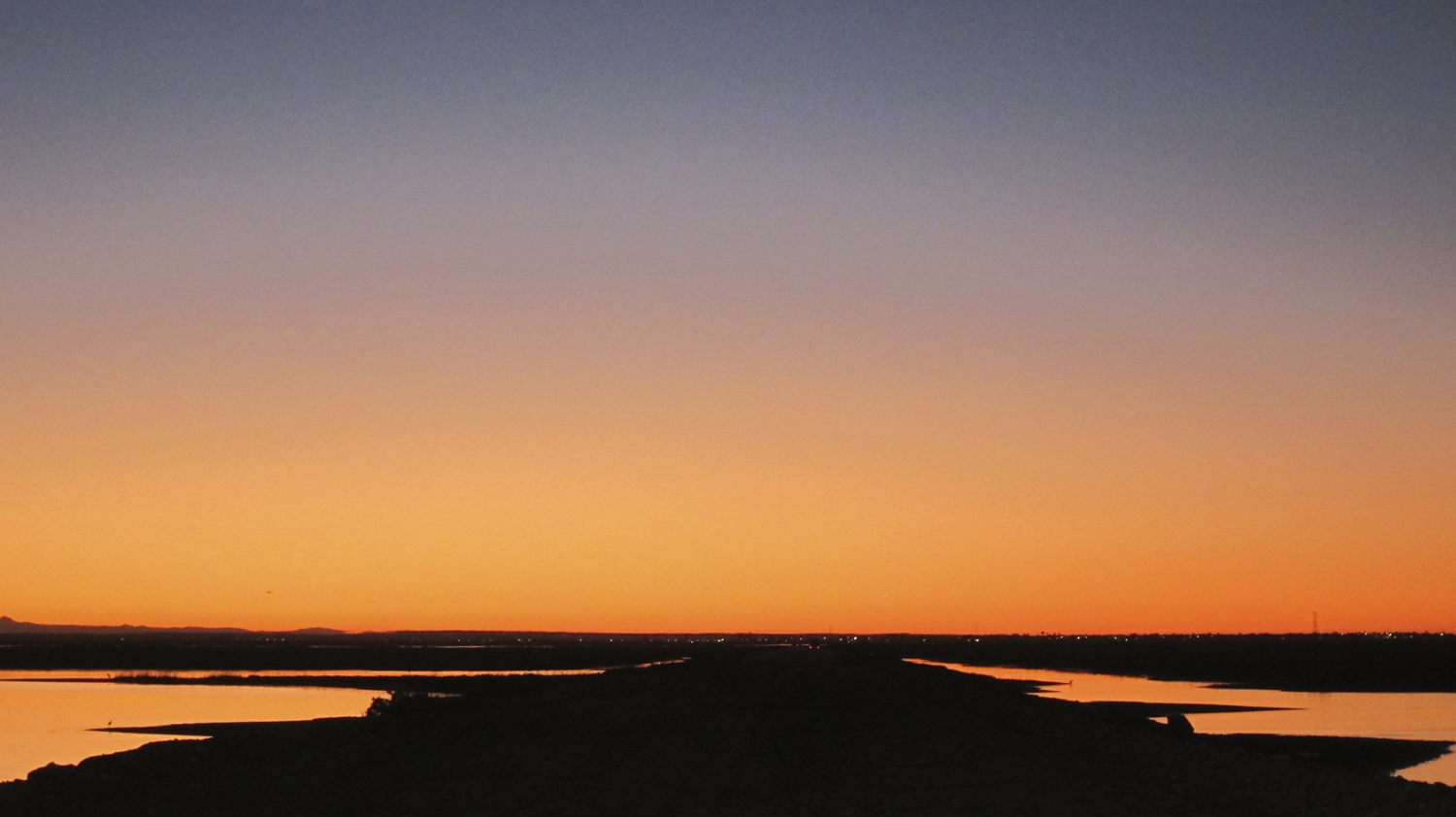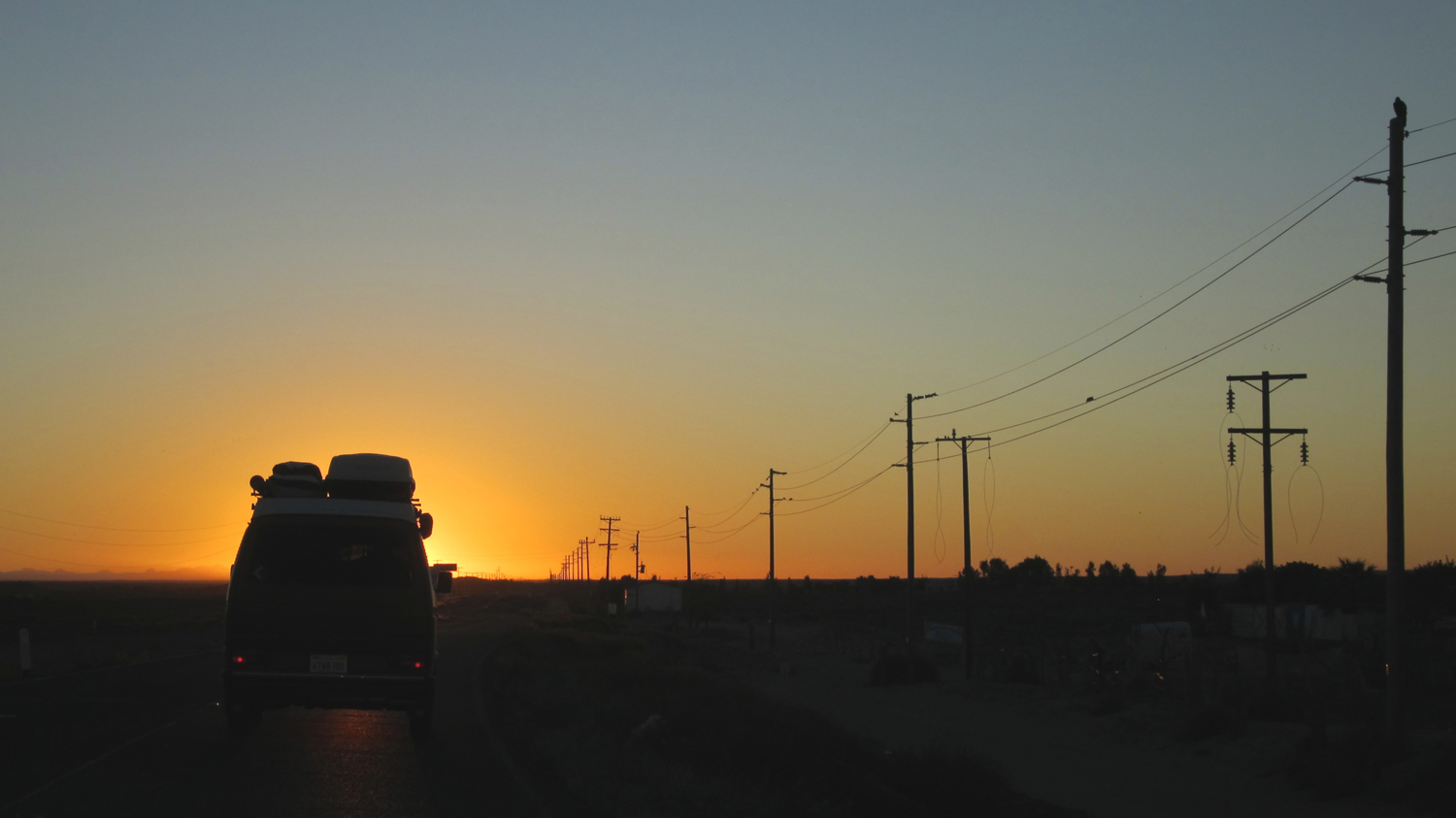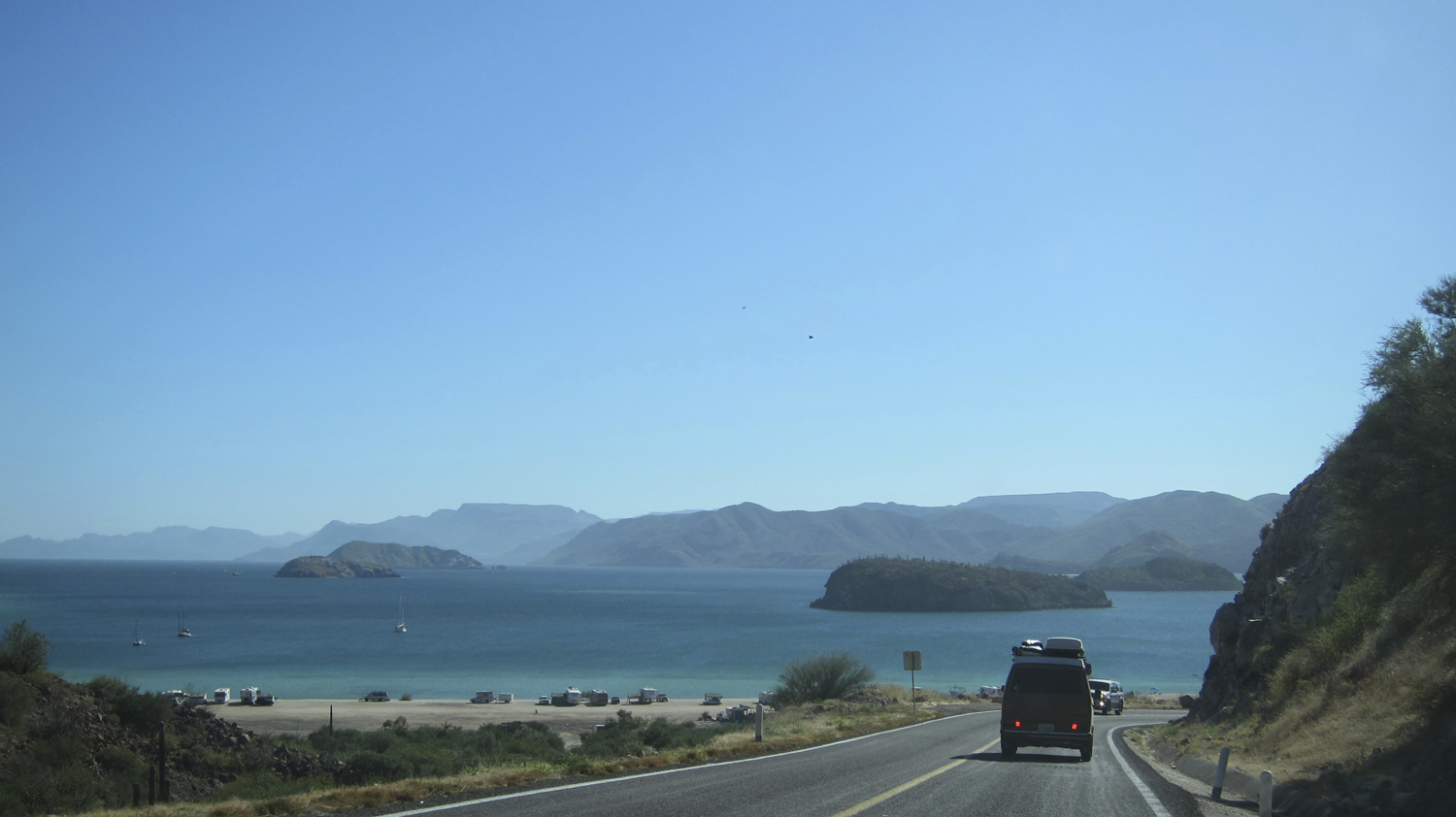 At last we made the final push to La Ventana. Shockingly, there was no morning complaining. A quick pack up, some coffee and a long final drive gave us a Christmas day arrival into the little windy town. Tu maintained her dedication to seeing absolutely no scenery the entire 1,000 mile drive south by sleeping the entirety of it, and Penny made sure we had to pull over at least one more time when a tire valve blew on the side of the road.
An amazing sunrise as we left Bahia de Concepcion and a quick flat change near La Paz before our La Ventana arrival.
We've managed to get our inept overlanders to La Ventana in one piece...but now we have to live with them!!
...to be continued.
Special thanks to Julien for his pictures, and all three of our friends for such a fun and memorable drive south. It was such an amazing experience for Jacqui and I to share our ridiculous adventures with people we care so much about. To those of you who have been reading our posts since the times when we used to drive a Dolphin, you know this isn't our first trek with Julien and Tu.