Rush, rush, rush was the name of the game in the days leading up to crossing the border. Packing, shopping, insurance, bedding, snacks and route planning were all still in the air. On top of all that, we had to accommodate the schedule of our friends Julien and Tu who were going to accompany us on the journey to Mazatlan. This bomb run to Mexico was serving as a fun chance to show them where we've been living for the past two months.
Somehow, mere hours before everyone met up, things came together. Julien and Tu loaded up in our new rig, and being that it was too late in the day to commit to crossing the border, we began driving to Arizona to knock out some of the eastbound traveling we'd have to do.
Crossing the border at Nogales is definitely a world apart from Tijuana. We drove up, were waived through, and….wait…what? We're in Mexico? Where's the vehicle search? Where do I get my tourist visa and vehicle permit?
Just starting our drive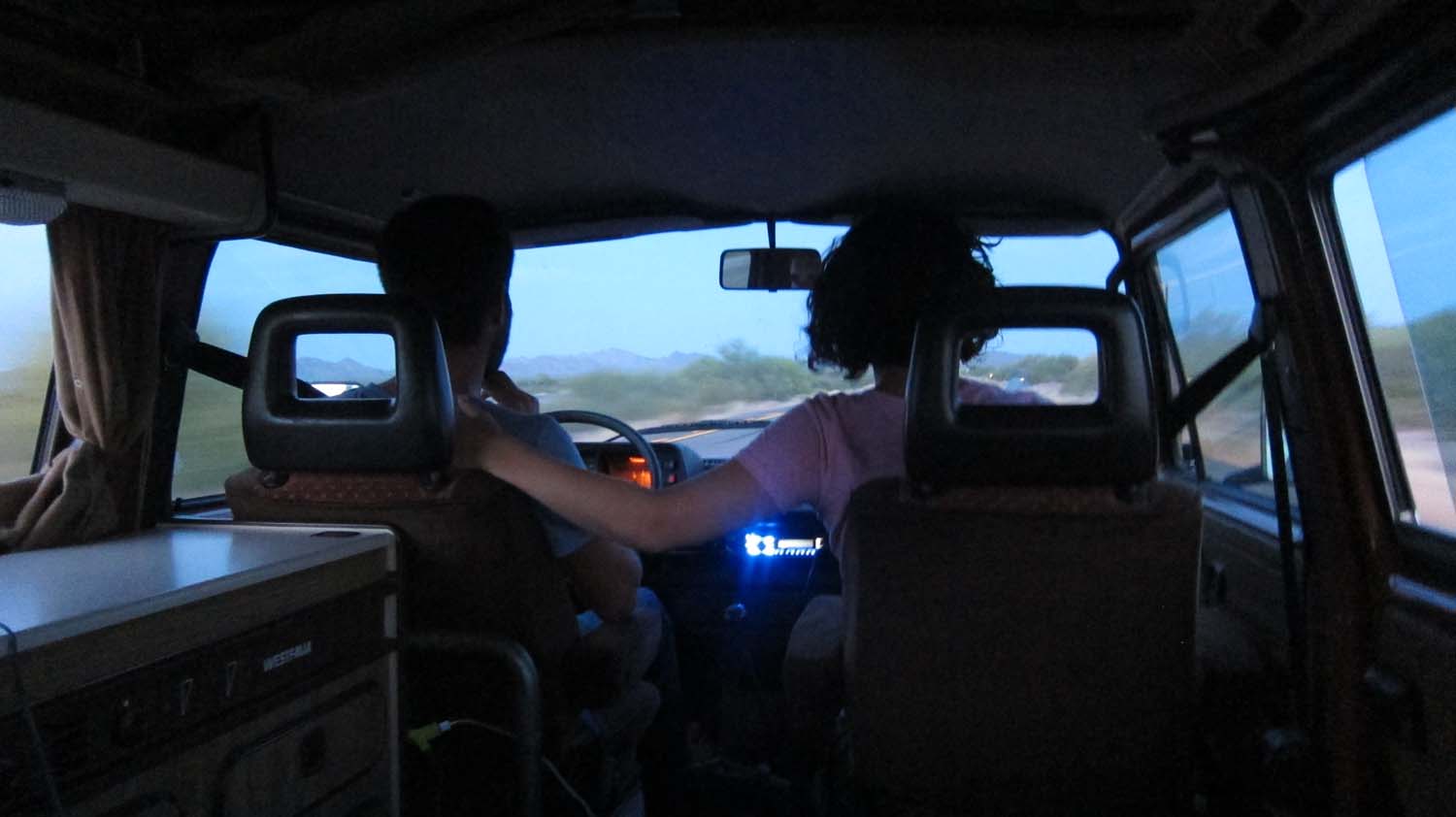 It turns out that at this border crossing, all the aforementioned services are a good 21km past the border. So, after a short drive, we had all necessary paperwork in our possession. The Westy, with its four occupants, then began the long trek to Mazatlan. The path was an endless, straight, dusty collection of highways, riddled with even dustier little towns. It felt very akin to driving through the never-ending beast that is Texas. Regardless, when you're traveling with Jacqui and I, even if the scenery is a bit bland, things tend to get interesting. This is a fact our two traveling companions would soon realize when we had our first ever run in with the Policia!
Our first night hunting for a boondocking spot we found some interesting sights. We spent the night in front of the water with the wind howling and a realization that we were probably in a local party spot. Mariachi music might have clued us in.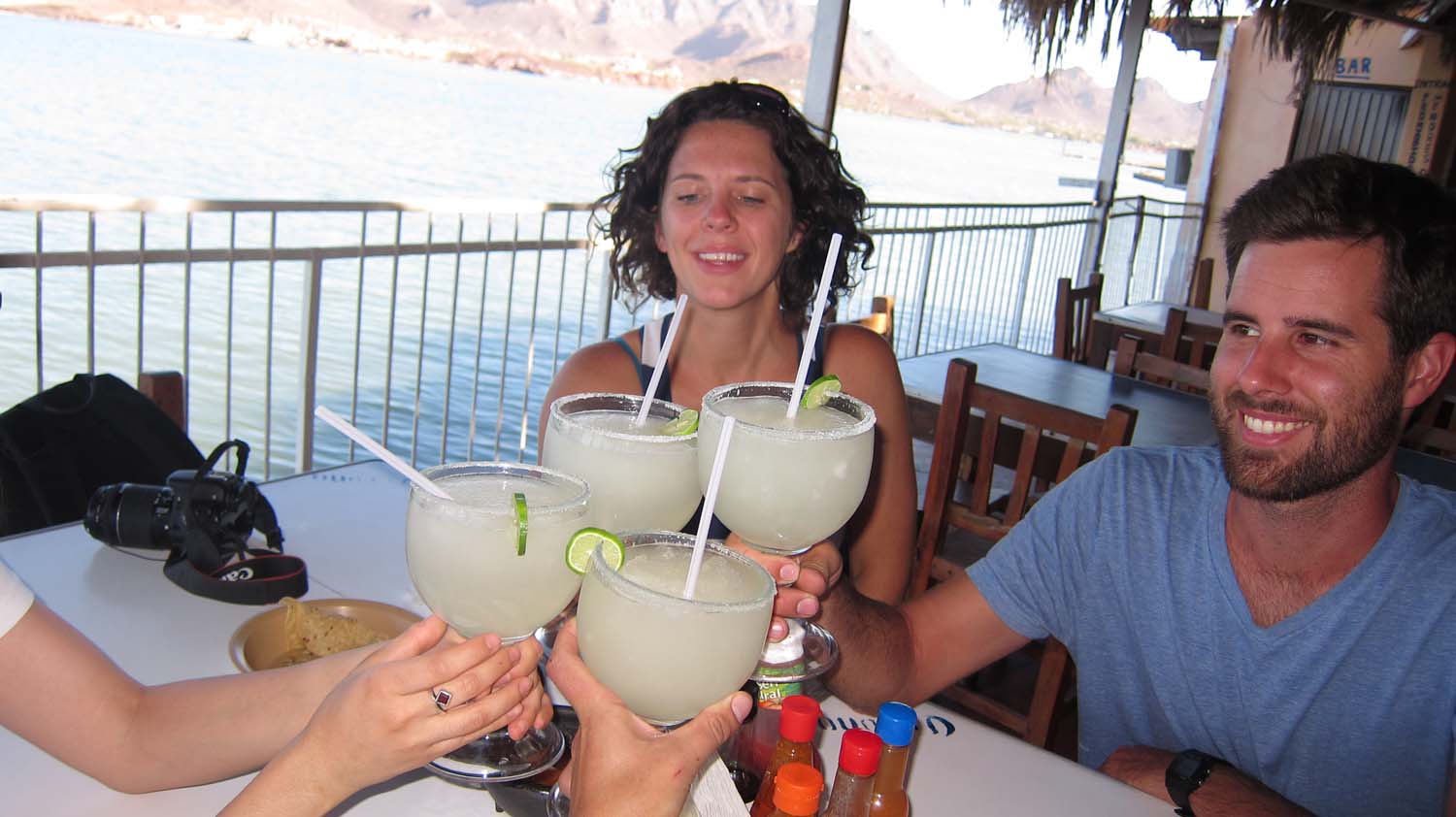 Manning the wheel as I commonly do, I came up behind a taxi driving suspiciously slow. I even said out loud that it was strange to see a taxi driver doing anything other than speeding. Despite what should have been an alarming observation, I decided to pass this taxi. My rear view mirror immediately lit up, the taxi must have known cops were lurking. Tension in the car rose rapidly as the unknown encounter with foreign police force became imminent. As we slowed to the shoulder, I looked back and announced to everyone:
"Nobody here knows a word of Spanish! Nothing!"
The officer approached my window and immediately produced a radar gun showing that I was driving faster than the posted speed limit. The posted speed limit was conveniently directly beside where I pulled over. Gulp…now what?
It became obvious that this officer spoke little to no English; at least I had that in my favor. He asked for my license, one of the few English words he knew, and I proceded to hand him my laminated license copy. Someone once told me Mexican cops don't know what a real license looks like, so always hand an official looking copy. Well, I'm here to tell you it's not true.
The officer immediately began to tell me in Spanish that this was a copy and he wanted my real license. "Hmm…copia and copy do sound mighty similar", I thought to myself.
Regardless, I was now playing the role of the most ignorant tourist to ever step foot into Mexico.
"Ya, good!", I said with a thumbs-up and smile on my face that could only mean I had no clue he was telling me there was a problem.
"This is a copy, this is false", he told me in Spanish again.
"Good, bien" I ignorantly smiled.
After a few more attempts he gave up trying to explain that it was a fake license, and asked for our vehicle permit. When I handed it over he started his game. In Spanish he started asking me if I wanted a ticket. You see, if I didn't want a ticket, he could help me out, all I had to do was pay him 1200 pesos and it'd all go away. (About $90).
He explained that if I paid him on the spot, I'd be saving myself the headache of having my license confiscated, and having to go down to the police station to pay the ticket the next day. Well, there was only two English words in that entire monologue, "no" and "ticket."
"Ah…no ticket! Thank you!" I nodded approvingly.
The officer made a few more attempts to explain my predicament, and I continued to only understand "no ticket". My act at complete ignorance must have been more convincing than I thought because for a moment, Julien, who doesn't speak a word of Spanish, began to try and explain to me what the cop wanted. I turned my face from the cop, stared Julien in the eyes, glared him down with a 'you dare to defy me' look and whispered for him to, "Say nothing!"
With Julien's first attempt at Spanish translation thoroughly crushed, the officer finally gave up explaining and called over his comrade.. This officer was clearly in charge, but his English was equally poor. He gave me the same speech with the same two English words.
"Ya! No ticket! Thanks!" I said with a big stupid smile and thumbs up.
After this very awkward exchange continued for several more minutes, and they attempted several times to see if anyone else in the car was a little less ignorant than I, the officers finally gave up. Clearly these tourists were just too stupid to bribe.
The officer announced in a defeated tone, "No ticket." He shook my hand, told me to slow down, and sent us on our way. Victory!!
It turns out Google is an excellent resource for dealing with bribes in a foreign country. The routine they pulled was almost word for word what I had read while spending a long evening reading how to deal with just such situations. The two important things to remember are: The officers don't want to go to the police station either, and waste lots of time while being extremely cooperative.
So we left on our merry ways, un-bribed, and when we got to Topolobampo, we saw our new cop friends twice more patrolling those very streets. We waved enthusiastically but they were slightly less enthusiastic. Hmm…wonder why?
Exploring the cuisine, narrow streets, views and camping possibilities of Topolobampo. Here the locals did all they could to cool off from the heat.
If you think the rest of journey was smooth sailing, I'm here to tell you it was far from it. Call us bold, call us stupid, or simply say we no longer have the natural fear of breaking down in a foreign country. Regardless, we still had a four hundred mile day ahead of us and we were driving a car we'd barely driven before taking it into a foreign country. So, we were far from having all the bugs worked out of our new rig.
For our last day, our still untamed and untested Westy decided to show us she was a little less than perfect. I immediately began to feel an intermittent power loss. Cruising down the highway it felt as if I had lifted my foot off the accelerator, despite it being well planted. After a bit of slowing the little lady would kick to life again and accelerate normally. This song and dance continued as I stubbornly pushed her onward to Mazatlan faster than ever.
I'd already given Jacqui a facetious speech long before buying the Westy informing her that if we had another vehicle break down in Mazatlan, I was going to say 'screw it' to this whole journey and start backpacking to Chile. Well, I guess our little Westy wanted to test my nerves. The closer we got to Mazatlan, the more frequent, and dramatic, the power loss became. I spent quite some time passing the same exact semi truck over and over again, only to relinquish my lead as we involuntarily slowed.
When we finally got to Mazatlan the problem only intensified. We even managed to break down directly in front of the mechanic shop where our Dolphin had spent quite some time being repaired. Well, Jacqui and I joked our way through little break down after little break down. We told Julien and Tu that we simply wanted them to authentically experience what it was like to travel with us. After all, what could give them a better sense of our travels than breaking down all over Mazatlan?
Well, we've arrived. Hiccup after hiccup we still pulled into Tres Amigos all the same. Now we sit on the beautiful beach with old and new friends, sorting through our belongings, recovering from some nasty food poisoning and a plethora of mosquito bites. I think Julien and Tu are really getting an authentic feel for Mexico.
Despite our little Westy giving us trouble, we made it down the long road to Stone Island for a reunion with our friends at Tres Amigos. Many, many fresh coconuts were consumed. Some bought, some boldly pursued through climbing and other heroics. We saw the local crocs for the first time and found our old Dolphin still resting peacefully at Dani's place.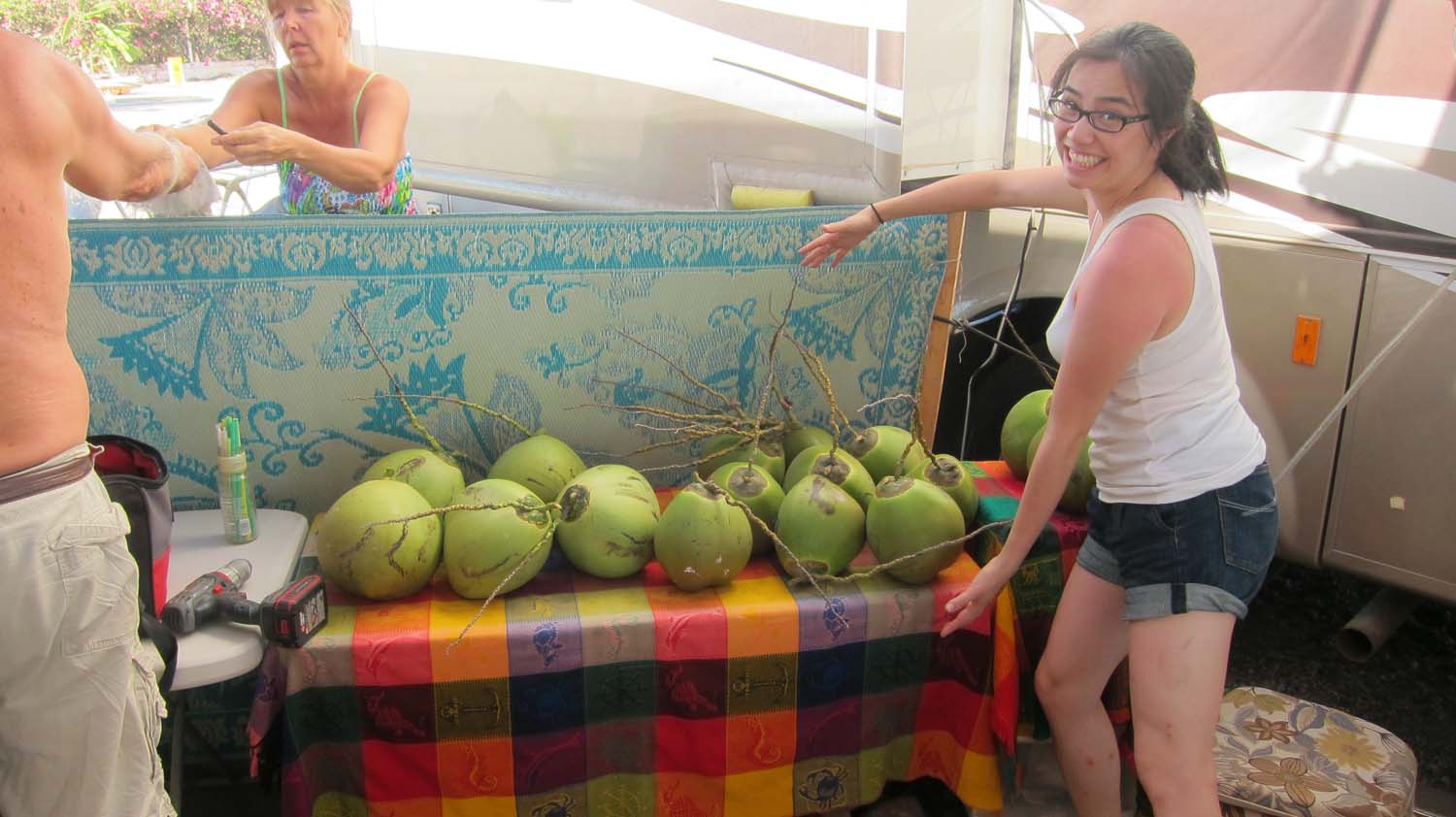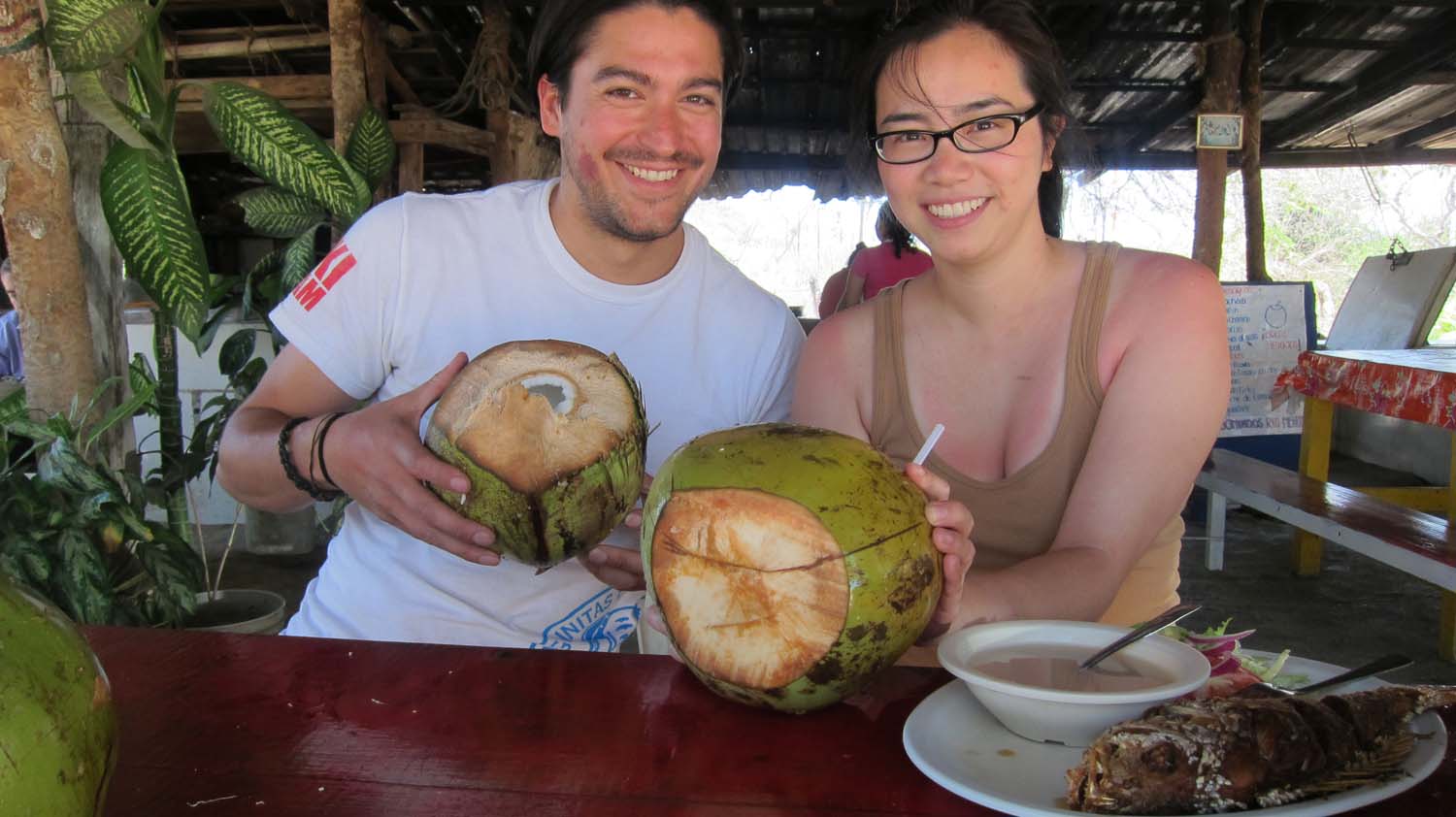 Special thanks to Julien and Tu for contributing some of their photos to this post.