Jacqui here.
Usually Cameron writes out our stories, but we're sitting here waiting to board the ferry to Mazatlan and I felt the urge to pick up the reins and make some progress. We've spent several fun weeks with friends and a few days dealing with Cameron's most recent bout of Montezuma's revenge, so we're left with some catching up to do before we ferry across the Sea of Cortez.
Our ClamVic traveling trio departed bright and early on January 1st. However, our jobs as tour guides had yet to finish since we had friend and climbing buddy Ellise scheduled to land in the afternoon of the 2nd. In the short pause between visits we decided to check out the original Baja Sur kiting town, Los Barriles.
En route, we made our first of what became several visits to the El Triunfo café. As we drove through the teeny, quaint town I had a flashback to last year, remembering our friend Peter raving about the pizza here. Turning onto the stone street, we found our way to the café, but arrived too early to enjoy the pizza they're known for. Instead we sat in their backyard oasis, sipped lattes and satisfied Cameron's sweet tooth with their other baked goods. By satisfying Cameron's sweet tooth I mean he complained of stomach pains and claimed to have given himself diabetes on the spot. My preference was the mango-berry strudel while Cameron drooled over the cinnamon roll; they do not hold back on hefty portions. We couldn't leave without picking up one of the most attractive and delicious loaves of bread we've ever had. Their garlic bread was literally baked with a whole clove on top.
After crawling the winding roads out of El Triunfo, we arrived in Los Barriles. Compared to La Ventana we felt the town too catered to tourists, likely due to a smattering of hotels and ATV rental shops. In Cameron's words, "There's nothing but gringos walking around this town." Our rule of thumb is, if the town has menus priced in dollars, it's probably not our scene. We traveled north through town, past the big arroyo, found a campsite and treated ourselves to hot showers and for the first time since crossing the border, a load of laundry.
With ourselves bathed, and our clothes presentable, we were all cleaned up and ready to welcome Ellise.
As we tried to lull ourselves to sleep that night a horrible racket was coming from the refrigerator. Cameron pulled it out and found the 30-year-old cooling fan was on its last leg. This instantly became #1 on our to do list. As we neared Cabo, we started dropping into electronics stores to find a replacement fan. With no luck, we desperately headed to Walmart so we could try and find a 12v fan that could be jerry rigged to fit behind the fridge. They also didn't have what we needed (or much of anything on the shelves at all, we think they could still be recovering from the hurricane) and you need to be warned about their parking lot.
If your vehicle is over 2m10cm, do not enter their parking lot! As we circled the lot to leave, we discovered the only way out was through the parking garage. We were too tall! Cameron, with his infinite patience, may have been angrily pacing and resorting to some foul language. Finally, seeing no alternative, we whipped out our handy walkie-talkies, I ran up the entrance ramp and gave the all clear for Cameron to exit the lot, via the entrance…in reverse.
In the end, I found a simple vent fan in an Autozone and Cameron gave the nod that he could make it work. Then it was off towards the airport. Driving past a sea of resorts, which aren't our cup of tea or friendly to long-term travel, Los Barriles seemed more charming than when we left in the morning. Our new slogan is Say no to Ca-bo.
We arrived at the airport and I went inside to greet Ellise. In late 2013, I helped hire Ellise and worked with her for a few months this fall at my former company. You could say we are two peas in a pod. Not only do we share professional interests, but we're both outdoorsy, have super curly hair and have been told we have a similar laugh – need I go on?
With Ellise loaded into the Westy we darted back to LB before the sun went down, indoctrinating Ellise into one of our most important travel rules: no driving after dark! Since our fridge had no cooling capabilities we opted for some margaritas…and a bite to eat at one of the local restaurants with their American priced menus.
The second travel tip we shared with Ellise was hitting the road at sunrise. Her first kiteboarding lesson was at 11am, and the PennyWagon is quite possibly one of the slowest vehicles in the world, so we wanted to make sure our student was early for her first day at kite school. Before Ellise's Baja arrival, Cameron and I scoped out a few schools and sent Ellise our top two recommendations. She selected Jimbo and Danny at New Wind and we're sure glad she did.
Ellise's lesson was early enough in the day that we, ahem, Cameron, could fix the fridge before an afternoon kite session. We followed Ellise and Jimbo to the bufadora for her land lesson. As Ellise headed towards the water, Cameron got to work while I edited some photos from our visit with Nick, Julien and Tu. We watched the last few minutes of Ellise's lesson and remarked how competent she looked after just a couple hours. Neither Cameron nor I remember being accomplished that early in our kite training, part of it must be Ellise's sailing background and Jimbo's unique teaching technique.
Two peas in a pod, fridge repair and Ellise's first lesson with Jimbo.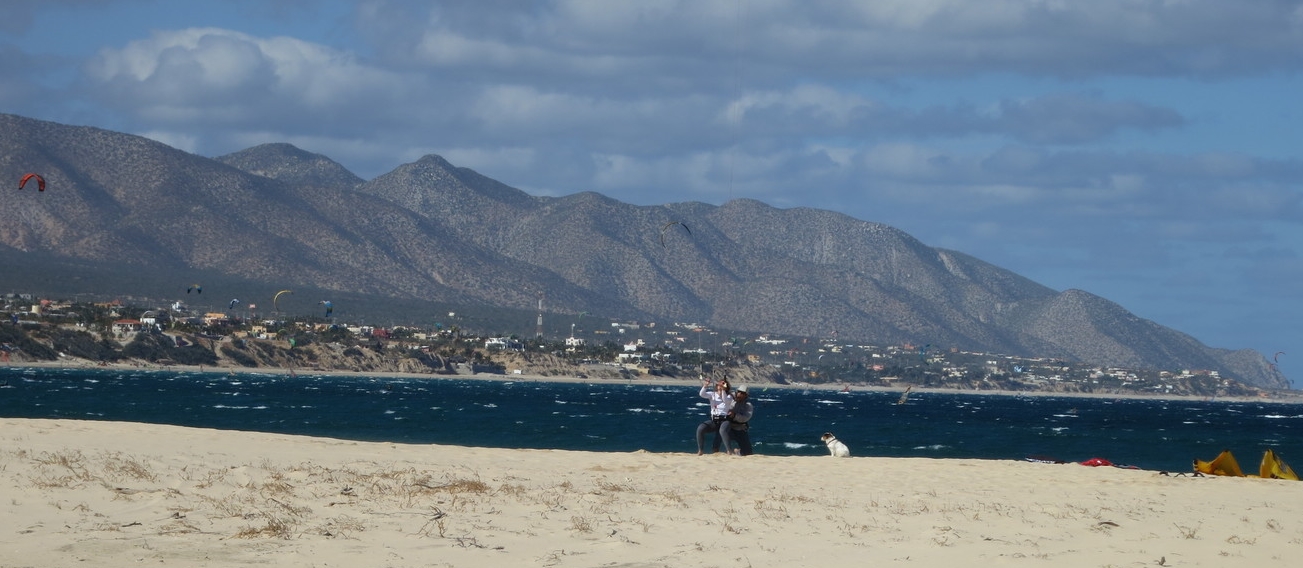 The next two days Ellise was coached by Danny and made great progress. Her first day in the water someone ran over the inflated, leading edge of her kite when it was in the water and she was able to practice the ever important skill of self-rescue. Which essentially amounts to safely wrapping up 60feet of lines between you and your kite so you can use it as a floatation device. Hopefully the rider guilty of running over the kite learned the lesson to keep his distance. Learning to kite is exhilarating yet exhausting so we made sure Ellise was properly fed (fish tacos, juicy burger, etc) and hydrated (pina coladas y margaritas). Life is tough in Baja.
Waiting for the wind to come up, hanging out with Jimbo's sweet pup Nina and Ellise's lesson with Danny.
During this time we camped up at our relaxing, secluded arroyo. The last morning we made a new friend and named him Bean (black bean!). What a gregarious little fellow. Many people return home having adopted a sweet, loving Baja pup. Check out Bark for Baja on Facebook for more info.
Enjoying our campsite, breakfast of champions and a visit from Bean.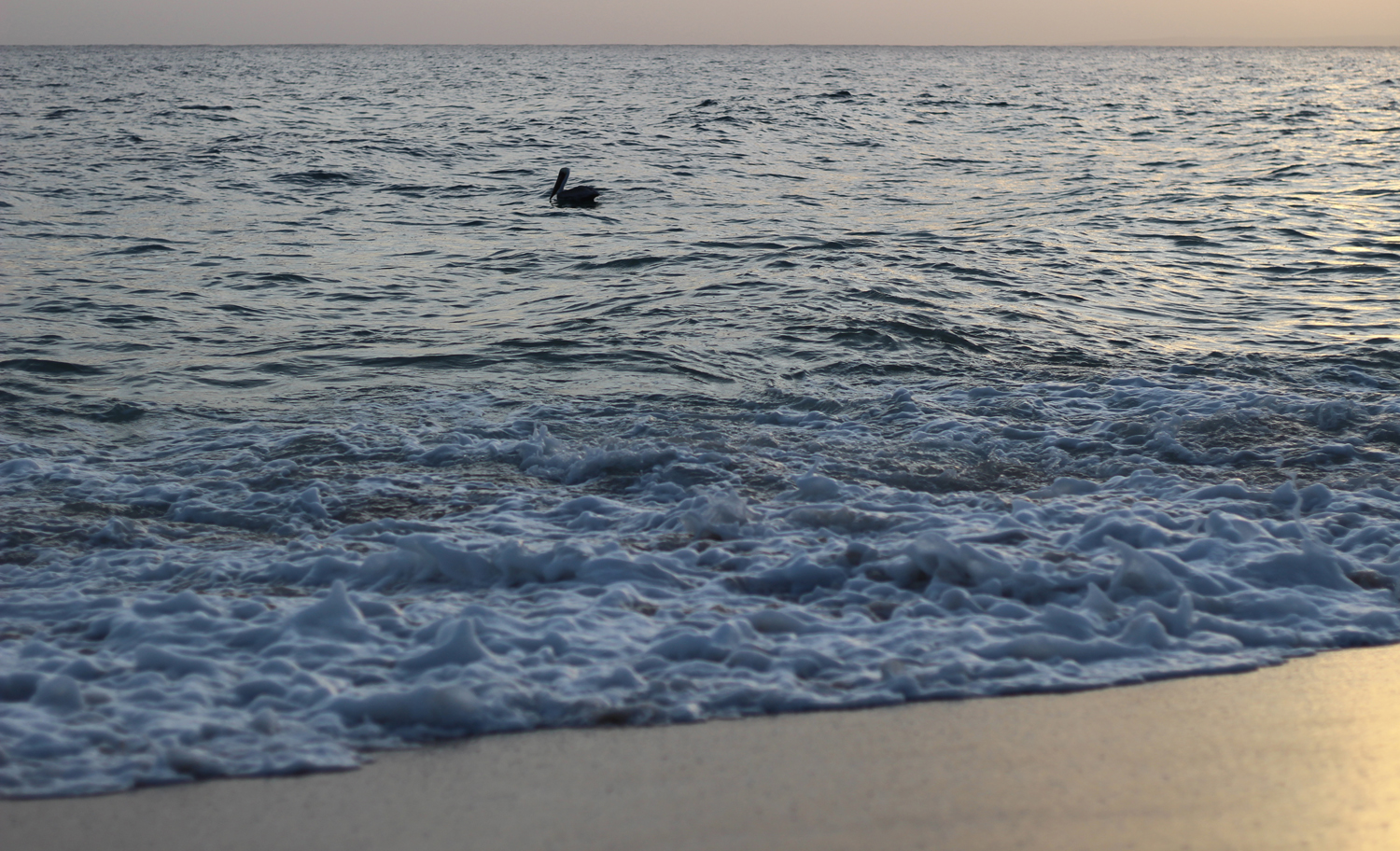 With light wind forecast, it was time to spend the next two days showing Ellise the same sights our other friends saw: the Mercado, the Malecon, and our favorite fish taco joint. In Tecolote, we ate ceviche tostadas and ran into Rodney, a friend we made when Nick, Julien and Tu were in town. He joined us for a campfire with wine, some guitar music and the sporadic sprinkle of desert rain.
Making new friends at Auto Zone, more fish tacos at our favorite La Paz spot, setting up camp and dogging dozens of dogs.
Two days without wind will cause a kiter's skin to itch so we packed up camp and headed over the hill towards La Ventana. As we descended we passed a Westfalia that, sadly, had apparently caught fire while climbing the hill. An important note for cars this old is to replace the fuel lines: a tip we've received from other Vanagon owners and one that we must share as well. Knowing that even our healthy Westy barely crawls this hill at a slow 27mph, we know dub it the Vanagon Killer.
A sad reminder to replace your fuel lines.
As Ellise's lessons drew to a close, it was time for her to start venturing out on her own with a little guidance from Cameron and I. When Cameron was learning to kite, he'd go out in the water to practice "board starts" and riding. After floating downwind, he'd hand off the kite to me and I'd ride back upwind. Win win, everyone gets some wind. The situation worked the same with Ellise.
Ellise is up and riding, yay!
After a couple days of kiting with Ellise, some friends rolled into town. We like to take partial credit for inspiring our friend Fritz to purchase an RV and make his first venture across the border. He came with his poochy Nesta and the ever-infamous DJ Guacamole.
We loaded up the Westy with friends and Nesta to go snorkeling out at the Old Hotel. Post-snorkel, we wearily drove away from town in search of food. We even got that pizza in El Triunfo with Ellise. It was not a disappointment. The last night Guacamole DJ'd and Fritz projected visuals at a Playa Central party, so we danced with friends in celebration of an excellent week.
The following morning was Ellise's last day in Baja. She bid her farewells to us and new friends made throughout the week. Everyone tried to warn Ellise that kiteboarding is dangerous: dangerously addicting. We all know fully well this won't be her last trip to La Ventana.