With only 6 weeks left until departure, my to-do list is steadily receiving check marks. But it was finally time for Jacqui and I to step up and buy some of the big ticket items we've been putting off.
Since the roof is back on the Westy it was finally time to start loading it up. First step: a Solar powered roof box. On our Dolphin we had 2x100w Renogy rigid solar panels, and that always seemed overkill. For the Westy I stuck with Renogy but moved to a single, flexible 100w panel I could rivet directly to the roof box. Being that I didn't want to drill any holes in the freshly painted Westy roof, I opted to just have a "plug it in when you want it" setup, and simply route the cord through the tent.
Solar panel riveted to the box and ready for install.
Because the front window of the tent uses Velcro to close, it's easy to pass an electrical cord through and plug it into the solar controller behind the seat.
Karl exploring the upstairs bed before our mini road trip to Russian River brewery.
This is how you do a proper beer run.
Just an ordinary day on Treasure Island.
Next up is some much needed privacy/security in the form of limo tint. I'm hoping if potential criminals can't see what's in the van, it might discourage them from theft on the laziness level. After all, why take all the risk and effort of breaking and entering if you are not sure if there's anything valuable?
Some may suggest we go with heavy duty van locks and bars on the windows, but after breakfast with Jason and Angela of bodeswell, we decided against it. In all their travels they never did anything of the sort, and the one time they were camping with someone who got broken in to, their vehicle had bars. Translation: if it looks like an armored truck, it probably has something valuable in it. So on this point we've bet on the low-profile option.
For window tinting I hired a professional, but some much needed prep work was done to keep the costs down. I removed the rear cabinets so the corner window could be accessed with ease, and disassembled the sliding windows so they could be tinted properly.
Rear cabinets removed and Jacqui helping me re-install the sliding windows.
Next was our biggest purchase: the awning. If you have ever gone awning shopping you know they can cost a downright fortune. A nice awning can set you back $1000+ with mounting hardware, which I just can't justify spending on shade. Through much research Jacqui and I decided the best bang for our buck was going to be an ARB 2500 awning. It offered 8x8ft of shade, and was a third of the cost at $300 + $70 for brackets.
Now be warned, when the fine print says the Vanagon brackets are designed for years '83-91, they mean it! Even after Jacqui asked me if those brackets would really work on our 1981, I shrugged it off saying, "What could be different about the rain gutters?".
Well... a lot, apparently. Luckily we're living in a place full of metal fabricators. So an entire day became dedicated to modifying these two little brackets to fit our rain gutters. Tack welding some extensions onto the main bracket helped clear the pop-top. Shortening the Z-brackets with a sledge hammer and vice gave me the shape I needed, and finally shaving some steel rod into a half circle allowed me to clamp the brackets onto our hook-shaped rain gutters without destroying them. Sounds terribly simple doesn't it?
Tons of tinkering, hammering, grinding and welding going into making these brackets work for our early model Vanagon.
After completing all the aforementioned projects, I decided to enter into an area that never treats me well...aesthetics. The frames around our wing windows had been showing some surface rust since we got our Westy. Jacqui repeatedly requested that I remove, sandblast and repaint them. Unfortunately, when I pulled out the driver's side wing window, it became obvious that there wasn't anything to salvage. So just like old times Jacqui and I found ourselves in a junk yard trying to throw our rig back together.
After a trip through the shop sandblaster and a coat of paint, our junkyard wing window was looking pretty good.
Windows out, junkyard trip and painting the frames.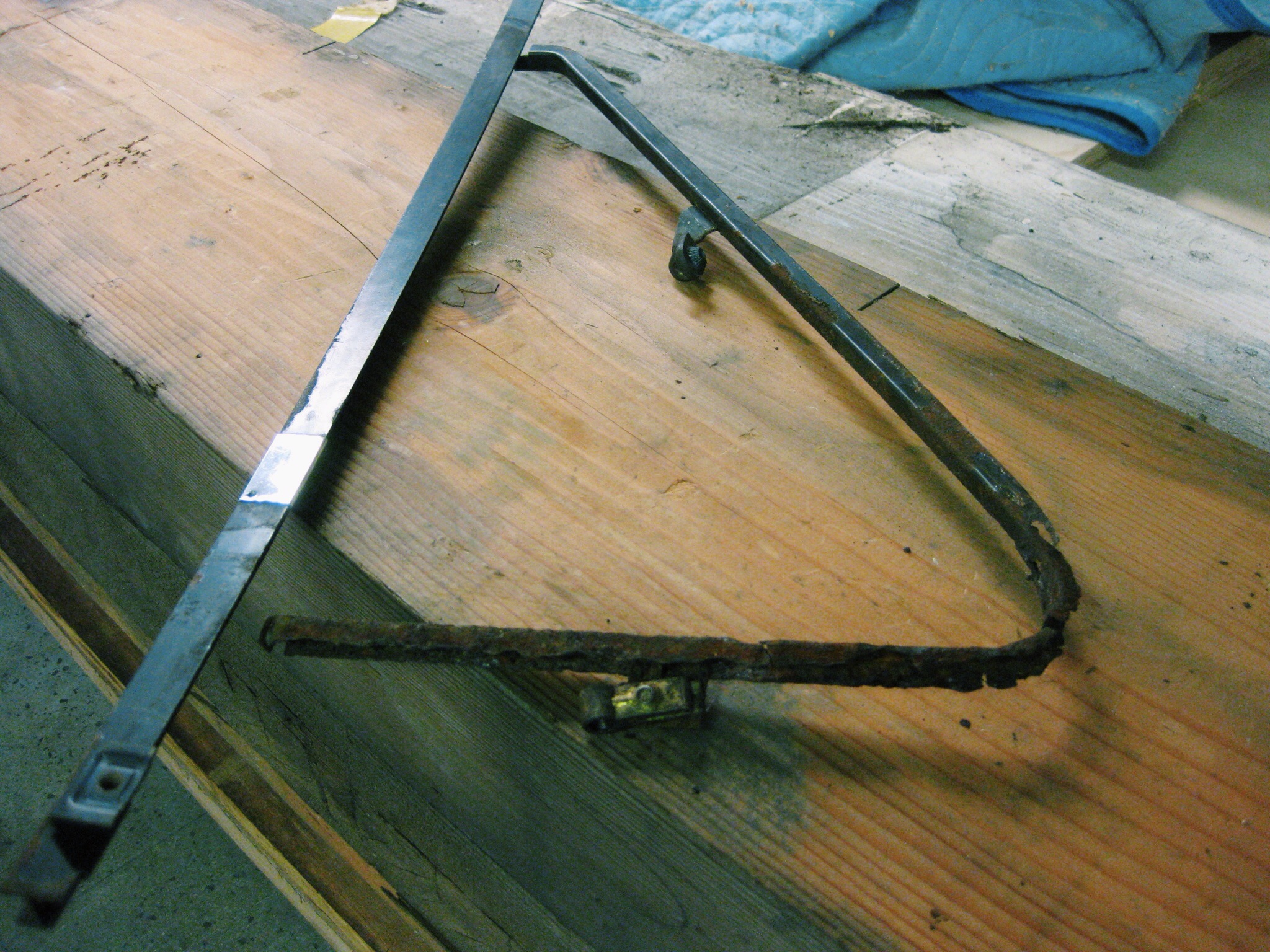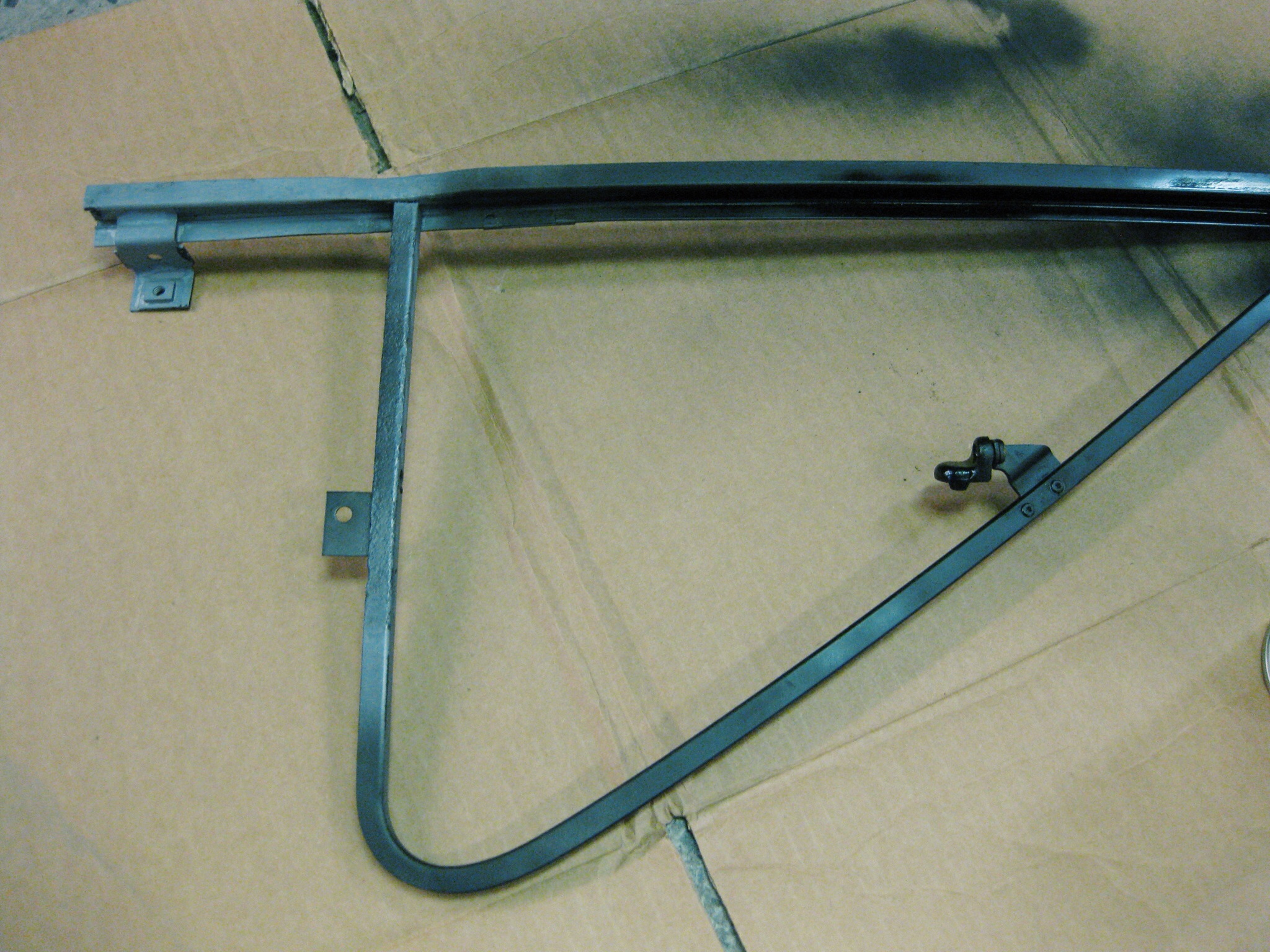 The Westy all dolled up with our followthewind logo, jerry can on the roof and new mudflaps.
Somewhere in the middle of all this we managed to squeeze in an Oktoberfest and enjoy watching the Blue Angels fly right over Treasure Island.
Over the top dress-up for Oktoberfest and seeing the Blue Angels.