Much transpired after leaving the butterfly sanctuary in the mountains of Michoacan. It seems every time Jacqui and I recount an event that happened weeks before we suddenly realize...that was yesterday?! Jacqui likes to tell me when you're creating new memories, time seems slower. I'm forced to agree.
In what seems like ages ago we left the cold mountain where the monarchs spend half their life and pushed our little Westy up even higher mountains with Cuernavaca as our destination. As we passed 10,000ft snow was on the ground and pines were growing tall around us. A type of beauty we never expected to find in Mexico was everywhere, yet again.
Unexpected scenery up in the mountains of Mexico
Finally it was time to make the descent. Mile after mile it seemed the incredibly steep downhill would never end. Clearly the locals were wise to the strains this would put on any vehicle, since everywhere you looked there were mecanicos specializing in brake and clutch repair. After quite literally hours of downhill we found ourselves in the twisting, hilly, maze of Cuernavaca. For those of you familiar with the hills of San Francisco, they're a cakewalk in comparison.
We consumed all available daylight so an inglorious campground in a McDonalds parking lot sufficed for the evening. However, the following morning, we were full-blown turistas.
Culture, shopping, architecture, food and good prices to boot. Jacqui and I were wandering this maze of a city smiling and telling ourselves if some great force told us we had to pick a Mexican city to live in that very second, this would be an easy choice.
We made the most of the day we allotted to Cuernavaca by exploring the Centro Historico, wandering the largest labyrinth of a Mercado we'd seen, getting expensive fancy meals (110pesos/$8USD for all), and exploring ruins contained within the city's boundaries. Everything was going smoothly until....
Nothing! I know, I know.... totally unexpected for us right? It was a fantastic day!
Exploring the city of Cuernavaca
Teopanzolco, an ancient Aztec city nestled within a modern one.
As the day drew to a close, our proximity to Mexico City and Cuernavaca ruled out rural camping, but luckily when the curtains are pulled in the Westy it all feels the same. The following morning we put ourselves to covering ground. We wanted to close some distance on Oaxaca, but with errands eating up much of our morning driving it was rapidly turning into another side of the highway Pemex (gas station) kind of night. We talked to the security guard, got the thumbs up to sleep for the night, then popped the top to start dinner.
It was all going fine until...*knock, knock, knock*.
Jacqui and I were baffled. We'd already talked to the guard. We weren't getting kicked out were we?! At first we ignored, then,
*Knock, knock, knock*.
Finally I submitted to opening the door and what I found was far from security: a young guy and two of his buddies. The young guy's name was Andres. He wanted to know if I was interested in selling my Kombi.
My answer was "no" but it landed us in a conversation. Andres didn't speak English, and my Spanish is still shy of a toddler, but we had no problem talking the language of cars. He had a 1980 VW Brasilia. I got the tour. In turn I gave him the tour of our 1981 Westy. After a while of chatting and realizing Andres comes from a family of VW fanatics, he asked if we really wanted to be camped in a Pemex. Basically, he invited back to his family's abode. We accepted.
It was Friday night, and the beginning of a very challenging weekend for a storyteller.
Andres and his brother Jose with the Brasilia.
As we rolled down the final dirt road and turned into Andres' driveway we were looking at a large ranch style home and a driveway full of all VW's with the exception of one giant bus. Andres invited us into his kitchen, where his mother soon arrived to make sure we weren't in dire need of some Mezcal or homemade vino. As we got to know one another Andres showed us his massive photo album of the annual La Carrera Panamericana race that goes right through this part of Mexico. Before long Andres invited us to have a bonfire with him and his buddies. We accepted.
Hot dogs, marshmallows, Mezcal, salsa-dance lessons and meeting a guy dubbed Hector the Tractor were just a few of the highlights of the evening. With Mezcal working its magic when our heads hit the pillows, Jacqui and I were very well rested the following morning. When the sun lit up the Westy curtains and we dared to open our eyes, it was time to see the family's home for the first time in daylight.
VW's, chickens, sheep, cats, dogs, bunnies, ducks, and a rescued, flightless hawk were all part of the family here. With a little daylight exploring under our belts, and being properly introduced to the rest of the family, Andres and his friends loaded us in their home-made VW go-kart and we went to explore the local ruins.
Familiarizing ourselves with our surroundings and the animals.
Well over 1000 years old and not cleaned up for tourists in any way, we had an opportunity to crawl through ancient escape tunnels and see the foundations of buildings long since disappeared. And that was before breakfast.
Riding in the custom go-kart and exploring the local ruins.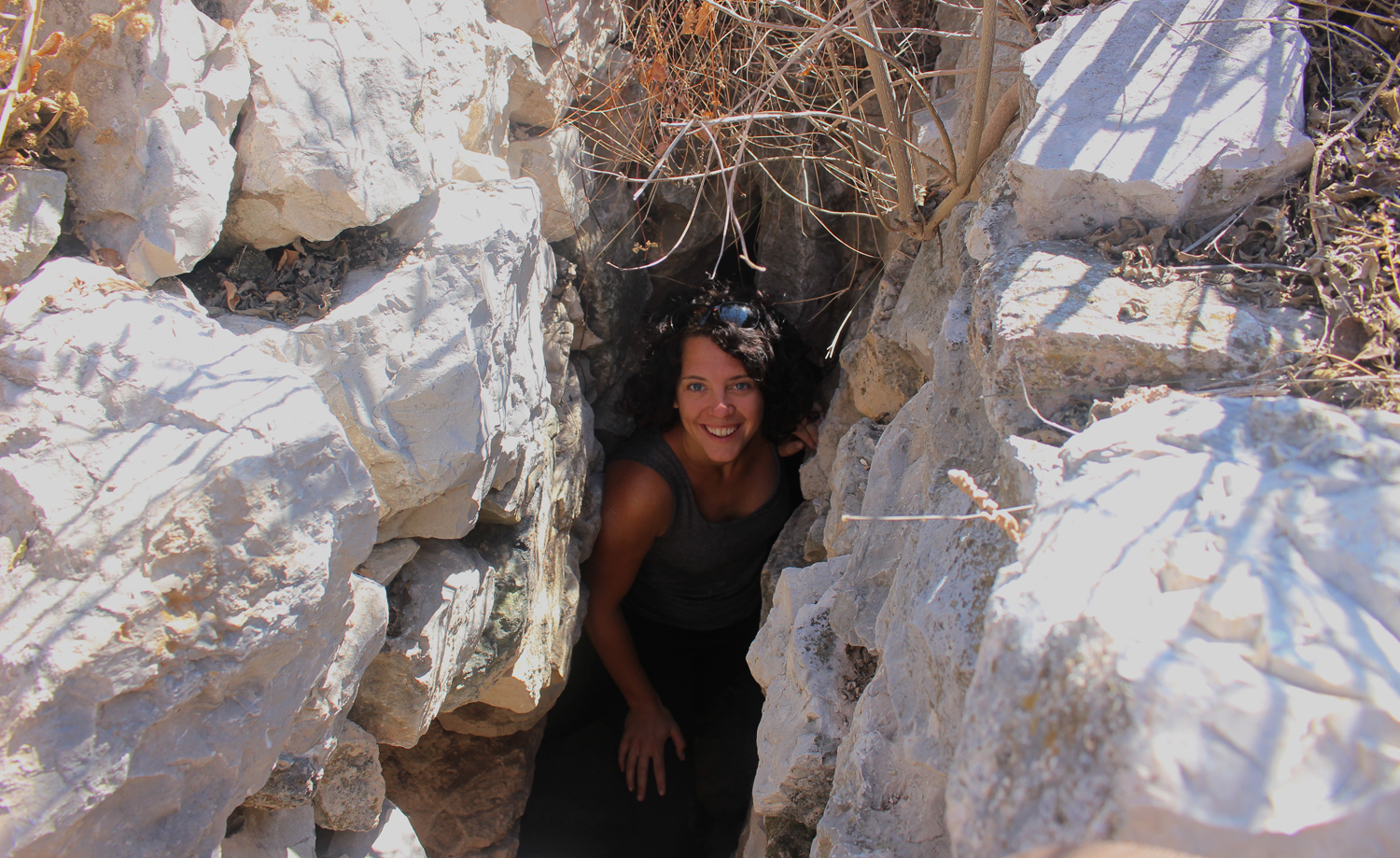 The family insisted we eat with them so we piled around a massive table and ate Jello, spicy-eggs with sausage and giant home-made tortillas. As everyone finished eating Andres decided Jacqui and I should meet his friend Juan who had killed a coyote while defending his chickens and turkeys that morning. More time was spent in the go-kart. Juan played guitar, we met the deceased coyote, Mezcal was an insisted beverage.
Juan played Jacqui's favorite traditional Mexican song, Cielito Lindo.
Before long Juan and Genaro (dubbed Zanahoria (carrot), for his bright orange shirt) were removing hunting rifles from the closet and it seemed we were all going somewhere. It was lost in translation for Jacqui and I but we assumed they wanted to go shooting. Seems logical after a few Mezcals right?
It turns out the two seater VW go-kart is secretly a Mexican bus. With Jacqui being asked to hold the rifle in her lap since everyone else was hanging on to the tube frame of the kart, I drove us into the country while being directed by Carrot. Before long we'd arrived at another of Andres' family properties and it soon became obvious we weren't out here to simply have a country-moment, we were getting lunch.
Jacqui and I stood atop a small hill with Juan, who was carrying a rifle, while the others tried to move the wild rabbits towards us. Not all was going according to plan so after a while Jacqui and I retired to some shade. As the time passed, and more amigos came to the shade with us, it became obvious the rabbit hunting wasn't going to pan out.
BAM!
A single shot was fired. A few moments later Juan came around the corner with lunch. We piled back into the go-kart with the rabbit at Jacqui's feet, headed back to Juan's and, for our first time, Jacqui and I watched a wild rabbit get skinned, gutted and cooked. Before long we were trying fresh rabbit (kidney and brains included), and even a bit of coyote. This weekend was definitely turning out different than expected, but it was only Saturday afternoon.
An afternoon of catching and preparing our food, salsa dancing and spending time with new friends.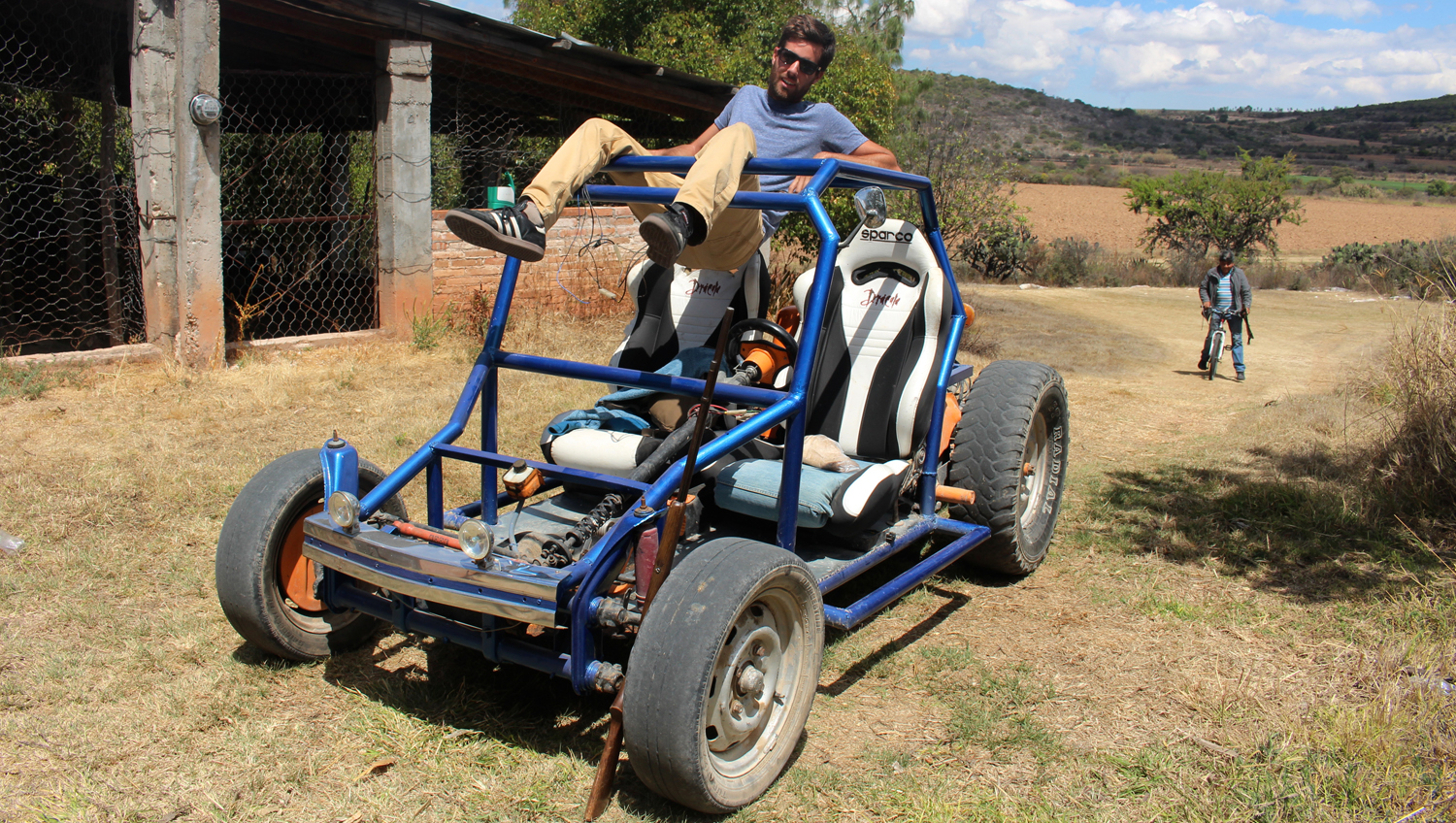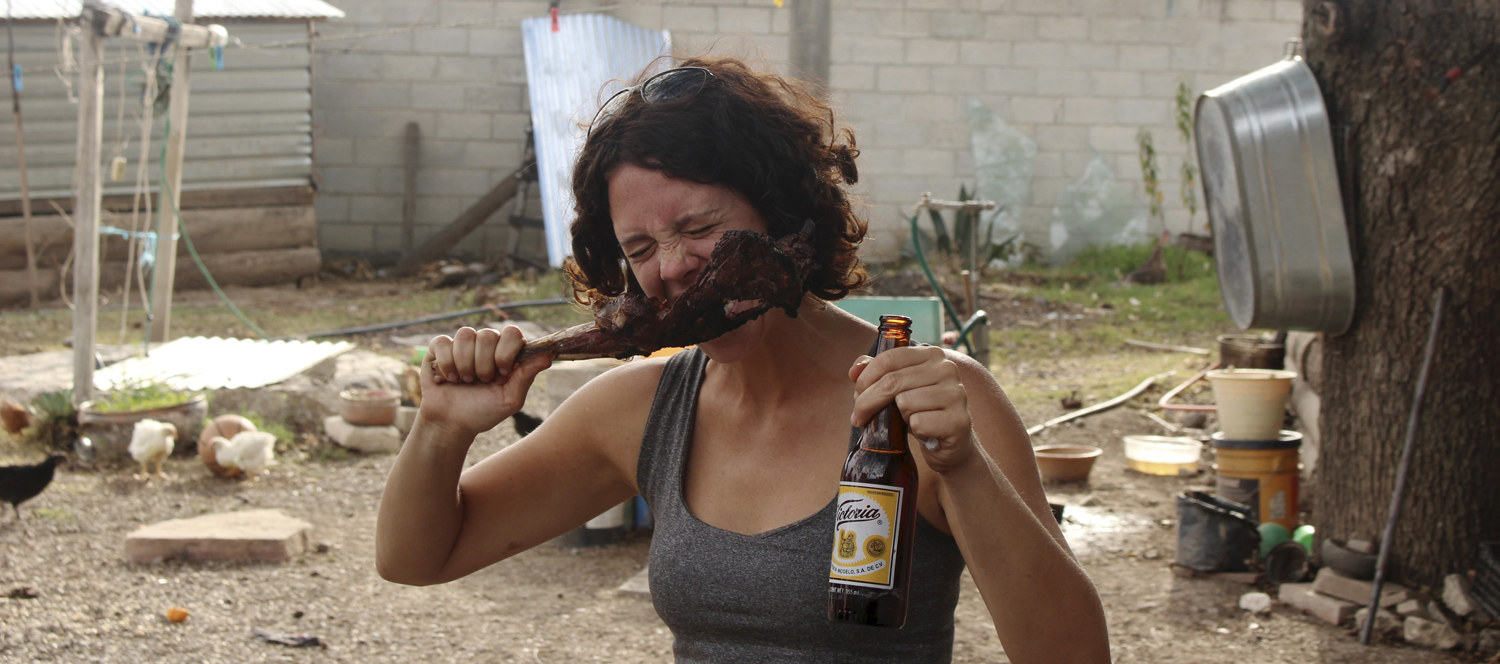 I can't say it got any crazier than eating coyote, but some of our best memories were created in the rest of the weekend. More of Andres' family arrived and we ate and socialized with all of them. Their generosity is truly beyond words, and the strength of their family ties is absolutely amazing.
That night our dinner was among some of the absolute best food we've had on this journey. Mole verde, caldo de pollo, arroz de leche and sweet breads were on the table. Jacqui has been proclaiming ever since that she wishes Maria could travel with us and teach us her recipes.
Later we were sitting in the living room while Grandpa sat with his two grand-daughters on his lap, his wife next to him, all their sons, daughters, and sons-in-law together spending time with one another. While the little ones played and the parents laughed, Andres' mother Maria didn't spare Jacqui from her sense of humor. First she convinced Jacqui that eating coyote was bad and now she couldn't have children. Later she insisted that we had to come back on our travel north and Jacqui better have a baby. If we agreed to return, Maria said that the family's Banda group would play for us.
It was quite an experience, and something that is definitely foreign to many in the United States. All the family and extended family live in surrounding cities and they all get together on the weekends. While Jacqui and I continually felt the need to avoid "imposing" when we first arrived, we later realized this was the way of life. This family is used to the weekend being full of family and new people coming and going, and they are absolutely amazing hosts that take pride in being such.
As Sunday afternoon rolled around Jacqui and I started giving out our hugs and goodbyes. Maria told us she didn't want us to go because she'd miss having us around. This is definitely one of the hard places Jacqui and I have had to say goodbye to. We really felt fully adopted by this wonderful family and we can't wait to say hi to them again when we next come north.
Next stop, Overland Oasis in Oaxaca.
We had an incredible weekend with this wonderful family. We're so thankful Andres knocked on our door.