On a lazy Sunday afternoon Jacqui and I left Yucuita and the wonderful Mexican family who temporarily adopted us, to head towards Overlander Oasis just outside Oaxaca. Only problem was, we didn't have a reservation 'till the following day, so we dedicated ourselves to the exploration of downtown Oaxaca and some central-city-covert-camping so we could enjoy a bit of nightlife.
Jacqui and I have repeatedly felt that far too many tourist-catering cities in Mexico have felt "tainted." People waiting at every step to sell you useless trinkets, swarms trying to persuade you towards a tour with their company or begging from the less fortunate. On top of that, taking a few steps outside of the "touristy-zone" can rapidly leave you feeling far out of place, and perhaps even unsafe. Simultaneously, our experience thus far has been that far poorer, less traveled towns have felt safer and more hospitable. It's kind of ironic when you think about it.
Oaxaca seems to have been some sort of special gem. Despite this being a well-visited tourist city, Jacqui and I were surprised to find ourselves ignored in a polite kind of way. As we walked up and down the many downtown streets you find yourself surrounded by cafes, shops, art galleries and restaurants. This is a city famous for it's mole, chocolate and Mezcal. One might argue it's a photographer's dream with the massive antique churches and proximity to ancient ruins. Street food is abundant. It has multiple mercados (markets) each with its own specialization of clothing, artesian goods, food or "nick-nacks". The historical museum in the center of town is far larger than my personal attention span can handle. To sum things up…it's worth a visit.
Our campsite in the middle of the city and exploring Oaxaca during the daylight
After our first night of wandering the city, eating mole, exploring galleries and using the PennyWagon as our personal downtown hotel with presidential suite, we treated ourselves to breakfast and Mexican-chocolate-mochas. We still had plenty of time before we were due at Overlander Oasis so we put a few miles between ourselves and Oaxaca to see the ruins of Mitla.
Jacqui was interested in finding the Column of Life in the ruins. Supposedly hugging this pillar in some ritual manner will reveal how many years of life you have remaining. I spent my time distracting or discouraging Jacqui from having anything to do with this pillar. The last thing I need is some ominous, ancient prediction system passing a death sentence on my travel partner. Somehow we safely explored the entirety of the ruins with Jacqui being just distracted enough to forget until we were headed out. By the time she brought it up again it was easy enough to dissuade her with the prospect of satiating our lunch cravings.
The ruins of Mitla
At last we rolled into the little town of Tule that contains only one set of resident gringos, Calvin and Leanne, proud owners of Overlander Oasis.
Calvin and Leanne run this little business essentially out of their gated front yard. They have parking for five small rigs and a little casita for rent. There is a legend of them once having 9 separate rigs here for an Overlander's BBQ. Between Calvin's handyman/fabrication skills and Leanne's baking/hospitality skills it's no wonder you need a reservation.
When I wrote this Jacqui and I were mere hours short of a two-week stay at Overlander Oasis, which made us the second longest tenants currently there. This is a fascinating place to form theories about the fellow travelers that keep coming and going.
A year and a half ago Jacqui and I hadn't the slightest inkling we'd want to drive the Americas, let alone be aware many people currently are or already have done this journey. Day after day different faces roll through this little oasis heading north or south. As we meet fellow travelers going the same direction we talk of stories past and theories of what we will see on the road. As travels head north they share stories of what lays ahead for us and we do the same for them.
Varieties of rigs pass through: motorcycles, ex-military vehicles, 4x4 vans, foreign-plated RV's and no shortage of VW's. The backgrounds and stories are all different. Some travelers have been on the road for years. Some travelers have already seen most of the world and are finally doing the Pan-American Highway. Some have seemingly no plans, while others have such a rigid time allotment that one might theorize they are simply knocking out some sort of pilgrimage before returning to their normal lives.
Our camp hosts Calvin and Leanne, our first night having a get-together with everyone at Overlander Oasis and many of the rigs and folks that have passed through during our stay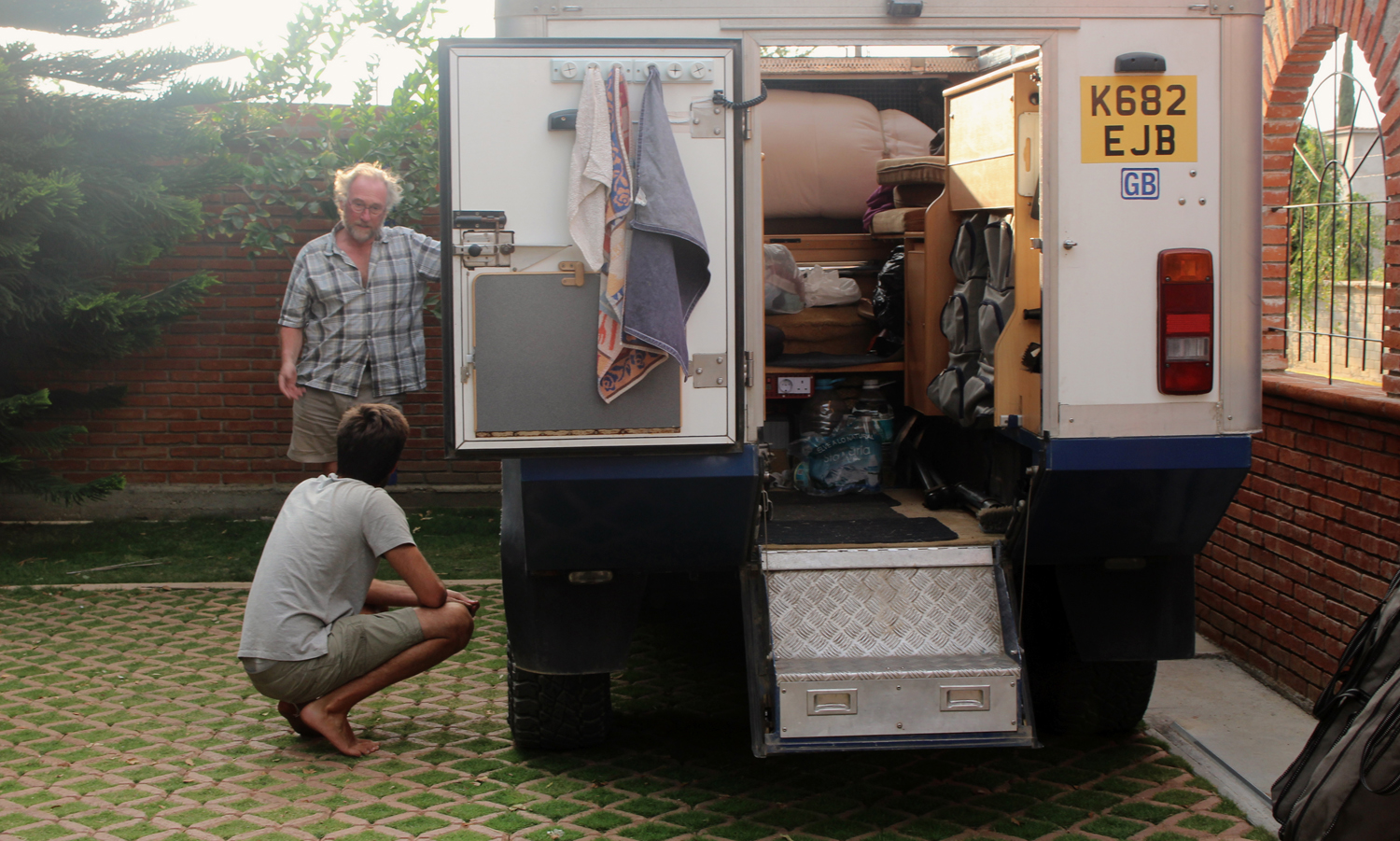 For Jacqui and I, this place has been an unbelievable breath of fresh air, an amazing base to explore from, and a host for countless projects.
A few days into our stay here I finally got the itch to start researching an ongoing problem for the past few months. Our solar system is atrocious. Before we left I mounted a 100W flexible panel to the roofbox and we've had chronically undercharged batteries every time we camp. At last with some time to climb on the roof and fiddle around I confirmed our panel, like such an amazing number of other things on our PennyWagon, simply didn't feel like traveling with us. It crapped out.
Calvin and I brainstorming a way to repair the dead solar panel while I'm simultaneously dealing with a dead horn diagnosis. The horn was fixed, the panel....retired.
Luckily, Calvin and Leanne are able to get shipments to their house and turned us on to mercadolibre.com . Think of it like a Mexican version of Amazon. So we ordered a rigid panel for surprisingly cheap (150USD with expedited shipping) and began the waiting game.
Thus began our time of unexpected exploration and even less expected projects.
On my first day of downtime, the same day I looked into the solar problem, I put myself to repairing the jerry can mount that had torn out during hard-driving. Calvin suggested reinforcing the fiberglass and he modified/welded the mount I previously built into something more adjustable. In other words...Calvin is the man.
Newly reinforced fiberglass top and now adjustable tension jerrycan mount.
The next day Jacqui and I decided to explore Monte Alban. We didn't make it far. We accidentally made a turn down an extremely steep dead end road. I had no choice but to commit horrible atrocities against our clutch to back out. Our already very tired, very old clutch that has been taking an incredible beating during our various breakdowns finally gave up. Our touristy exploration day ended up looking a bit different than expected.
Our tourist scenery (aka replacing a clutch)
The next day, with the PennyWagon appeased, we set out to do some more Oaxaca exploring with our friend Andres; the same fellow that had knocked on our door in a Pemex gas station and invited us over with his family for the weekend.
Exploring Oaxaca with Andres, eating crickets and touring a museum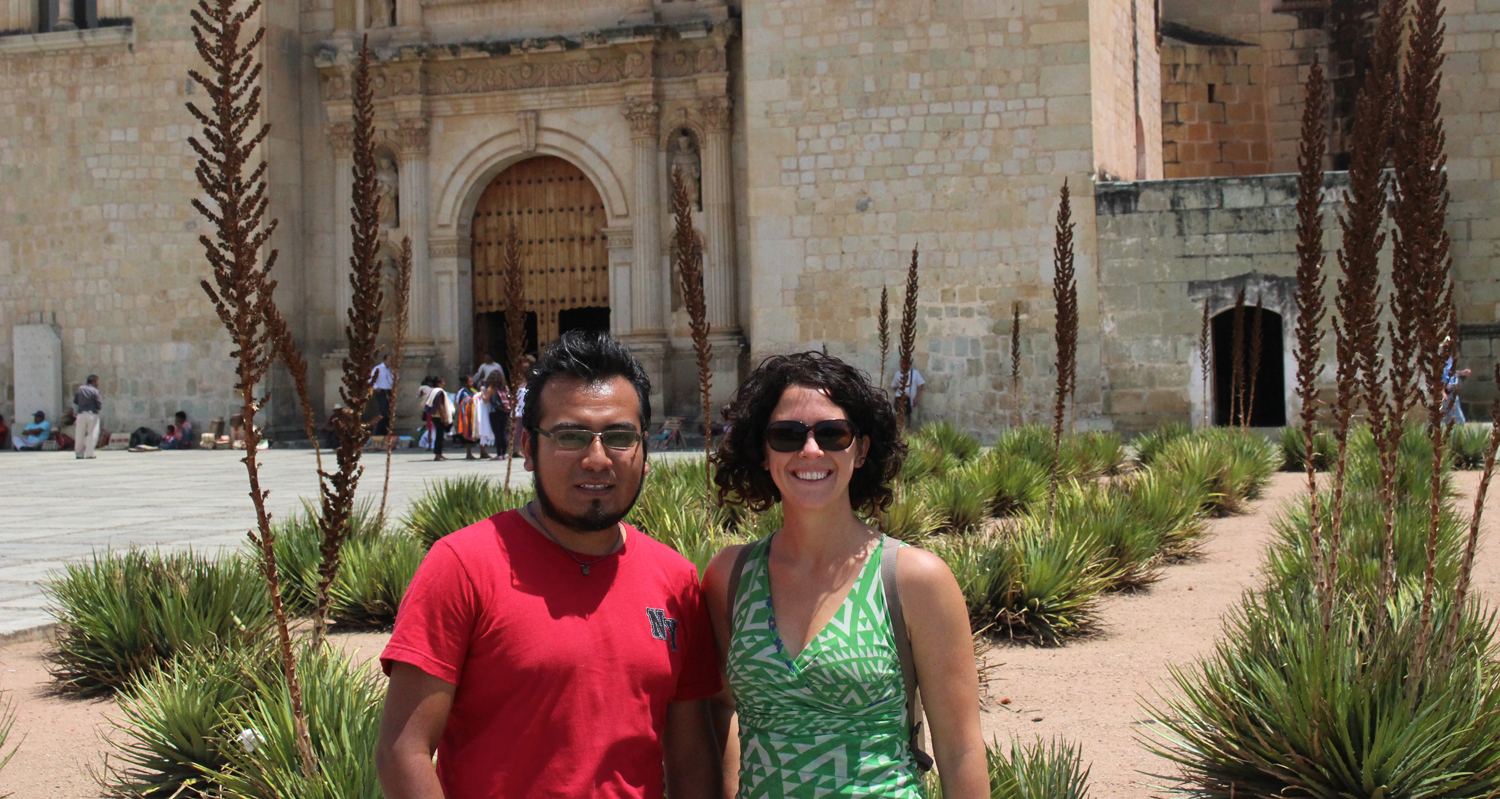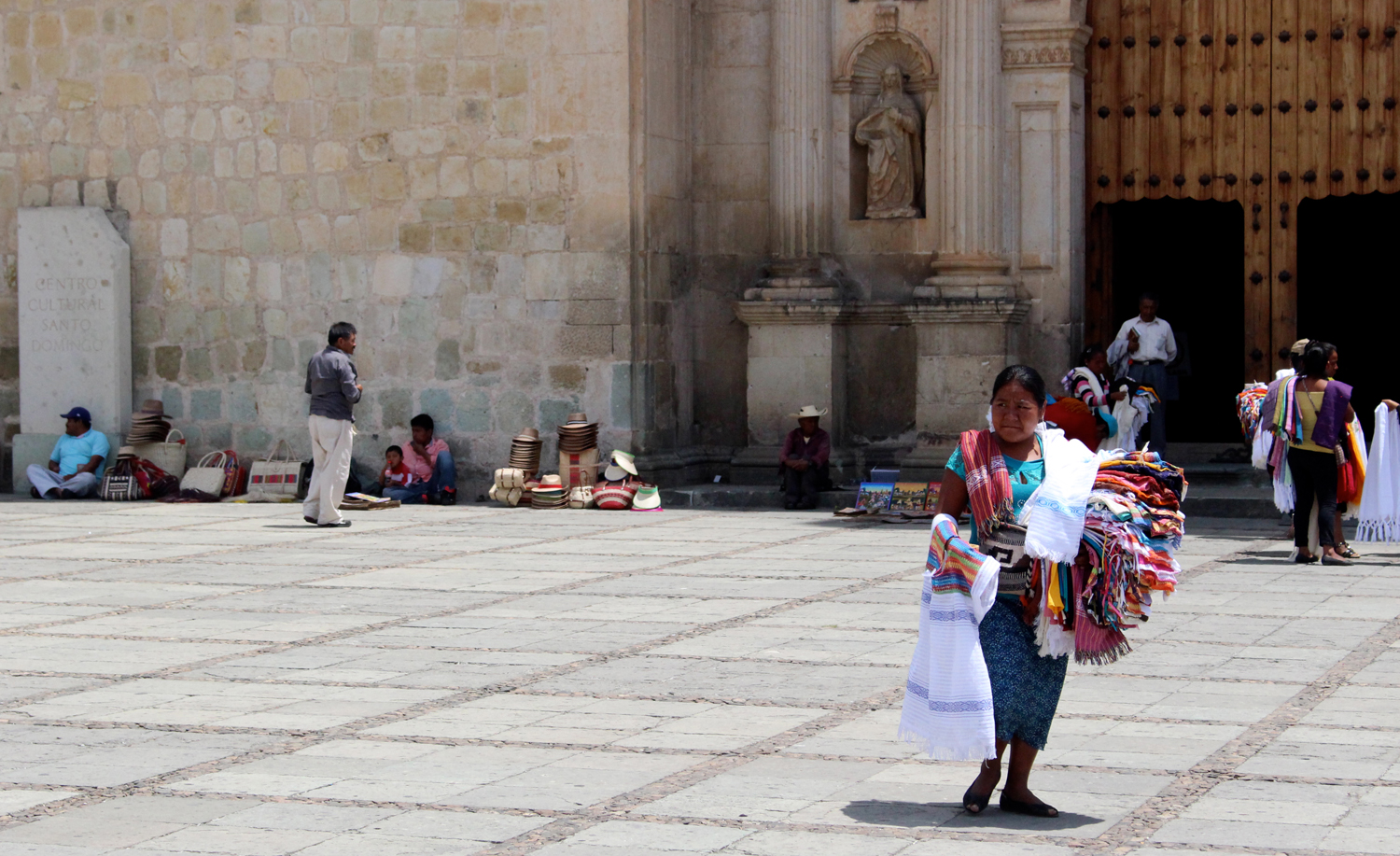 I won't bore you by trying to explain every city visit and project that went on in our time staying in Overlander Oasis, so a photo overview is in order.
Building a new roof rack and solar panel mount. Once again...Calvin is the man.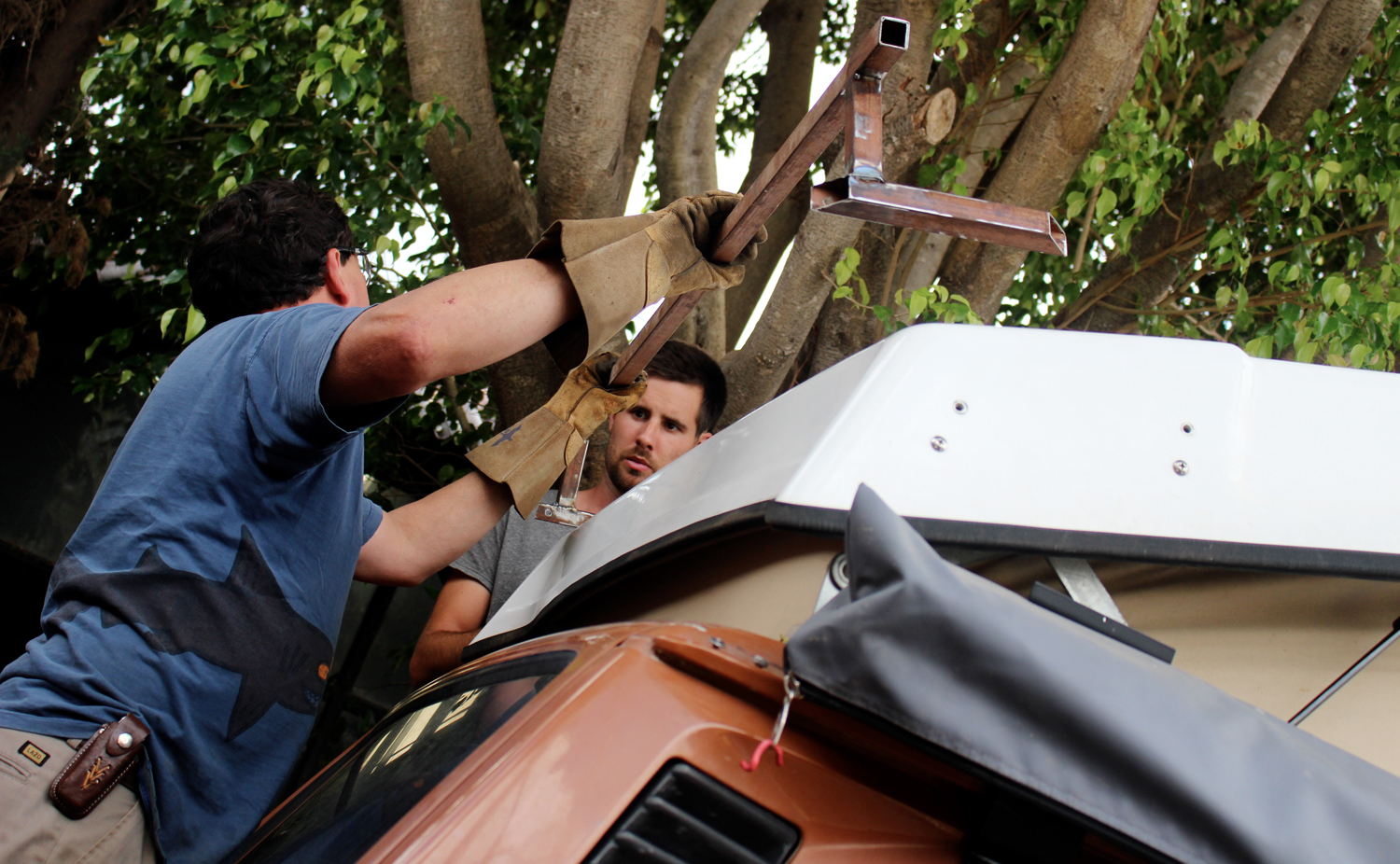 Making a new Westy-stove-burner since the original melted, reupholstering/restuffing our extremely worn out couch/bed since Calvin and Leanne had a connection on a extremely reasonably priced professional and some other paint touchups in the kitchen area.
It's really quite amazing. This has by far been one of our most expensive months. Buying a new solar panel, numerous visits to auto parts stores, new upholstery, new bed foam, two whole weeks of rent and of course compensating Calvin and our upholstery guy for their skilled labor. So you may be wondering, how much does an expensive month on the road in Mexico cost us? About $2000USD. Not too shabby, eh?
Now it's back to free camping and the open road.